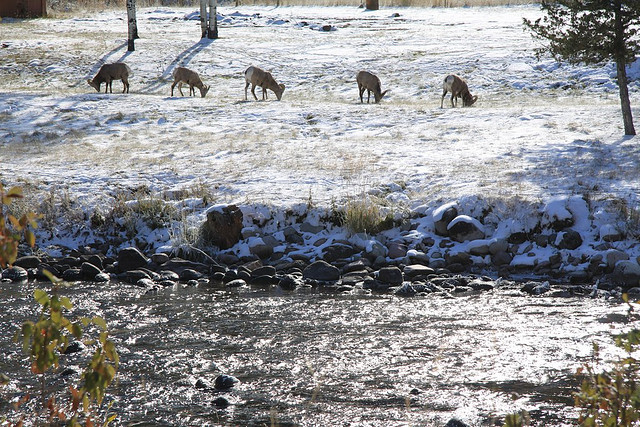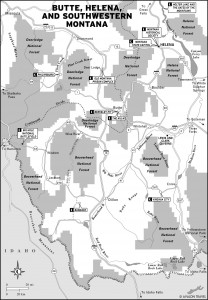 Six miles south of Philipsburg, Highway 38 leaves Highway 1 and winds west through the Sapphire Mountains, eventually dropping into the Bitterroot Valley at Hamilton. Travelers should consider this 50-mile drive, partly on gravel roads, for several reasons. The Skalkaho Pass Road connects two otherwise distant valleys along a route with great scenic value. On the west side of the divide the road is forested and steep, often cliff-hanging. The east half is gentler and runs along the lovely upper reaches of Rock Creek, one of Montana's premier fishing streams.
Anglers will want to leave Highway 38 for Rock Creek Road and follow it to its confluence with the Clark Fork River. The upper reaches of Rock Creek receive a lot less attention than the more developed areas closer to Missoula, but the fishing is as good.
Amateur prospectors can try their hand at sapphire mining along the banks of Rock Creek. The Gem Mountain Sapphire Mine (13 miles west of the junction with Hwy. 1, 406/859-4367 or 866/459-4367, 9 a.m.–7 p.m. Memorial Day–Labor Day, 9 a.m.–5 p.m. Labor Day–mid-Oct., $20 per bucket) offers buckets of sapphire-rich gravel to process. The sapphires come in several shades (classic blue being one of the rarest) and are relatively easy to find. You can choose to wash the gravel yourself, for the real prospector experience, or buy pre-washed concentrated gravel by the bucket. The gravel is placed on sorting tables, and then it's up to you to spot the gems. The staff members are happy to help—they even offer a faceting and mounting service—and the experience makes a good family outing. There's informal picnicking and free camping near the mine along Rock Creek.
West of Skalkaho Pass, 32 miles from Highway 1, Skalkaho Falls roars down under the highway and makes a great place to picnic. Although hiking isn't necessary to enjoy the falls, plenty of hiking trails, both formal and informal, sprout from the road. Trail 313, at the divide, is a good one to follow for a short or long hike. Head north along this trail to Dome-Shaped Mountain, home of mountain goats. The trail also passes by the Skalkaho Game Preserve, accessible by a rough dirt road at Skalkaho Pass. Marshes here are favorite summer habitat for elk; patient visitors may also see mule deer, coyotes, and black bears.
Skalkaho Pass Road is closed from mid-October to June. Early or late in the season, call the state highways department (800/226-7623) to be certain the road is open.
---
Excerpted from the Eighth Edition of Moon Montana.