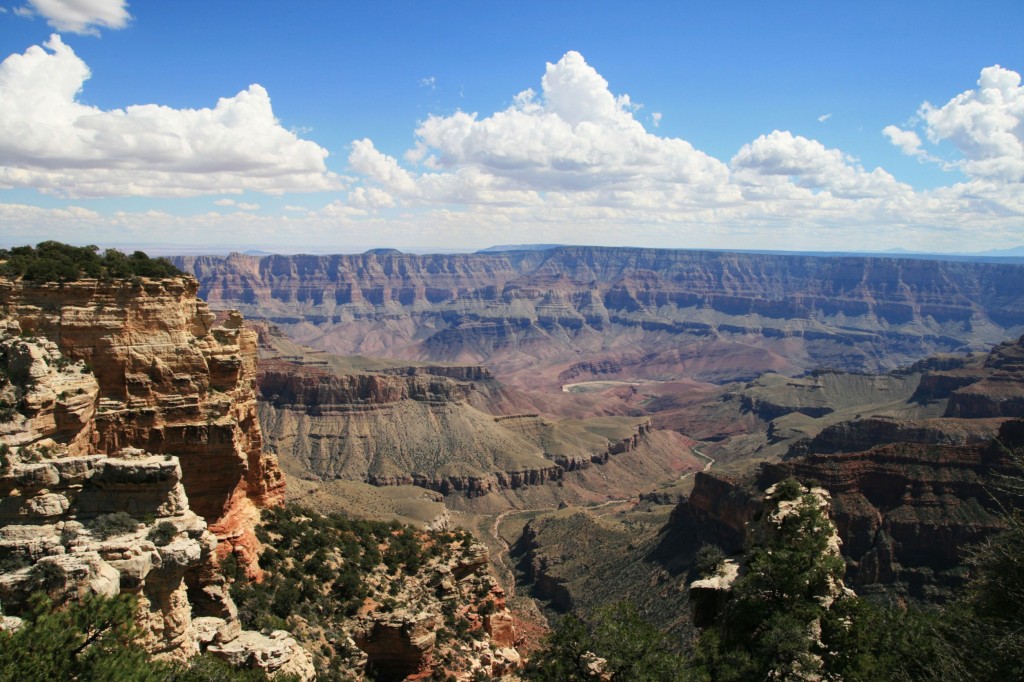 For the most part, driving in Grand Canyon National Park is relatively easy—so easy that it can lead to a false sense of security. The park's semiarid climate and high elevations mean that both desert and mountain driving conditions apply. And because of Grand Canyon's remote location, if your car breaks down, help is sometimes a long way away. It's a good idea to keep your gas tank at least half full, even if you intend to stick to the park's developed roads and sites.Prepare for your trip with a maintenance check. Be sure your tires, including the spare, are in good condition. Check to see that your tool kit is complete, and that your motor-oil grade is appropriate for the season. Pack jumper cables, plenty of water, and a flashlight. If you're traveling in winter, pack a shovel and warm clothing with your roadside emergency kit. (You do have one, don't you?) The
Arizona Emergency Information Network
has driving tips, suggested emergency items, bulletins about weather and fire conditions, and real-time updates about emergency conditions.
You might notice that a disproportionately large number of Arizonans drive white cars and trucks, but you'll soon stop wondering why. During the summer, a window shade can help keep your car's interior temperatures from reaching volcanic heights. If your car has leather or vinyl seats, drape them with towels or blankets to keep them from getting uncomfortably sticky. And if you wouldn't put it in an oven, don't leave it on the car seat: This includes your favorite CD, a chocolate bar, or the family dog.
---
Gas Stations and Garages
Road Conditions
Backcountry Driving
Gas Stations and Garages in the Grand Canyon
It's a good idea to keep your gas tank at least half full, even if you intend to stick to the park's developed roads and sites. If you plan on backcountry driving, fill up before you start out, and top off the tank whenever you get a chance. There won't be many opportunities; gas stations are few and far between in the region.
Inside the park, you'll find only two gas stations. The North Rim's gas station (7 a.m.–7 p.m. daily mid-May–mid-Oct.) is on the road leading to the campground and store. Pumps have 24-hour credit-card service. You can also get minor repairs done here. You can buy gas and basic automotive supplies at the North Rim Country Store, about 18 miles from the North Rim. The service station next to Jacob Lake Inn, about 45 miles north of the rim, sells fuel and provides some emergency repairs such as tires, belts, and batteries.
On the South Rim, the only gas station inside park boundaries is at Desert View, 25 miles from Grand Canyon Village. Desert View Chevron (9 a.m.–5 p.m. daily) has pumps with 24-hour credit-card service. There's no gas station in Grand Canyon Village, although you'll find limited garage services at the Public Garage (926/638-2631, 8 a.m.–noon and 1–5 p.m. daily) just east of the train depot. The nearest gas station is in Tusayan, about two miles south of the park entrance.
There's a 24-hour emergency towing service (928/638-2631) at the South Rim. The nearest garage services from the North Rim are in Fredonia, Arizona, or Kanab, Utah.
Road Conditions in the Grand Canyon
Check road conditions before you drive to the canyon, especially if you are traveling during the winter. Conditions can change quickly at high altitude and vary dramatically, even within a relatively short distance. For example, on a June trip to the North Rim, you can be driving through desert temperatures in House Rock Valley only to climb the Kaibab Plateau and find it snowing in Jacob Lake, 30 miles up the road. Late-summer thunderstorms are also highly localized, and flash-flood conditions can arise miles away from a storm cell.
Road conditions for your route and destination are available from the Arizona Department of Transportation (dial 511 or 888/411-7623), Grand Canyon National Park's information line (928/638-7888), the Nevada Department of Transportation (dial 511 or 877/687-6237), and the Utah Department of Transportation (dial 511 or 866/511-8824).
Current weather forecasts and bulletins for the Grand Canyon Region are available from the National Weather Service, Grand Canyon National Park (928/638-7888, www.nps.gov/grca), North Rim Visitors Center (928/638-9875), and Kaibab Plateau Visitors Center (928/643-7298).
Backcountry Driving in the Grand Canyon
If you plan to visit the canyon's more remote overlooks, such as Point Sublime or Toroweap, fill your gas tank, pack plenty of water, double-check your spare, and inquire about road conditions before setting out. It's also a good idea to let someone know your itinerary. You'll need a high-clearance 4WD vehicle to negotiate the rough road to Point Sublime. For Toroweap, you'll need high-clearance for the last seven miles and the campground. The National Park Service warns that 25 percent of visitors driving to Toroweap get a flat tire (sometimes more than one), and that towing services to this remote area can cost as much as $2,000. Cellphone service here is spotty, and there are few residents or travelers in this area.
Good maps are essential for backcountry travel. Many forest roads are suitable for passenger vehicles, but surfaces vary. If you are driving on forest roads on the Kaibab Plateau, keep in mind that road conditions usually downgrade as you approach the canyon rim. A wide gravel road, suitable for passenger cars, might end up as a two-track with rocks, ruts, and a high center, so narrow that it's difficult to turn around. Forest Service maps indicate surface types and help you make sense of what can be a confusing maze of fire roads.
On forest and Bureau of Land Management roads, muddy conditions can last into late spring, especially on the North Rim's Kaibab Plateau. Think twice before continuing down a soggy two-track. Even a 4WD vehicle can get hopelessly mired. Besides, "mudding" damages roads, creating ruts that harden and persist until the next rain, and causing erosion along roadsides when vehicles skirt wet spots by driving around them. Muddy conditions also occur after summer thunderstorms. Be wary of stream crossings in lower areas, such as on the Marble Platform. Flash flooding can turn a dry wash into a dangerous stream.