U.S. Capitol
TIME : 2-22 16:47:03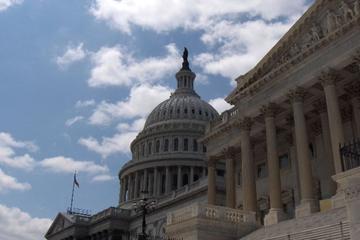 U.S. Capitol
There's nothing quite like the majestic sight of the U.S. Capitol, with its towering 285 ft (86 m) cast-iron dome topped by the bronze Statue of Freedom, ornate fountains, and marble Roman pillars set on sweeping lawns and flowering gardens.
The political center of the U.S. government and geographic center of Washington D.C. itself, the Capitol of the United States overlooks the National Mall and the wide avenues flaring out to the city beyond. It houses the legislative branch of Congress and is home to the Senate and the House of Representatives.
Inside the grand halls and opulent chambers you really get a feel for the power-playing side of D.C. - the historical vibe is so strong it can be intoxicating. The centerpiece of the Capitol is the magnificent Rotunda (the area under the dome). A Constantino Brumidi frieze around the rim replays more than 400 years of American history. Look up into the eye of the dome for the Apotheosis of Washington, an allegorical fresco by the same artist. Other eye-catching creations include enormous oil paintings by John Trumbull, depicting scenes from the American Revolution.
Practical Info
The Capitol Visitor Center is located East Capitol Street, at 1st Street NW. Entrance to the Capitol is on a first-come, first-served basis, so plan to arrive early. Ticket distribution begins at 9am. The visitor center is an essential stop, as it provides visitors with a variety of amenities, including an exhibition gallery, cafeteria, and gift shops, as well as a 13-minute orientation film.
The House of Representatives meets in the south wing, the Senate in the north wing. When either body is in session, a flag is raised above the appropriate wing. Try to visit when both the Senate and House are in session.