Snake River
TIME : 2-22 16:49:56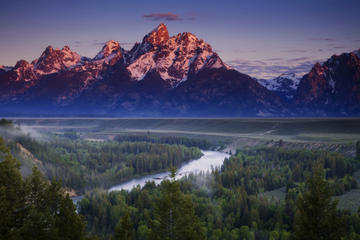 Snake River
Rising in the mountains of the Continental Divide near Wyoming's Yellowstone National Park, Snake River is one of the longer rivers in North America and was created by a volcanic hotspot which today sits under bubbling Yellowstone. Once known as the Lewis River, the name Snake River actually comes from a mix-up: Early pioneers misunderstood the Shoshone peoples' hand signal for fish and thought they were signifying snakes.
Beginning its journey in the Jackson Hole valley, Snake River runs for 1,078 miles through Idaho's canyons and the Snake River Plain before rushing through Oregon and Washington's rugged mountains, looping into Utah and Nevada, and finally joining the Columbia River back in Washington.
Snake River activities are all about the water, and one of the most popular ways to make the most of the rushing white river is by rafting through Snake River Canyon in up to class-3 rapids at Jackson Hole in Wyoming. 
Practical Info
Snake River runs through six states in the Pacific Northwest and a number of U.S. national parks including Yellowstone and Grand Teton.