Leeuwin-Naturaliste National Park
TIME : 2016/2/22 9:50:26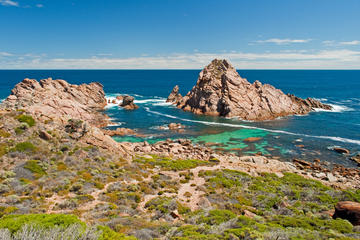 Leeuwin-Naturaliste National Park
Explore the rugged, wind-swept vistas and expansive beach views at one of Western Australia's most renowned spots for exploration, Leeuwin-Naturaliste National Park. Situated west of Busselton, visitors flock to this natural playground for its raw beauty and accessibility for activities in nature. Moss-covered waterfalls, stalagmite-filled caves and curving sands create a welcome environment for every kind of traveler.
Get your paddle on at infamous surf breaks like Smith Beach, or drop a line at the fishing hole, Moses Rock South. Epic views and panoramic scenery make the park an ideal place for bushwalking, trail hiking and cycling; afterwards, take a rest and stay awhile at the Boranup Campground. Travelers can snorkel above white sand at Cosy Corner or even try abseiling in the Calgardup Cave. For the more laid-back traveler, simply get lost wandering among the limestone and granite headlands.
Practical Info
Leeuwin-Naturaliste National Park is located in Western Australia, 22 miles (36 kilometers) west of Busselton. Always be mindful around cliffs, watch for any hazard signs and safety alerts. Bring your own water and be prepared for hot, dry weather year-round. The park is open every day, pending fire or conservation closures. While most Western Australia parks are free to enter, vehicle and camping fees may apply.
You Might Also Like