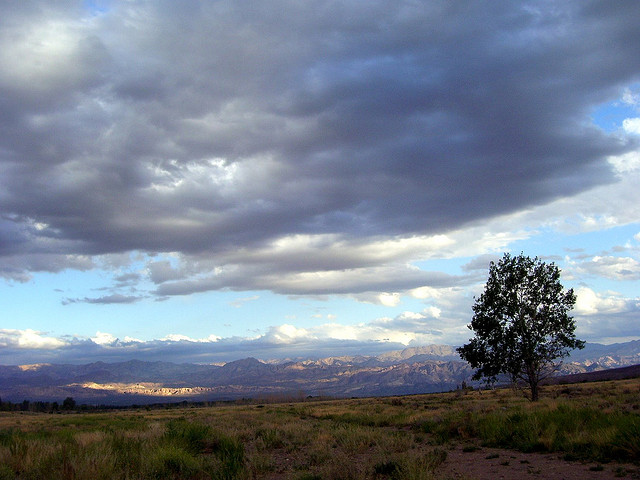 For locals, the upper Río Mendoza valley makes a nearby getaway, but almost everyone finds it a diverse recreational destination.
Cacheuta
Since the realignment of RN 7 (the Panamericana to Chile) for expansion of a hydroelectric and irrigation reservoir on the Río Mendoza, Cacheuta has become an end-of-the-road destination for its hot springs hotel—other places that depended on through traffic have closed—and the rafting company on the river's lower reaches. At 1,237 meters above sea level, Cacheuta is 36 kilometers southwest of Mendoza.
Betancourt Rafting (Lavalle 35, Local 8, Mendoza, tel. 0261/429-9665 or 0261/15-559-1329) descends the river below the dam for about US$18–58 pp, depending on difficulty and time on the water; it also does trekking, mountain biking, and horseback riding in Potrerillos. Its base address is Ruta Panamericana Km 26, Blanco Encalada, Luján de Cuyo.
Cacheuta's only permanent accommodations, Hotel Termas Cacheuta (RP 82 Km 39, tel. 02624/49-0153, US$150 s, US$255 d, with full board, some drinks extra) is an all-inclusive resort offering thermal baths, massage, and various recreational programs including hiking and mountain biking. Nonguests may use the facilities for US$45–50 pp, but lunch and transportation from Mendoza are extra.
Next to the police station, Mi Montaña serves fine pasta at reasonable prices. Nearby El Coirón has also drawn praise.
Potrerillos
Since RN 7's southerly realignment, it's longer (in distance) but shorter (in time) to Potrerillos, the upper Río Mendoza's whitewater rafting, kayaking, and river-boarding center. Now 53 kilometers from the provincial capital—about eight kilometers farther than it used to be—Potrerillos (pop. about 300, elev. 1,351 meters) is growing because the Embalse de Potrerillos, a hydroelectric project, has relocated displaced people in sharp new houses with fine views and finer conveniences than they've ever had before. Whether once-isolated rural people will prosper in their new village environment on an international highway is another issue entirely.
Windsurfing is gaining popularity on the reservoir, but water sports are not the only recreational option. Winding RP 89, which leads south to the wine country of Tupungato, is a scenically spectacular and little-traveled mountain bike route—though this stiff climb would be easier from the other side. It's also close to the modest ski area of Vallecitos.
Skiing in Mendoza
In winter, Pacific storms drop prodigious amounts of snow on the western slopes of the Andes, where Chilean resorts like Valle Nevado and Portillo draw skiers from around the continent and the world. Some of this snow crosses the Andean crest — southerly Las Leñas is Mendoza Province's biggest and best winter resort — but Vallecitos and Los Penitentes are more convenient to the provincial capital.
Area ski resorts generally open in July and close by early October, but in poor snow years they may shut down in early September.
Vallecitos
About 80 kilometers from Mendoza and 15 kilometers west of Potrerillos in the Cordón del Plata, Vallecitos is a modest 100-hectare ski area at a base of 2,900 meters ranging up to 3,350 meters. Most visitors are day-trippers from Mendoza who pay US$19 per day for lift access; the resort provides its own transport from the capital for US$11 round-trip.
Shoestring travelers can share dorm space at the Refugio Ski y Montaña for US$13 pp with breakfast (but without sheets); at the Refugio Hostería Valle Nevado, quadruples cost US$80 (US$20 pp), also with breakfast. Half board and full board packages are also available.
The season runs from July to early October, but accommodations remain open the entire year; for more details, contact Valles del Plata (Perú 1523, Mendoza, tel. 0261/429-7338, cell 0261/15-415-0751).
Los Penitentes
The summer gateway to Aconcagua, 165 kilometers from the city of Mendoza, Los Penitentes is an accessible winter resort at a base altitude of 2,580 meters. It has better infrastructure and snow cover than Vallecitos, but in dry years the season can still be short.
Covering 300 hectares, Los Penitentes has 28 separate runs totaling 25.5 kilometers; lift tickets range US$27–41 per day, depending on the time of the season. Many people, however, buy multiday tickets and contract full packages at the resort or other hotels in town. For more details, contact Los Penitentes (tel. 0261/428-3601).

Raging with runoff from the snowmelt of the high Andes, the Class III-plus Río Mendoza reaches its peak of about 2,000 cubic meters per second in the late spring and summer months of December and January. At this volume, the water is high enough that there aren't many rapids, but it's fast enough and the waves large enough to provide an enthralling rafting or kayaking experience.
There are now three main Potrerillos-based operators: Argentina Rafting Expediciones (Perilago s/n, tel./fax 02624/48-2037; Primitivo de la Reta 992, Local 4, Mendoza, tel. 0261/429-6325), directly on the old highway; Mendoza Rafting (RN 7 Km 555); and nearby Ríos Andinos (RN 7 Km 55, tel. 0261/429-5030 in Mendoza). Ríos Andinos has a bar-restaurant and may add accommodations in the future.
Rafting excursions come in various lengths, ranging from one-hour trips (US$18–23) starting nearby to three-hour descents (US$55–65) from Cerro Negro and even overnighters from Uspallata. Companies also arrange hiking, horseback riding, and other activities.
Uspallata
From the west, the long lines of Lombardy poplars flanking RN 7 offer a dramatic approach to Uspallata, a crossroads village in an area that, thanks to its resemblance to the central-Asian highlands, enjoyed 131 minutes of cinematic fame as the base for French director Jean-Jacques Annaud's movie (and Brad Pitt vehicle) of Heinrich Harrer's memoir Seven Years in Tibet. Annaud airlifted in yak extras from Montana for the filming, which journalist Orville Schell chronicled in his Virtual Tibet (New York: Metropolitan Books, 2000).
Since losing out to Luján de Cuyo as a zona franca (duty-free zone) for exports to Valparaíso, Chile, Uspallata (pop. 3,284) has returned to its pre-Hollywood tranquility. In a broad valley surrounded by colorful Andean peaks, 1,751 meters above sea level, it is 52 kilometers northwest of Potrerillos.
While westbound RN 7 continues to Parque Provincial Aconcagua and the Chilean border, RP 39 leads north into remote parts of San Juan Province; RP 52 makes a 102-kilometer loop back to Mendoza via the Villavicencio hot springs on a route followed by San Martín's army in crossing the Andes to liberate Chile, and later by Charles Darwin in crossing the Andes from Santiago. The RP 52 loop is probably a safer route for cyclists than RN 7, which has several tunnels and heavy truck traffic.
There's little to see in Uspallata proper, which is primarily a service center along RN 7, but several nearby sights form a collective, loosely defined museum with erratic hours and a small admission fee. About two kilometers north of the highway junction, the Bóvedas Históricas Uspallata contains a series of conical kilns used for metallurgy during the 17th century, but even before the Spanish invasion the local Huarpe population processed local ores here. The kilns themselves are a museum that contains a series of dioramas on General Gregorio de Las Heras's trans-Andean campaign in support of San Martín (several key battles took place nearby), but also includes exhibits on mineralogy and the indigenous Huarpe. Descriptions are in Spanish and fractured English.
More about Uspallata... On the Calingasta road, the
Comunidad Huarpe Guaytamari
(RP 149 Km 12, San Alberto) is a llama farm and crafts center run by a handful of Huarpe Indians. About seven kilometers northeast of town, on RP 52 to Villavicencio, volcanic
Cerro Tunduqueral
offers a fading series of pre-Columbian petroglyphs. Nearby is a monument to Ceferino Namuncurá, a Mapuche Indian who succumbed to pulmonary disease while studying and tending to patients in Italy; promoted as a saint in Argentina, he has not yet cracked the Catholic hierarchy due to a lack of any miracles attributed to him.
Beyond Cerro Tunduqueral, the Caracoles de Villavicencio is a zigzag gravel road that leads to the now-closed hot springs hotel of the same name, where it becomes a straight-as-an-arrow paved highway into Mendoza. En route the road passes a plaque to Darwin, who found fossil araucaria trees here, and reaches the scenic heights of the 3,800-meter Cruz del Paramillo. A warning sign at Uspallata's northern outskirts indicates regulated hours for ascending and descending the Caracoles, but its presence owes more to bureaucratic inertia than current reality.
In summer, two adventure travel operators maintain offices at the highway junction for outdoor activities such as rafting, mountain biking, and trekking: Pizarro Expediciones (tel. 02624/42-0003) and Desnivel Aventura (tel. 02624/42-0275).
Half a kilometer north of the highway junction, the wooded Camping Municipal (US$3 pp) has picnic tables and barbecue pits; the bathrooms have wood-fired showers, so the availability of hot water can vary.
At the eastern approach to town, the HI-affiliated Hostel Uspallata (RN 7 Km 1141.5, tel. 0261/15-466-7240, US$12 pp dorm, US$42 d) is, incongruously enough, a remodeled slaughterhouse with both dorms and private rooms. The common areas include a bar that offers simple meals and a cavernous hall where the cattle once hit the floor (it has been long enough that there are no bloodstains).
East of the junction, Hotel Viena (Avenida Las Heras 240, tel. 02624/42-0046, US$36 d) has utilitarian rooms with private baths and cable TV. Directly at the junction, the more spacious Los Cóndores Hotel (tel./fax 02624/42-0002, US$40 s, US$59 d) has a restaurant.
Built for a labor union during the 1940s Peronist heyday, on RN 7 about one kilometer west of the highway junction, Hotel Uspallata (tel./fax 02624/42-0066, US$70 s, US$82 d, with breakfast) has improved considerably since coming under management of the Cadena del Sol chain. It's notable for its spacious and manicured grounds, which include a large swimming pool, but the rooms are comfortable enough, and it's clearly the best value in town.
On the same grounds, Cadena del Sol has also opened the Gran Hostel Uspallata (tel. 02624/42-0367, US$12 pp), an 85-bed facility with its own amenities and access to the hotel pool. Most rooms are triples with shared baths.
On the highway at the south end of town, appealing Hotel Valle Andino (tel. 02624/42-0095, US$49 s, US$78 d, with breakfast) has amenities that include an indoor pool.
In a strip mall at the highway junction, Café Tibet (tel. 0261/15-512-0971) opened during the cinema boom, but it has managed to outlast the Brad Pitt blip with a menu of inexpensive but good-quality pizza and sandwiches.
Other offerings are almost exclusively parrillas, including San Cayetano (tel. 02624/42-0049), behind the YPF station; La Estancia de Elías (tel. 02624/42-0165) at the southern approach to town; and El Rancho de Don Olmedo (RN 7 and Cerro Chacay, tel. 02624/42-0109).
At the highway junction, the new Informador Turístico (RN 7 and RP 52, tel. 02624/42-0410, turismolasheras@hotmail.com) is open 8 a.m.–10 p.m. daily. Uspallata also has a post office (postal code 5545) and an ATM at Banco de la Nación. Within 50 meters of the junction are several locutorios and Internet outlets.
In the same strip mall as Café Tibet, just north of the highway junction, Expreso Uspallata operates three or four buses daily to and from Mendoza (2.5 hours, US$5); westbound services continue to Puente del Inka. If continuing to Chile, buy a ticket in Mendoza and pick up your bus here or at Penitentes; through buses are often full.

Los Penitentes
Westbound RN 7 splits the settlement of Penitentes, the main base for Aconcagua-bound trekkers and climbers in summer, and for skiers in winter.
Affiliated with Mendoza's Campo Base Hostel, the Hostel Refugio Penitentes (tel. 0261/429-0707), just west of the YPF gas station, is open all year; summer rates range US$9–11 pp dorm, but ski season rates with half board are the best value in town.
Penitentes's best accommodations, the 50-room Hotel Ayelén (RN 7 Km 165, tel. 02624/42-0229, summer US$80 s, US$97 d) also has a restaurant, but the spacious rooms have limited views. Accommodations include shuttle service to and from the park entrance, and they also offer other excursions in the vicinity.
Nearby, under the same management, Hostería Ayelén (tel. 0261/427-1123 or 0261/427-1283, US$28–38 pp) is a cheaper but still very good alternative with accommodations in doubles, quadruples, and sextuples with private baths; it also has an inexpensive pizzeria.
Puente del Inka
Seven kilometers west of Penitentes, also split by RN 7, Puente del Inka takes its name from the natural bridge over the Río Mendoza that once held a rustic hot springs. Since detection of a fissure in the bridge, though, it's closed to the public except for photographs—from a distance, for safety reasons.
It's also notable for the Cementerio de los Andinistas, the climbers' cemetery that reminds visitors that Cerro Aconcagua demands the respect—and sometimes the lives—of intending summiteers (not all those buried here died on the mountain, though—some chose this as their final resting place). At 2,720 meters above sea level and 177 kilometers west of Mendoza, it's the closest settlement to the Horcones entrance to Parque Provincial Aconcagua, but Penitentes has more abundant and better accommodations and food.
Puente del Inka enjoys spectacular panoramas of the mountains surrounding Aconcagua and south to the 6,650-meter massif of Cerro Tupungato, also part of a provincial park; most easily accessible from Tunuyán, its summit route is a technical climb suitable for accomplished snow-and-ice mountaineers only.
More about Puente del Inka... Chile-bound travelers, especially those in private vehicles, should note that all border formalities—immigration and customs—take place on the Chilean side; those coming from Chile complete formalities at Los Horcones, immediately west of Penitentes on the Argentine side. Penitentes has the last gas station before the border; the next one is some 50 kilometers west at Río Blanco, Chile.
Shoestring travelers can pitch their tents at Camping Los Puquios, on the north side of the highway, but it's a barren, exposed site.
Built for the climate, with smallish bedroom windows that minimize heat loss in winter but also reduce the natural light, Hostería Puente del Inka (RN 7 Km 175, tel. 02624/42-0266, US$38 s, US$45 d, with breakfast) is a mountain lodge with multibed rooms. Its so-so restaurant serves lunch and dinner.

Cristo Redentor
From Las Cuevas, the last Argentine outpost before the tunnel into Chile, a zigzag dirt road barely wide enough for a single vehicle in some spots, climbs eight kilometers to a blustery border ridge where Uruguayan sculptor Mateo Alonso's eight-meter, six-ton statue Cristo Redentor marks the border between Chile and Argentina. Taken by train to Uspallata in 1904, it went the rest of the way by mule; it commemorates the peaceful conclusion, in 1902, of a territorial dispute between the two countries.
Reaching 4,200 meters above sea level, this forbidding road was the main route between the two countries until the three-kilometer Cristo Redentor tunnel opened in 1980; today it's the province of tourists and tour buses. Upward-bound vehicles have the right-of-way, but not every Argentine driver appears to appreciate this, so be on guard. It's still possible to continue to the Chilean border post at Los Libertadores by foot or bicycle, but the road is not open to motor vehicles beyond the ridge.
At the pass, there are two refugios, one Argentine and one Chilean: The former sells cheap sandwiches and coffee, while the latter gives away hot chocolate (tips appreciated). Befitting a monument devoted to peace between peoples, Cristo Redentor has its own binational website.
---
Excerpted from the Third Edition of Moon Argentina.