Lake Fagnano
TIME : 2-22 9:14:49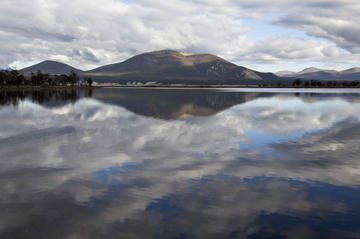 Lake Fagnano
Lake Fagnano sits directly above the Magallanes-Fagnano Fault, which marks the boundary between the Scotia and South American tectonic plates. The 98km long lake also sits upon the Chile/Argentina border; however, the majority of the lake belongs to Argentina. It's also the largest lake on Tierra del Fuego.
Lake Fagnano is surrounded by virgin Patagonian forest but there is still a striking landscape change between the south and north shores. The south is marked by the steep Fuegian Andes, while the northern shore is much gentler as Tierra de Fuego transforms into rolling steppe. While boat trips and sport fishing are popular on the lake, most visitors still opt to visit Lake Fagnano the same day they visit Lake Escondido, on a lengthy daytrip from Ushuaia.
The small town of Tolhuin sits on the lake's easternmost point. Although little more than a stopping point between the two larger cities of Ushuaia and Rio Grande, the Panaderia La Union bakery has become famous. Its walls are lined with autographed photographs of Argentinean and international celebrities who've visited as they traveled through the area.
Practical Info
Lake Fagnano is located just 100 km north of Ushuaia, Argentina, along Ruta Nacional 3.