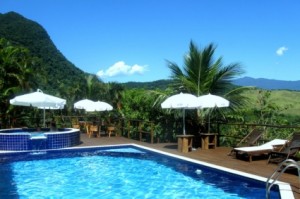 One of the most interesting aspects of traveling around and researching a travel guide such as
Moon Brazil
is the stories one comes across of people who unexpectedly, and sometimes radically, abandon "conventional" lives in search of alternative ones. Often, this entails turning their backs on the urban rat race and opening up a hotel and/or restaurant in some otherwise remote and (more or less) undiscovered corner of paradise. Since the world is well-endowed with urban rat races and Brazil is, happily, still teeming with (more or less) undiscovered paradises, these stories aren't hard to encounter.
I happened upon one myself, recently, when my sister and I were traveling along São Paulo's North Coast near the town of São Sebastião, which lies 220km north of the capital. São Sebastião itself is a rather sleepy port town with a fetching old colonial center. However, when Paulistanos announce that they're "going to São Sebastião," they're generally refering to the roughly 100 km of beaches to the north and south of town, where they flock en masse during the summer and on long weekends (usually to private condo complexes or hotels).
Aside from being plunked down in the midst of such magnificent scenery, the best thing about the Toque Toque Hotel is its seclusion.
Although the vast majority of somewhat upscale visitors reach their destinations by driving along the curving Rio de Janeiro-Santos (BR-101) highway that sinuously threads its way along mountains covered in lush (and protected) native Atlantic forest, my sister and I bucked convention and hopped one of the local buses from São Sebastião's Rodoviária, which depart hourly in the direction of fashionable Maresias and points beyond, with stops along the highway.
As is often the case in Brazil when one asks for help, quite a few passengers, along with the driver and the fare collector, were instrumental in helping us get off at the right stop (km. 143.5 on the BR-101). It was fortunate that the entrance to our destination – the Ilha de Toque Toque Boutique Hotel – was conveniently located right in front of the rickety wooden bus shelter. It was amusing to see the people at the reception attempt to mask their surprise when, after ringing the bell and having the automatic gates swing open, instead of an SUV, they were greeted by two gringo backpackers.
(FYI: "Toque Toque", which means "knock knock" in Portuguese, is also the Tupi Indian term for "island").
But back to the main story… The charming and laid-back owners of the Ilha de Toque Toque Hotel are a 30-to-40-something couple of Paulistanos named Edson and Renata Pavão. Edson was the first Brazilian lawyer ever to work for Enron (before it went bankrupt) and then for AOL in Brazil (before it closed its doors) while Renata worked as an insurance consultant. Several years ago, they were becoming weary of life in the fast lane and started seriously entertaining their dream of locating a paradise unfound where they could live and work amidst nature.
A biking aficionado, Edson began spending weekends zooming up and down the coastline between Rio and São Paulo in search of "the perfect spot." After a year and some months he found it – an abandoned farm built onto the side of a mountain, the edge of which was a steep cliff plunging down to the sea. Covered with lush jungle, the mountain lay within the protective limits of the Parque Estadual Serra do Mar. To the north was a gaping view of a thick white strip of sugary beach – Praia do Toque Toque Grande. Staring the property straight in the face was a perfect teardrop of an island: the Ilha de Toque Toque. The landscape was magnificent. "Civilization" in the form of São Sebastião was only 20km (and a whole world) away.
The couple didn't hesitate. They bravely quit their jobs, moved out to the mountain, and began building sprawling bungalows – 10 of them: simple and rustic, yet wonderfully comfortable (king sized beds, flat screen TVs, free Wifi), all outfitted with vast wooden decks, along with a main house sporting a panoramic dining room/terrace. (An adjacent property features simpler bungalows with kitchens for those interested in a more budget-oriented, house-keeping holiday).
Right at the edge of the cliff, they carved out a swimming pool and a Jacuzzi – so guests – such as us – could soak with a mountain hovering above, an ocean on the horizon, and, at night, a sky full of stars. Because the area is preserved, by law, the Pavãos could only construct on 10 percent of the land. Not only did they comply, but Edson proudly confessed that not one tree was cut down. All of the energy for the heating of hot water (chalets feature deep stone bathtubs) comes from solar panels.
Aside from being plunked down in the midst of such magnificent scenery, the best thing about the Toque Toque Hotel is its seclusion – which is all the more surprising considering its proximity to São Sebastião and the fact that it lies along São Paulo's most badalada (trendy) stretch of coast. Nonetheless, for better or for worse, the area has been miraculously ignored by Paulistanos, as well as other Brazilians and gringos (who would love the place). Indeed, it's with gringos in mind that the hotel stays open year-round (a rarity along this coast due to many Paulistanos' belief that beachgoing is a strictly summertime pursuit) and features fireplaces in some of the chalets.
The one drawback (if it is indeed one) is that while the hotel overlooks a beach, it's not actually on a beach. It is, however, within walking (and/or driving) distance of two quite stunning specimens. A 20-minute walk along the highway and down a steep hill, past a clump of summer houses surrounding a tiny fishing community, brings you to Praia de Toque Toque Grande, a strip of white sand squeezed between the mountains, which actually has more of an visual impact when gazed at from the hotel.
More stunning – and even closer – is Praia de Calhetas (the entrance to which we initially walked right by – the beach is only accessible by foot via a private trail leading through jungle and past a sprinkling of swank, but discrete beach houses; since beaches are public in Brazil, the homeowners are grudgingly obliged to share their sand). Although small, Calhetas is much more primitive, private, and dramatic than Toque Toque Grande. In the absence of any bars, barracas, or the small club house that hotel has on Toque Toque Grande, there are shady amendoeiras (almond trees) – but make sure you bring lots of mineral water. Both beaches boast calm warm water of an uncanny blueish-green. And the trails leading down to them shelter cachoeiras (waterfalls) where you can treat yourself to a bracing hydromassage amidst clumps of wild heliconia, iridescent hummingbirds, and metallic blue butterflies.
It's quite amazing to stay in such a place – and another to conceive of living there. The Pavãos confessed that on the increasingly rare occasions they visit São Paulo, within 3 days, they start itching to get the hell out of the city they no longer miss. I can only imagine what it's like for their daughter (who is driven daily by Edson to her school in São Sebastião) to grow up in such as setting. When my sister and I bid our goodbyes and walked outside to the bus stop, knowing that all too soon we'd be pounding a traffic-clogged pavement, we couldn't help feeling envious.