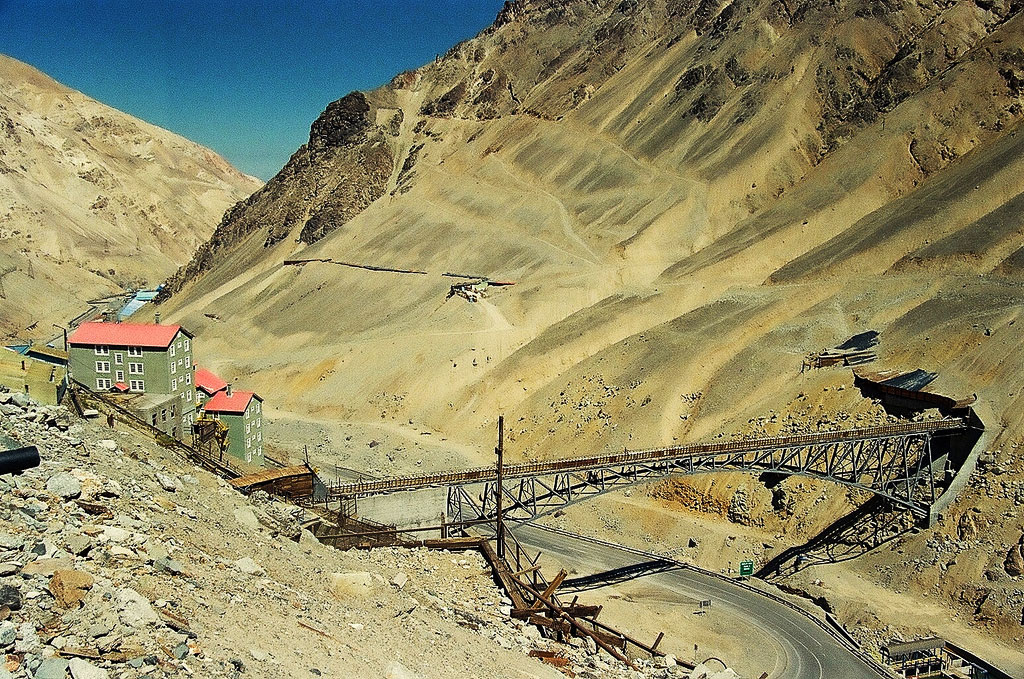 Part of state-run Codelco, 55 kilometers east of Rancagua, El Teniente is the world's largest underground mine. Its more than 2,400 kilometers of tunnels yield more than 400,000 metric tons of refined copper per year. It dates from 1905, when the U.S.-based Braden Copper Company began operations; after its acquisition by Kennecott Copper Company and World War I's outbreak, production increased and the company became enormously wealthy. Widespread resentment of its dominant role pressured the state and, by 1967, the government had acquired majority shareholdings. In 1971, Salvador Allende's Unidad Popular government expropriated the entire industry, including El Teniente. Sewell is now a UNESCO World Heritage site, emphasizing the historic, economic, and social significance of copper mining in the region. Until the late 1960s, El Teniente's residential community of
Sewell
(named for Braden's first president) was a classic company town and a thriving (but residentially segregated) community of North American managers and technicians, their Chilean support staff, a mass of miners and their families, and many single miners as well. At that time, though, President Eduardo Frei Montalva's Operación Valle began to transfer all of Sewell's 15,000 workers and their families to Rancagua because the prevailing winds carried toxic sulfur hydroxide fumes from the Caletones smelter.
Parts have been dismantled or demolished, such as the so-called Barrio Americano where North American technicians lived with their families, but many structures, such as the hospital, the Escuela Industrial (Industrial School, now home to the museum), the theater, a fourlane bowling alley (Chile's first, dating from 1917), and the Club Social, remain intact. All these were connected by a warren of concrete steps and walkways that gave the town its nickname, "Ciudad de las Escaleras" (City of Staircases).
Sewell is now a UNESCO World Heritage site, emphasizing the historic, economic, and social significance of copper mining in the region. Both the mine and Sewell are open to the public for guided tours that are expanding in scope—at present, for instance, buses carry visitors into the labyrinth of underground tunnels to view a subterranean cavern of spectacular crystals uncovered in the course of extracting copper ore. Guests also view the massive ore-crusher in action, and in coming years tours will expand to include the actual mining and the smelter.
Full-day tours to El Teniente and Sewell, 2,600 meters above sea level, take place weekends only through VTS (Manuel Montt 192, Rancagua, tel. 072/210290); Sewell on its own costs US$44 per person; combined with a descent into El Teniente, the price is US$54. Students and seniors get a 20 percent discount. Lunch is US$10 extra. Tours include transport from Rancagua's train station, easily reached by Metrotrén from Santiago, or from any Rancagua hotel. For an additional US$6 per person, they provide bus transport from Santiago.
Aside from the privately contracted tours, Codelco maintains a separate informative website on Sewell.
---
Excerpted from the Fourth Edition of Moon Chile.