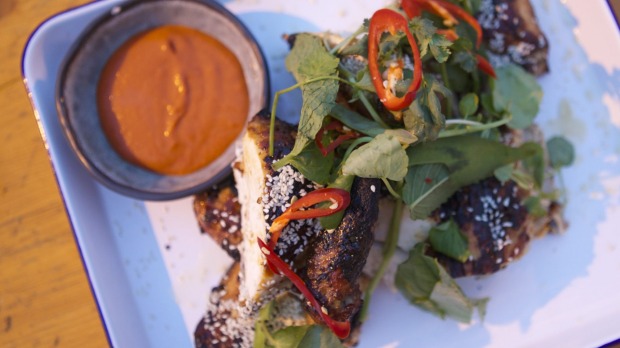 Vietnamese-born chef Franky Pham was head chef at Know One Teach One (KOTO) in Saigon. It is a social enterprise, certified by Victoria's Box Hill Institute, that  offers disadvantaged young people including the homeless and those fleeing trafficking, with a two-year training program in hospitality. Pham now heads the kitchen at modern Vietnamese restaurant St Cloud in Melbourne suburb of Hawthorn.
See stcloudeatinghouse.com.au. 
There is a table on the second level that looks like a four-poster bed.
WHAT'S YOUR FAVOURITE TABLE IN VIETNAM?
My favourite table in Vietnam would definitely be a place called Cuc Gach Quan. It's a beautiful, brick restaurant designed to look like an old 1960's Vietnamese home. There is a table on the second level that looks like a four-poster bed, made out of beautiful deep, dark wood. Though it sounds strange, people used to eat off them in the old days when space was scarce. It's my favourite table, because not only do they make everything in-house, it's also a trip back in time. My tip, try the house soft tofu with lemongrass and sesame. See www.cucgachquan.com.vn/en/a-vietnamese-family-moment/menu.
THE LOCAL FOOD DISCOVERY OF THE PAST YEAR?
In the past year, I have discovered locally made first press fish sauce. Like olive oil, the first press has a completely different flavour than the normal stuff. The flavour profiles are more clean, robust and sweeter.
WHAT IS VIETNAM'S BEST-KEPT FOOD SECRET?
Vietnam's best kept food secret is … condensed milk. Condensed milk, one of the main ingredients in cafe sua da (Vietnamese iced coffee), is also used in some marinades in Vietnam. The local meat can be quite tough because they don't always get hung up after slaughter. The milk protein found in condensed milk helps break down the meat during marinating and also creates a smokey, caramelised sugar flavour when barbecued.
 PLACE TO GO ON A DAY OFF?
My favourite thing to do on a day off is to have a wander. Whether it be around Ben Thanh Market in District 1 in Ho Chi Minh City, or up north in Hanoi around Hoan Kiem​ Lake, there are always new things to discover. If you get hungry or thirsty, the motto I live by is, "Go to the place that looks the busiest".  Domestic flights are generally very cheap, so weekend getaways can easily be beachside, mountainside, or riverside if you feel like having a break from curbside.
 FAVOURITE INDULGENCE IN VIETNAM?
If you're feeling fancy and keen to get away from the hustle and bustle, The Park Hyatt Saigon has a $50 All You Can Eat banquet with free-flowing Veuve every Sunday. This is a next-level boozy luncheon with all the fresh lobster, seafood and suckling pig your body can handle, and accompanied by all the champagne you can drink. See hyatt.com..
PLACE TO GO FOR A BIG NIGHT OUT?
If you're feeling like getting a little dressed up, Shri Bar or Chill Bar are both great places to hang out and party the night away. Both places are located on the 23rd floor and upwards, with beautiful 360-degree views of Ho Chi Minh city. If you're looking for a similar experience in Hanoi, look no further than The Rooftop. 
See shri.vn/index.php/home; www.chillsaigon.com/; https://www.facebook.com/TheRooftopHanoi
BEST TIME TO VISIT, AND WHY, FOODWISE IN VIETNAM?
The best time to visit Vietnam would be any time after Tet (Lunar New Year), During Tet, the whole country shuts down for 10 days. Being such a long country geographically, Vietnam experiences microclimates; the weather in the north is always vastly different from the south. As a tourist, you will be able to find what you are looking for. For those looking for beach and sun, head to the coast. If you're looking for a party beach vibe, head to the perfect blue water and white sands of Nha Trang.  If you looking for a peaceful Zen beach experience, head to Hoi An and find beautiful beaches and a place famous for textiles and art. If you're looking to get in touch with nature, then Sapa​ in the north is stunning. With mountainous views and crisp, clean, cool air, it is a beautiful place to recharge and reconnect.
WHAT SHOULD A VISITOR AVOID, FOOD-WISE, IN VIETNAM?
To be honest, the things to avoid food-wise in Vietnam are minimal. The food safety laws in the country are quite tough; I know this from opening two kitchens in the country. But if you are a cautious person, just make sure to ask that they wash their fruit and vegetables in filtered water. Most places do but it doesn't hurt to ask. If you have time, do a little research before you go out to eat, but if you don't, then find the busiest street vendor. The busier they are, the higher the food turnover, the fresher the food.