Nightfall Wilderness Camp review, Lamington National Park, Queensland: Weekend away
TIME : 2-26 17:47:30
Nightfall Wilderness Camp review, Lamington National Park, Queensland: Weekend away
Simon Holt
For full functionality of this site it is necessary to enable JavaScript. Here are the instructions how to enable JavaScript in your web browser.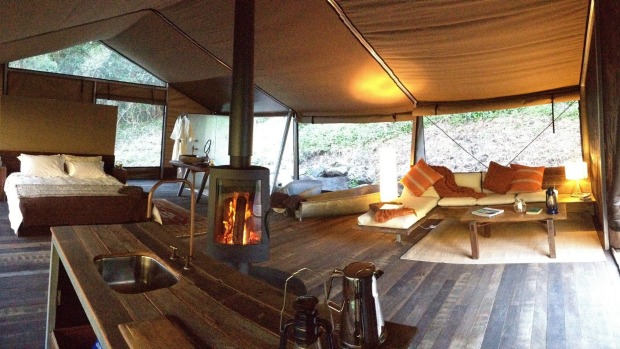 Our rating
4.5 out of 5
HIGHLIGHT
The romance of a candlelit dinner by the rapids.
LOWLIGHT
It's the bush. There will be a few bugs about.
THE LOCATION
The unsealed section of road into Nightfall is only 900 metres, but the change in scenery is rather dramatic. There's a line in the Talking Heads song, Road to Nowhere: "I'm feelin' OK this morning. And you know we're on a road to paradise. Here we go, here we go." The part of Queensland's Scenic Rim region we're exploring is called the Lost World, and while it's not quite as remote as the name might imply, it's remarkable how rolling farmland quickly turns into thick forest and towering cliff faces of Lamington National Park. As the drum beat from the song continues to play in the back of my mind, there comes a realisation that this is what weekends away are all about – an opportunity to escape day-to-day routine. The surrounds at Nightfall are spectacular, but they're just the beginning of the retreat.
THE SPACE
The owners of Nightfall, Steve and Heidi Ross, have chosen to include the word "camp" in the name of their retreat. They do so because they wanted to ensure people knew there was still an element of the great outdoors in the glamping experience – access to bushwalks, the free-flowing creek, a camp oven and open-air common lounge area covered by the corregated iron of an elaborate shed. The difference between this and "real" camping is that the tent's up, the food's cooked, the fire's lit and the facilities really are quite glamorous.