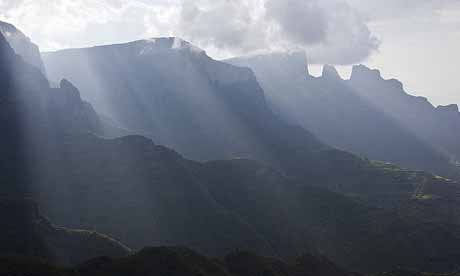 Africa's alternative classics
Today you need a hefty budget to enjoy experiences such as Kilimanjaro or the Serengeti. These are not second-bests, but amazing adventures in their own right
These days, you need a hefty budget to enjoy classic experiences such as a Kilimanjaro climb or a Serengeti safari, a jeep trip across the Namib Desert or gorilla-watching in the Virungas. But the cheap thrills are still out there. These are not second-bests, but amazing adventures in their own right - the only difference is, they won't break the bank.
Mountains: Instead of Kilimanjaro...
Trek the Simien Mountains, Ethiopia
What is it? A stunning hike through what Edwardian traveller Rosita Forbes described as 'the most marvellous of all Abyssinian landscapes', its immense canyons rising to at least a dozen peaks topping the 4,000m mark.
What's good about it? The scenery is thrilling: impossibly steep river gorges hemmed in by jagged mile-high escarpments, green meadows strewn with wildflowers, and mist-swept Afro-alpine moorland clumped with heather and otherworldly giant lobelias. Other visitors are few and far between and the 'because-it's-there' brigade can bag the 4,620m Ras Dashen (the fourth-highest mountain in Africa) without facing the crowds or serious risk of altitude sickness associated with the steeper ascent of Kili.
Protected as a national park, Simien hosts a trio of iconic large mammals unique to Ethiopia. Most common and approachable is the gelada: a sociable baboon-like primate with a flowing golden mane, bright-red heart-shaped stomach patch, and (despite its ferocious leonine appearance) a diet composed almost exclusively of grass. Just as striking (but less often seen) is the critically endangered walia ibex, a large, heavy-horned goat restricted to the precipitous cliffs of this one mountain range. Trekkers might also encounter the russet Ethiopian wolf, the world's most endangered canid, while birdlife includes the magnificent and highly visible lammergeyer (bearded vulture).

Need to know: Provided you're moderately fit and give yourself time to acclimatise to Ethiopia's high altitudes, this is a relatively straightforward guided trek, and porters and pack mules are all available to ease the load. There's a case for avoiding the rainy season (late May to early September), but scenically there's no better time to trek than September and October, when the countryside is green and wildflowers grow in profusion. All trekking arrangements can be made at Debark or Gonder or through various tour operators based in Addis Ababa or overseas.

What you can do with your loose change: Ethiopia is one of Africa's cheapest countries, and (unusually for Africa) its highlights are almost all equipped with affordable accommodation and accessible on public transport. You could fund several weeks travel here on the difference between a Simiens trek and a Kili climb, exploring the mysterious rock-hewn churches at Lalibela, absorbing the pre-Christian ruins at Aksum, and sampling the spicy local cuisine.
OR TRY THESE...
High Atlas, Morocco Cheap treks in Bedouin country
Ol Doinyo Lengai, Tanzania A steep overnight climb up lava-strewn slopes to the smouldering volcanic crater of the Maasai 'Mountain of God'
Mount Kenya, Kenya Second in altitude only to Kili itself, but far cheaper to climb, less crowded and arguably more scenic

Safari: Instead of the Serengeti...

Explore Kruger National Park, South Africa
What is it? A game reserve the size of a small European country, home to some of the continent's greatest concentrations of wildlife, yet serviced by a network of all-weather roads and affordable rest camps that make it accessible to the first time safari-goer.

What's good about it? It's so unpackaged, for a start. Purists might tell you the Kruger is too commercialised, but most of them have never been, and inexpensive DIY-friendly tourist facilities (rest camps with restaurants, self-catering facilities, grocery shops, ATMs, filling stations and garages) don't make the animals any less wild than those that inhabit more exclusive destinations further north.

There's the gameviewing, of course – the best chance of rhino sightings of any major African reserve, good cheetah, leopard and African hunting dog, and huge numbers of lion, buffalo, elephant, giraffe, zebra, baboon, warthog and other safari favourites. A bird checklist topping the 500 mark includes the dazzling lilac-breasted roller and flocks of ground hornbills fluttering their eyelashes like turkeys in drag.

As a self-guided safarigoer you might not spot as much game as on an organised tour. But then nor is the enormity of this primal experience likely to be sullied by annoying fellow passengers and inflexible itineraries. Put simply, there's no better game reserve for independent travellers who don't have the resources or inclination to mount a full-on expedition.

Need to know: Book accommodation well ahead and don't try to cover too much ground – a good seven-day itinerary might be split into three two-night stopovers at Skukuza or Lower Sabie, Satara, and Olifants or Letaba. Oddly, the peak tourist season (November to April) is the worst time to visit – June to September has a better climate and the best gameviewing.

What you can do with your loose change: Keep going! The untrammelled northern Kruger retains a wilderness feel absent from the more congested south, and is serviced by two of the park's most likeable camps – riverside Shingwedzi and tiny hillside Punda Maria. Scenic Blyde River Canyon is a worthwhile stop on the escarpment west of the Kruger.
OR TRY THESE...
Etosha Pan, Namibia More remote than the Kruger, but an equally realistic goal for a self-drive safari
Mikumi National Park, Tanzania One of the few game reserves passed through by a public road – eland, elephant and buffalo might all be seen for free from a passing bus window
Liwonde National Park, Malawi An underratedand relatively affordable reserve notable for stunning boat trips down the hippo-infested Shire River

Primates: Instead of mountain gorillas...

Track chimpanzees, Uganda/Tanzania
What is it? A face-to-face encounter with man's closest genetic relative in the heart of the African jungle – a 'pinch me' experience as poignant as it is thrilling.

What's good about it? Is there any sound so evocative of the African rainforest as the pant-hoot call of the chimpanzee: a communal bonding ritual that starts with one extended hoot, then another and another, rising in tempo until a dozen or more voices erupt in a bloodcurdling crescendo, only to fade abruptly into a silence you can practically touch?

On first sighting, chimps are bulkier than most visitors expect (the perception of small size is due to the widespread use of juveniles in advertising), and they probably interact more regularly than gorillas. They are fun to watch, too: by turns bossy, playful, inquisitive, indolent and argumentative, with facial features and mannerisms as recognisably individualistic and expressive as our own. On a good day, you might catch them on the hunt – despite being primarily vegetarian, chimps will often catch and devour monkeys – or 'fishing' for termites with a twig, tool-using behaviour that reinforces their proximity to humans on the tip of the same branch of the evolutionary tree.

Need to know: The best sites are Gombe Stream and Mahale Mountains on Lake Tanganyika, where chimp habituation started in the 1960s. Next best are the more accessible Kibale and Budongo Forests in Uganda. Other options are Rwanda, Gabon and Cameroon. Booking is seldom necessary. Try to visit in fruiting season, which varies according to locality, so seek advice. At other times of year chimps are less sedentary – it will be harder to keep up as they charge through the tangled undergrowth.

What you can do with your loose change: Mahale Mountains and Gombe Stream tie in neatly with the legendary ferry trip on Lake Tanganyika. Uganda's Kibale Forest is the springboard for several affordable excursions: try the community-run Bigodi Wetland Sanctuary for its diversity of forest birds and monkeys, or the Kasenda Crater Lakes for unguided hiking or chilling out in lush surrounds.
OR TRY THESE...

Jozani Forest, Tanzania: the last stronghold of the Einstein-on-a-bad-hair-day Kirk's red colobus monkey, a Zanzibar endemic that's easily approached on foot
Boabeng-Fiema Monkey Sanctuary, Ghana Delightful mona monkeys roam freely around the village thanks to a local taboo on killing primates
Entebbe Botanical Gardens, Uganda Within walking distance of the international airport, this park is teeming with acrobatic black-and-white colobus and mischievous vervet monkeysThe best sites are Gombe Stream and Mahale Mountains on Lake Tanganyika, where chimp habituation started in the 1960s. Next best are the more accessible Kibale and Budongo Forests in Uganda. Other options are Rwanda, Gabon and Cameroon. Booking is seldom necessary. Try to visit in fruiting season, which varies according to locality, so seek advice. At other times of year chimps are less sedentary – it will be harder to keep up as they charge through the tangled undergrowth.

Desert: Instead of the Namib desert...

Cross the Chalbi by truck, Kenya
What is it? An eight- to ten-day truck expedition through the remote and ethnically fascinating badlands of northern Kenya, culminating in a bumpy descent of the Rift Valley escarpment to the gusty shores of croc-infested Lake Turkana, the world's largest desert lake.

What's good about it? This is one of Africa's truly great off-the-beaten-track circuits, passing through the arid badlands of northern Kenya, a thinly inhabited and little-visited region whose expansive horizons and austere volcanic outcrops feel worlds away from the same country's bustling southern tourist circuit. At its parched heart lies the Chalbi Desert, a godforsaken expanse of cracked earth where ostriches run off hysterically at your approach, and the domestic camel are only slightly more habituated to a rare passing vehicle.

Turkana itself is stunning – a 250km-long inland sea whose brilliant jade waters are hemmed in by the sheer rock-strewn walls of the Great Rift Valley. As for wildlife, the superb Samburu National Reserve is nothing special in crude 'big five' terms, but there's no better place to see dry-country specials such as the outsized Grevy's zebra, beautiful reticulated giraffe and rubbernecked swala twiga (giraffe antelope) or gerenuk.

Uncompromising landscapes and unusual wildlife are an indelible part of the northern Kenya experience. But it is the people who impose themselves most firmly on the imagination. Desert pastoralists such as the Samburu, Turkana and Gabbra don't merely shun the modern trend towards cultural homogenisation, but seem almost to inhabit an alien mental landscape, one bequeathed to them by generations of stoic nomadic ancestors. In many respects,it's like the 20th century never happened.

Need to know: The established specialist is Gametrackers . Seasonal factors don't really come into play but departures do depend on sufficient passengers. You should bring all the personal effects you might need – shopping opportunities are somewhat limited after you leave Nairobi.
What you can do with your loose change: After a week breathing the desert air, head down to the sultry Indian Ocean coast. Here, a winning combination of atmospheric Swahili settlements, postcard-perfect beaches and brooding medieval ruins is capped by the time-warped ports of the laidback Lamu archipelago.

OR TRY THESE...

Kgalagadi Transfrontier Park, South Africa Excellent self-drive destination; its red dunes and parched riverbeds support a selection of predators and antelope
Timbuktu, Mali Few place names possess a resonance comparable to this sandswept Saharan city
Siwa, Egypt Situated below sea level, this traditional oasis, famed for its date palms and studded with ancient ruins, lies in the heart of the desert