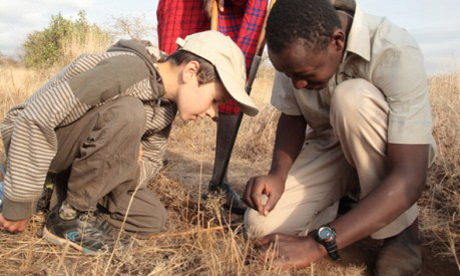 Family travel: volunteering trips
Give your children a taste of volunteering while they're still young, with one of these five trips from around the world where adults and children under 12 can volunteer together
1. Get your hands dirty with dung
You'll definitely get your hands dirty working as a volunteer at Camp Tsavo in Kenya. The 80,000 acre private wildlife sanctuary is run by the local community for Camps International and visitors play an active part in camp life. Work could involve anything from creating paper out of elephant dung to sell to tourists, to digging trenches to keep the water flowing to the huge tanks which the elephants drink from.
Spot a variety of wild animals on safari: elephants, lions, buffalos and giraffes frequently visit the surrounding area. Learn how to track wildlife, as well as basic bush survival skills from experienced game rangers. Away from the camp, you'll spend five days helping to refurbish one of the many rural primary schools which Camps International works with.
In the past, visiting families have helped build new classrooms and some have raised funds for containers of school equipment to be sent to these schools on their return home. 
The minimum age for this trip is five years. Find out more at www.campsinternational.com.
2. Monkey around in the jungle
Animal lovers will enjoy The Adventure Company's 16-day Monkeys in the Jungle tour around Sri Lanka. Explore tropical woodland on elephant-back and help protect an endangered species of primate. Biologist Dr Wolfgang Dittus and his team have been observing and tracking monkeys in the ancient city of Polonnaruwa in Sri Lanka for 40 years.
Spend three days with them, recording the behaviour of toque macaques and purple-faced and gray langurs from your base at the primate research camp. Visit the royal city of Kandy and stay on a tea plantation, while learning about the intricate tea-making process. Take a safari in Uda Walawe National Park, where there are more herds of wild elephant than anywhere else in Sri Lanka.
Volunteers can also spend time at the Elephant Transit Home where orphaned or abandoned baby elephants are cared for until they're strong enough to be released into the wild.
The minimum age for this trip is eight years. Find out more at www.adventurecompany.co.uk.
3. Help out in the UK
The National Trust is a UK charity working to preserve historic places and spaces for everyone. Their family working holidays make good short breaks and are great for team building. Work on a Georgian country estate or at one of the world's most beautiful beaches, or even at a Roman Fort. Get involved in conservation work such as beach cleaning, plant surveys and drystone walling.
If that sounds too much like hard work it's balanced with fun, expert-led activities such as kayaking, sailing, bushcraft skills and photography. The charity offers these trips at their centres in Norfolk, Pembrokeshire, Yorkshire and, from 2013, Snowdonia.
The minimum age for these trips is six years. Search through trips and activities on offer online at: www.nationaltrust.org.uk/workingholidays
4. Work in an awe-inspiring national park
The Sierra Club was founded in California in 1892 with the aim of protecting the Sierra Nevada. It's now a non-profit organisation with 1.4 million members and supporters and its mission is 'to explore, enjoy, and protect the planet'.
Sign up for one of their Family Service trips to work on projects in places such as Yosemite, the Rocky Mountains or Pyramid Lake in Nevada. Their family trips vary from year to year according to what needs to be done. Trips run between June to August and include trail building, trail maintenance, and other conservation projects as well as free time for activities such as hiking, cycling, kayaking and swimming.
The club also runs Grandparents and Grandkids trips and Multigenerational trips designed for an extended family. You'll need to become a Sierra Club member (around $15 per person in 2012) before you can register for a trip.
The minimum age for these trips is five years, but varies according to what's involved. Find out more and how to become a member here: www.outings.sierraclub.org/national
5. Support sustainable Amazon projects
The Manu Biosphere Reserve is a UNESCO World Heritage site and the largest protected area in Peru. Its forests hold some of the greatest biodiversity on the continent, according to the UN. Take part in various projects on the reserve during a seven-day Voluntourism Experience trip with crees, a not-for-profit conservation organisation.
Track jaguar, puma, tapir and peccary, help to set camera and footprint traps, and monitor fruit-baited butterfly traps (which don't harm the butterflies) in various areas of the rainforest. You'll probably see some monkeys: there are over 13 different species of them around the reserve.
Work with the locals planting sustainable crops and trees to help with reforestation. Put in the extra effort and you may even plant away your own carbon emissions from your trip!
The minimum age for this trip is six years. Check out more projects online here: www.crees-manu.org.
Gretta Schifano is a freelance journalist who has lived and worked in Italy and Spain. She now lives in rural south-east England with her husband and children. She squeezes in her writing around family life and uses her blog to share their trips and experiences. Find out more at www.mumsdotravel.com