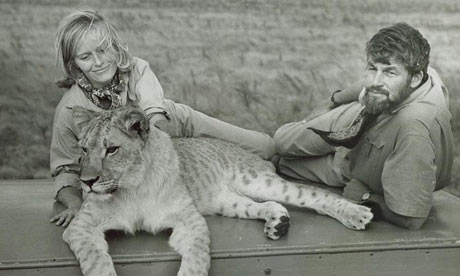 My travelling life - Virginia McKenna OBE
The actress and wildlife campaigner explains how travel and conservation have shaped her world
I was nine when I saw my first lions in the wild.
My father had taken me to the lion house at London Zoo before, but during the war I went to live in South Africa with my mother, and saw lions sitting under a tree in Kruger National Park. Those contrasting images have never left me.
My big journeys started with the filming of Born Free in 1964.
We never imagined that sharing ten and a half months with lions and a film crew, and living with our children in an old settlers' house in the bush at Naro Moru, 200km north of Nairobi, would develop into a life-changing experience.
I'm a relaxed traveller.
I don't feel culture shock. I'm fascinated by different cultures but I believe people are the same deep down. They have their family lives and their problems, but their feelings are the same.
Zanskar in Ladakh, northern India, is utterly magical.
My husband Bill [Travers] and I did a really tough but amazing trek there in 1987. You can only go there for a few months each year because the rest of the time it's hidden by the weather. We were walking on untrodden snow, going into the monasteries, meeting the people. I'll never do anything quite like it again: I'm too old now.
Most actors, in spite of their reputation, are very private people.
Being in remote places is a wonderful escape into another world, away from an audience. I don't like tourist venues – I prefer remoter spots.
I'm not a list person.
I don't tick off animals: "Oh I've seen that, I've seen that". If you've seen one lion, you haven't seen all lions – you've just seen an individual, and it's not like the next one. As long as it's done respectfully, seeing animals in their natural environment is a matchless experience. I know it's for the fortunate few, but I'd love more people to have that opportunity. It's the only way to enlarge understanding, isn't it?
You have to bring humans and animals together.
The Born Free Foundation funds elephant conservation in Amboseli National Park, Kenya, but we also support a local school. It was an absolute shambles when we found it, but we've since built a boarding house, numbers have trebled, and the pupils are learning that by respecting the wildlife they will be helped.
Everything is now in the name of conservation.
We should be careful how we use that word: it makes hunters feel all right. They say, "Oh, the fee! It's going to be put into conservation." But you're still killing wild animals.
'Proud' is not a word I think about.
I'm pleased that we have our organisation. I hope it's making a little difference, even if it's a drop. I'm most pleased I have a big family, and that I can wake up every day at my home in Surrey and look out of my window at my fantastic piece of nature, which has so far been unspoiled by human hands.