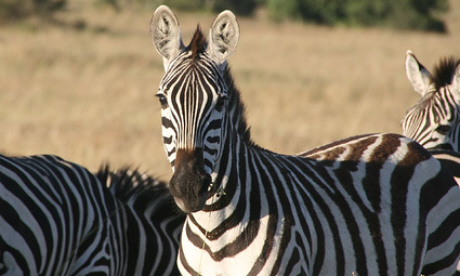 The ultimate safari planner
Our essential guide to tracking down the safari that's right for you
Planning a safari can leave you wallowing in logistics like a hippo in mud. Will you opt for the big skies and big game of the Serengeti or a close encounter with your distant hairy cousins in Bwindi Impenetrable Forest? Perhaps you're looking for something more refined – a few days at a chic bush lodge with fine wines and silver service – or is roughing it with a tent and some fire sticks more your thing? Then there are the seasons to consider, what to take, the costs, modes of transport, package trip versus tailormade and whether you really need to pack one of those khaki waistcoats (the ones that have pockets for everything from maps to Mars bars and an unspecified number of ferrets).

Still keen, I hope? After all, compared to a century ago, planning a safari has become a breeze. In 1892 Lord Randolph Churchill advanced into the bush with 30 staff and seven wagons laden with 20 tons of supplies, including two-dozen rifles and a piano. Small wonder he never made his mark as a great hunter.

Thankfully, safaris are now more subtle affairs with the emphasis on blending with nature, rather than blasting it with a ten-bore shot gun. Armed with just your senses – and possibly a camera – you'll return home intoxicated with vivid sights, sounds and smells. No doubt you'll have heard the bewitching 'whoop' of a hyena and shied away from the smouldering gaze of a lioness. The names of myriad birds will be fresh in your mind, while the pepper-sweet tang of the African bush will linger in your nose for days.

Having said all that, let's not forget the dust, the pre-dawn wake-up calls and those buttock-numbing game drives, when all you see is the retreating posterior of a lone warthog. Safaris are not for everyone but, then again, those who have 'gone bush' in Africa invariably come back for more. Not convinced? Turn the page for a quick-fix cure in our 'safari cynic clinic'. And if you're already converted, turn two pages and start planning.
Safari cynic clinic: Q & A
"I wouldn't be seen dead in one of those stripy minibuses"
Admittedly, the zebra-striped minibuses in certain East African game reserves do have a bit of an image problem, but they still provide an excellent and affordable means by which to experience popular wildlife hotspots such as Kenya's Masai Mara. The fact is, though, that there are plenty of alternatives when it comes to getting around on safari. Open 4WD vehicles (excellent for photography) are widespread, particularly in southern African countries. You can also go canoeing down the Zambezi, ride an elephant or horse through Botswana's Okavango Delta or fly a microlight over South Luangwa National Park in Zambia. One of the best modes of transport when it comes to safaris, however, is your own feet. Nothing beats the sense of freedom or 'oneness with nature' of a walking safari. You can stride out in Zambia and southern Tanzania and, of course, when it comes to seeking mountain gorillas, walking is the only way to go.

Why would I pay £200 a night to be lumped with a bunch of strangers that I might not get on with?
Safaris bring together people who have a passion for Africa and its wildlife, and you'll invariably find that the day's highlights (whether it's a lion grappling with a wildebeest or a weaverbird patiently plaiting its nest) provide animated talking points over group dinners. Good guides and camp managers are also skilled at keeping the social side of things running smoothly. And let's face it, we're not talking about Scout trips where you're piled into one tent and forced to sing embarrassing songs around a campfire. Most safari camps and lodges have excellent facilities with plenty of space for those moments when you want to be alone.
Okay, but £200 a night is still a bit steep.
Not when you consider the logistics of maintaining a camp or lodge in an area of remote wilderness. Some camps are seasonal and have to be dismantled and reassembled each year. Then there are the high standards of accommodation, food and guiding, the high staff-to-guest ratio, inclusive activities and – for top-end camps – the inevitable price of exclusivity. Botswana's $500-a-night Khwai River Lodge, for example, lies in an area about the size of South Africa's Kruger National Park, but has only a tenth of the number of beds.
Let's cut to the chase. Am I going to wake up every morning to find an aardvark in the shower and one of those big hairy spiders lurking in the toilet?
An aardvark is unlikely, but I did once share a bush shower with a tree frog – and I've watched elephants dangle their trunks into the toilet of my open-air en suite for a quick drink. There are plenty of creepy-crawlies in Africa, but the vast majority will give you a wide berth. Having said that, however, you must take every precaution against being bitten by mosquitoes. Discuss malaria prevention with your doctor several weeks prior to departure.

I'm hopeless at photography. It was so disappointing coming home and finding that all my wildlife shots were more 'grass' than 'game'.
It's not necessarily that you're hopeless at taking pictures – you might just need to appreciate the limitations of your equipment and the time restraints you have on a typical fortnight's safari. Most of those dramatic, close-up shots of African wildlife you see are the result of hours spent in the bush, a pinch of luck and some serious telephoto lenses of at least 300mm in focal length. Either upgrade your equipment and spend longer on safari (ideally in a single location to become familiar with the wildlife) or choose the cheaper option of shooting less demanding but often overlooked subjects such as landscapes and camp life.
 
Someone suggested we go on safari for our honeymoon, but it doesn't sound very romantic. All those early mornings are a complete turn-off.
A safari is an ideal choice for a honeymoon, particularly if you splash out on one of the more exclusive camps or lodges. The honeymoon suite at Tongabezi Lodge, for example, has a huge sunken bath overlooking the Zambezi where you can sip champagne and watch the sunset. As for the early mornings you can always catch up on sleep by combining a safari with a week in the Seychelles or Mauritius.

Khaki is so 1990s. Can't I pack my viridian pashmina?
Not if you want to maximise your chances of seeing wildlife. Earthy colours really are de rigueur, particularly on walking safaris where you need to melt into the background to stand a chance of successfully tracking big game.
Where should I go?
Best for first-timers: Kenya
Why? A long-established safari scene, superb wildlife and plenty of options for all budgets.
How? For the best introduction, book a safari that combines the Masai Mara and Lake Nakuru with somewhere more off-the-beaten track like Samburu or the Aberdares.
When? Avoid the rainy seasons by travelling July to October or January to March.
While you're there: Spend a few days on the coast. Kenya's coral reefs offer excellent diving, while whale shark visit from November to March.
Top ticks: Nakuru's flamingo and the Mara's black-maned lion.
Also consider: Tanzania's northern circuit or South Africa's Kruger National Park.
Best for gorilla-watching: Uganda
Why? Well-habituated families of mountain gorilla offer a good (but not guaranteed) rate of success for encounters.
How? Book well in advance for a permit, join an organised trip to Bwindi Impenetrable National Park (independent gorilla tracking is not allowed), then don your boots and prepare to get hot, sweaty and muddy.
When? December to March.
While you're there: Look out for chimp and colobus monkey – just two more of Uganda's 19 primate species. Queen Elizabeth National Park is also good for traditional game safaris, while Murchison Falls is renowned for croc and hippo.
Top ticks: Mountain gorilla and chimpanzee.
Also consider: Rwanda's Volcanoes National Park for more mountain gorilla or Gabon's Lopé National Park for lowland gorilla.
Best for photographers: Namibia
Why? Film-guzzling desert scenery, one of Africa's premier national parks and even the odd natural wonder.
How? For maximum flexibility rent a car (you don't need a 4WD) and combine several days at Etosha National Park with a visit to the giant red dunes at Sossusvlei and Cape Cross seal colony on the Skeleton Coast.
When? Year round, but July to late October is best for game-viewing.
While you're there: Take a dawn balloon flight over the Namib Desert – pricey, but worth it. Stay in a remote lodge in Damaraland. Add a few days to your itinerary and drive south to the Fish River Canyon.
Top ticks: Black rhino, gemsbok and the endearing meerkat.
Also consider: Ethiopia's Simien Mountains for rare endemic wildlife in a dramatic landscape of gorges and plateaux.
Best for families: South Africa
Why? Malaria-free and family-friendly game reserves of the Cape, plus lots of additional activities to combine with a safari.
How? Lull yourself into Africa with some time in and around Cape Town before heading along the Garden Route towards Shamwari and Kwandwe Game Reserves.
When? Year round. November-March is the hottest and sunniest.
While you're there: Do a spot of land-based whalewatching at Hermanus.
Top ticks: Penguin at Boulders Bay and the Big Five (elephant, buffalo, lion, leopard and white rhino) at Kwandwe.
Also consider: South Africa's Madikwe and Ngala Game Reserves or Kenya's Mara Intrepids camp with its acclaimed Adventurers' Club for children.
Best for diversity: Tanzania
Why? Tanzania has it all, from wildlife-rich game reserves to the snow-capped peak of Kilimanjaro and the coral reefs of Zanzibar.
How? In just two weeks you can combine Serengeti National Park, Ngorongoro Conservation Area, Lake Manyara and Tarangire National Parks in the celebrated 'northern safari circuit'.
When? The southern Serengeti is teeming with game from December to March, while the migration passes through western and northern areas between May/July and late October/November.
While you're there: Add on a minimum of five days to your safari for climbing Kilimanjaro – and then another five (at least) for recovering on a Zanzibar beach. The human fossil site at Olduvai Gorge is another must-see.
Top ticks: Lake Manyara's tree-climbing lion, Ngorongoro's black rhino and the massed cast of the great migration – two million wildebeest and thousands of zebra and Thomson's gazelle.
Also consider: Malawi for the rolling highlands of Nyika Plateau and the sand beaches of Lake Malawi, or Botswana for the verdant waterways of the Okavango Delta and the stark saltpans of the Kalahari.
More like this...
See our wildlife and safari guide for more tips, advice and related articles... More
Need safari itinerary inspiration? Check out our TripFinder tool... More
On photo safari in Kenya | Destinations... More
Planning a family safari? Check out our travel guide | Plan a trip... More