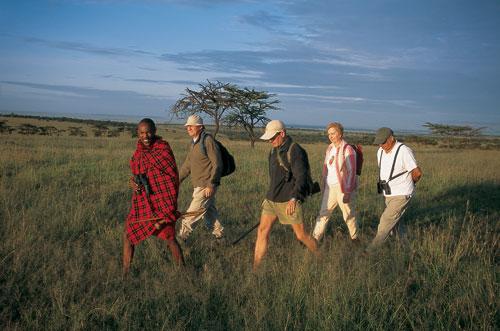 Kenyan super safari
Learn to celebrate animals with all your senses on a range of unusual excursions at the first ever Festival of Wildlife
I had never had a drink with a hippo before but, that evening, sitting in the Governors' Camp bar with a Wanderlust reader, I very nearly did. We got the shock of our lives as a huge hippopotamus stampeded through before veering off into the night. We ran for cover, then laughed hysterically, partly due to the adrenalin-rush and partly due to the realisation that, at a life-threatening moment, we'd both left our belongings behind on the table, but had each grabbed our wine glasses. The first ever Festival of Wildlife was already proving to be a unique experience.

This was no ordinary safari trip; an array of experts had been gathered together to share their specialisms and passions over a period of five days. Wildlife artist David Shepherd was to give a masterclass, while fellow artist Jonathan Truss was to lead painting safaris. Professor John Parkinson was on hand to teach us about the night sky, and a range of other experts would be hosting photography, walking and sound safaris.

Meanwhile, fans of the BBC's Big Cat Diary were truly spoilt: not only is Governors' the location of the popular documentary series (a sort of wildlife soap opera; far more gripping than EastEnders), but its presenter, Jonathan Scott, and his equally talented photographer wife Angie, were there to give an insight into the TV programme and lecture on photography.

Seeing the concentration of wildlife around Governors' Camp in Kenya's Masai Mara Game Reserve, I soon realised why it is the perfect setting for Big Cat Diary.

We were warned to always call for a guard to accompany us when walking to and from our tents in the dark. Ignoring this advice on my first morning, I set out along the path towards the main building. Suddenly I heard an alarmed: "Madam, stop!" as several human shapes appeared out of the dawn gloom. "Listen – elephant." Sure enough, a huge male elephant was blocking the path ahead, noisily tearing apart a tree. I never did the walk alone again, particularly after being woken the next night by an even rowdier elephant chomping fruit right outside my tent.
A day in the (wild)life
The days would start pre-dawn with a cup of tea served in bed. Half an hour later a fleet of vehicles would be waiting, ready to take us on a specialist safari (photographic, painting, sound, walking) or a straightforward game drive. Coming back mid-morning, there would then be a masterclass of some sort on offer, then lunch, then another talk or masterclass.

After this it was off to the vehicles again for another choice of safari, and back at dusk for dinner, followed by yet another talk or event. Nothing was compulsory, but it was just too good a timetable to miss anything out. We had been warned in the welcoming speech that if we wanted to do everything on offer we wouldn't have time to shower; while I did always find time for my ablutions, it certainly was a fearsome itinerary and at one point I went 36 hours without seeing my tent in daylight.

Perhaps the most unusual of the activities was a 'sound safari', run by Derek Solomon. Based in Zambia, it was Derek's first visit to the Mara, and he was already excited by a startling discovery: "I can't get over this: the dialect of the birds here is completely different to Zambia." We drove out from the camp and within minutes came across a small group of elephants.

We turned the engine off, put on headphones and listened as Derek held up a large microphone. To our astonishment we could hear rumbles and mumbles from the surrounding elephants. Despite the presence of a couple of babies, they seemed unperturbed by our presence, and a mother came close enough to touch.

"The elephants here are so wonderfully relaxed," exclaimed Derek. "You can tell they have no fear of being poached."

It was such a magical afternoon that I joined Derek again on a couple of occasions. One day we drove up to the Marsh Pride, made famous by its starring role in Big Cat Diary. As viewers of the last series know, there was a drama when the pride's leader, Simba, was driven away by two younger males. Now they were here in front of us, the gasps of recognition emanating from our truck were no less excited than if we'd spotted Tom Cruise and Brad Pitt strolling down Oxford Street.
We'll see if this makes them more alert...
Sadly, the lions were looking far from magnificent, their ribs showing through their coats. This was pre-wildebeest migration and the lions were having a hard time finding enough to eat. They slumped around, lethargic through lack of food. "We'll see if this makes them a bit more alert," said Derek, turning on his recording equipment and playing a tape of a Zambian lion roaring. The two males immediately sat up and looked around to see if there was an intruder on their territory. After a few minutes of consternation they clearly began to suspect a ruse. One of them sauntered past, a model of calm confidence as he sniffed the air and scanned the plain. Satisfied, he slumped back down again. 

Derek proved to be a mine of information on all sorts of critters, great and small. Spotting the weird-looking bird known as the hammerkop (as one festival-goer noted, "it looks like it's wearing one of those aerodynamic cycle helmets"), Derek related the famous case of one in Zimbabwe whose nest was found to contain underpants, six bicycle tyres and a broken cassette tape.

Through Derek I learned that kudu carry around 20,000 ticks on their body, that impala are the only antelope that groom themselves, that hippo can echo-locate and are actually more closely related to whales than pigs. Derek explained about the dawn chorus and bird song, and how some birds improvise and others adapt songs. And sex reared its head again and again: apparently frogs with the deepest voices are the most attractive, so less-scrupulous, higher-pitched frogs take advantage of this, lying in wait to waylay females on their way to meet a sexy amphibian, pretending it was them that made the call.
Mix'n'match safari
The beauty of the Festival of Wildlife was that you could do as much or as little as you liked. I went for the maximum, attending every talk and masterclass, and sampling every type of safari. The staff at Governors' were just as intrigued as us by the wealth of activities on offer, though they were clearly baffled on occasions. When I joined artist Jonathan Truss on a recce for good spots to hold his art safaris, he pointed out that "the driver must think I'm mad photographing rocks" as he ignored the herds of gazelle, giraffe and various birds, instead scanning the landscape for interesting still-life topics.

Jonathan's art safaris were a big success, attracting a mixture of professional and semi-professional artists, alongside many people who were picking up a paintbrush for the first time since their school days. It was also fascinating to watch David Shepherd start a painting at the camp, totally unfazed by the attention he was getting. When he wasn't painting, David radiated bonhomie, entertaining all and sundry with his colourful anecdotes and observations. However, once he was behind the easel he was all studied concentration. When a group of Maasai dancers visited one lunchtime, they too watched with wonder as David calmly painted away.
Absolutely passionate about wildlife
Jonathan and Angie Scott were also impressive in their professionalism. They live part of each year at Governors' Camp, and got married on top of a nearby ridge. Absolutely passionate about wildlife, they spent long days out in their Toyota Landcruiser, cameras always at the ready.

One dark, drizzly afternoon I joined them; we set out hoping to see a cheetah and cubs, but instead had a frustrating time failing to get across a flooded river. Eventually we gave up and parked on a windswept hill, with a spectacular 360° view. The sun started to set, streaking the sky with shades of violet and pink, as a storm and heavy sheets of rain approached from the east. If I'd paid more attention on the previous day's photographic safari I might have had the right film with me to photograph that incredible sky.

On the last evening we enjoyed a gala dinner out on the lawns. Inevitably, we all started swapping notes on our personal highlights. For some it was meeting the likes of David Shepherd and Jonathan Scott. For others it was specific wildlife experiences – seeing a leopard with a kill, or Kike the cheetah with her cubs. And then there was the morning that a herd of elephants crossed the Mara River onto the lawn, and calmly made their way through camp. But, as Professor Parkinson pointed out, it wasn't the individual highlights that made the Festival: "It's like looking at a painting and asking which brushstroke is the best. For me the highlight has been the whole thing, the whole experience."
Festival of Wildlife
Wildlife Worldwide runs a Festival of Wildlife in a different animal hotspot each year; as well as Kenya, previous destinations have included the Galápagos Islands, Ranthambhore tiger reserve in India and British Columbia. for more details visit www.festivalofwildlife.com
More like this...
Ceck outh our wildlife and safaris guide for tips, advice and articles... More
Top tips for photographing wildlife | Advice... More

On photo safari in Kenya | Destinations... More
Need trip inspiration? Check out our TripFinder tool for itineraries to suit you... More