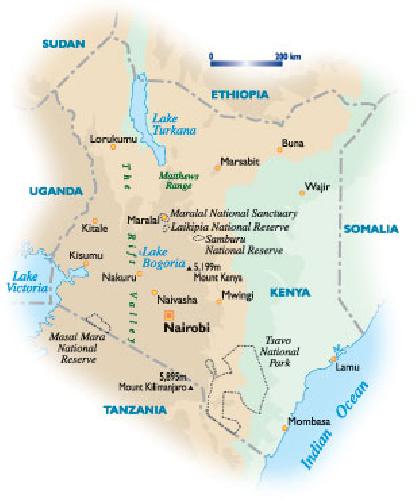 Travels with a donkey
Birdsong – the solo performance of the Cape robin-chat, early riser of the bush – was my wake-up call. I unzipped the tent flap and sniffed the air, which was rich and pungent yet peculiarly homely. I love the smell of wet donkey in the morning, and so do the elusive cats of the Leroghi Mountains. Last night I heard the see-saw rasp of leopard, but our baggage train of donkeys and mules survived the perilous hours of darkness and I fell asleep to a lullaby of chomping noises as they grazed between our tents.

Only the most reckless leopard would be prepared to take on their guards: 12 Samburu and Ndorobo warriors, lean as knife-blades in their brilliant shukas (red cloaks), hefting spears and pangas (short machetes) to complement the game rifles of Peter Faull and his son John. This formidable posse also provided the protection for six European trekkers looking for new value in the debased word 'safari'. We had travelled to Samburuland, in northern Kenya, to follow a route which, until recently, was known only to long-dead elephant hunters and local pastoralists.

Peter and his wife Rosalie share the pristine forest of the Leroghi only with those who first showed them the elephant paths and cattle trails which give them access to some of the most remote and spectacular campsites in east Africa. The four camps on our trek – Bawa, at the base of the hills, Upper Bawa, deep in the forest, and Tilia and Naibolo, both on airy ridges with views traversing the immense space between the Rift Valley escarpment and the wild Matthews Range – were first named and used by the Ndorobo, hunter-gatherers who have been largely assimilated by incoming Samburu pastoralists.

During our trip we saw and heard the birds and beasts of the forest, but met only a group of Samburu 'cowboys', one of them packing (illegally) an AK-47 to repel rustlers. His furtive weapon reminded us that some parts of northern Kenya remain no-go areas for visitors. But not this area, where the secretive, Leroghi Mountains have no commercial or tourist traffic to attract Somali shiftas (bandits) or terrorists. Among the beauty of ancient cedar and podocarpus trees the hazards were merely "risky animals", as explained by our veteran guide, Lekermogo. A startled bull elephant, perhaps, or a grumpy old buffalo.


Given the nature of the safari industry today it's often hard to remember that the Swahili word safari simply means journey. This one involved a six-hour ride from Nairobi to the vast Laikipia Plateau, and then on via dust roads to Mugie Wildlife Ranch before arriving in Maralal, where the legendary explorer Wilfred Thesiger had his last African home.

While my safari companions were making their way north by road from the Masai Mara (a two-day journey), I was able to relax at Mugie with a spectacular collection of African art and some unusually fierce guinea pigs. Mugie is still a working ranch. Its manager, Claus Mortensen, farms Boron cattle and red Maasai sheep on 100 sq km of acacia bush and savannah which the livestock shares with the local wildlife: plains game, buffalo, elephant, leopard and lion. "There was a time," said Claus, "when we would shoot the cats and discourage the rest. But now every big ranch up here is committed to conservation and wildlife tourism – if only for our own survival."

More than that, Mugie is one of the core study areas for the Laikipia Predator Project, a scientific study of the interaction between people, livestock and big cats. Its aim is to explore ways of allowing them to co-exist, and with the Mugie lion population reaching 28, it's had some success. "We've had to shoot only three problem lions in the past four years," Claus told me. "At the moment we have another six tagged and radio-collared for close monitoring."

These delinquents – we found two of them sleeping in a thicket of acacia – had also attacked livestock, but they were being given a second chance. "Often a livestock kill is almost an accident. In Laikipia we're a long way from the big national reserves and none of our wildlife is habituated to people. Our lions associate livestock with people, and tend to keep their distance, but if a flock of sheep blunders into one of them the temptation is too great."

The wrongdoers are put on probation and their movements supervised – backed up with a bit of aversion therapy. "We give them a traumatic time after they've been sedated, blood-tested for parasites and collared. They wake up to a cacophony of drumbeats and shouts and clattering saucepans, and then we release them. That's often enough to discourage them from looking at another sheep. If we farmers want to conserve wildlife and bring tourists to our ranches we have to find ways of living with it."


There are two places to stay at Mugie: a tented camp or Mutamaiyu House, a magnificent hilltop lodge stocked with African antiques and all the trappings of upmarket wilderness tourism. With three nights' camping ahead of me, I'm afraid I took the soft option. In the morning I looked out of my window and saw the sun rise behind Mount Kenya, and a procession of elephant, giraffe, eland and zebra trooping to the waterhole in order of rank.

At Mugie I also met Peter and Rosalie for the first time. When they're not on safari they're part of the ranch team. Peter helps Claus with the predator project and Rosalie, a self-taught botanist, has established an agri-programme which grows the natural insecticide pyrethrum, among other crops. Like every rural Kenyan I've ever met they are resourceful and multi-skilled. Rosalie provides a high level of bush catering for Samburu Trails and is the vegetation guide, while Peter's bush experience – he was a professional hunter for 15 years – and command of Kisamburu has been critical to his relationship with the warriors and elders who make their safaris possible.

The Samburu call him Longoron – the donkey man. Every big-game hunter has a sense of history, an interest in his predecessors, and when Peter gave up the chase and settled near the Leroghi Mountains he turned to the memoirs of AH Neumann, a Victorian adventurer who spent three years hunting elephant in the region and who became celebrated for his high success rate. Different values for different times. Neumann set up a base camp for his plunder in the El Bogoi valley, in the foothills of the Leroghi, and used donkey caravans to transport the ivory to the coast.

In 1995, helped by the folk memories of the local Ndorobo and their village elder Lekermogo, Peter explored the forest with two donkeys and a mule and found the site of El Bogoi camp. Thus began Samburu Trails. "As you know", he said, "many operators use camels for trekking safaris in northern Kenya, but camels would be hopeless on these steep woodland trails. Besides, I liked the idea of recreating Neumann's donkey caravans – without the ivory, of course."


I liked the thought of travelling with 20 donkeys, enjoying their diffident sociability, and I particularly liked the thought of Mabel the mule who, with her two colleagues, had riding saddles for those who found themselves flagging. In fact, our group had elected to do the shortest and easiest route: the Tilia-Naibolo Traverse, which took us to a point where, 300m below, we could see the site of the El Bogoi camp without troubling to climb down to it.

Our pace was gentle; plenty of time to talk to Lekermogo, who spoke no English, and his handsome lieutenant Lentaiya, who translated heroically; plenty of time to learn something of the Ndorobo, who have perfected the skill of harvesting honey from the tallest trees without – "like the Samburu" – felling them to reach the hives. "Trees are as sacred to us as grass is for the Maasai," Lentaiya explained.

All the Samburu and Ndorobo were great dandies. If their own ochre cosmetics, elaborate braids, dazzling beadwork and scarlet or plaid shukas weren't deemed sufficient to their role as models in our photo shoots (they loved striking attitudes for our snaps), they would improvise with blossoms planted in their hair. Unlike many of the Maasai, the Samburu haven't yet sold out to the attentions of "the people of the planes and motor cars", as Lekermogo called us, eyes twinkling. The isolation of Samburuland and the fact that it was never settled by British farmers have helped conserve their way of life. Our guides and porters didn't dress up for our benefit; their splendid wardrobes represented everyday wear.

With the small-scale nature of its operation (treks rarely take more than eight people), Samburu Trails is doing its best to keep it that way. The trek staff are, of course, paid for their services and clients also leave tips. Down in Bawa village, Lentaiya's pretty wife encourages her friends to up their production of beadwork and does a little tentative marketing, but there is no touting.


Other visitors to the Leroghi are less sensitive. "Can you believe this?" demanded Peter."Lentaiya is really keen on birds and he did some work for an Italian ornithologist who told him he really ought to dress 'properly' when he goes into Maralal. So now you sometimes see Lentaiya in town wearing cheap Western clothes he's bought in the market – and, of course, they make him look half the man he is. He's a senior warrior, for goodness sake."

The forest has over 200 species of birds and we had plenty of good sightings of Hartlaub's turacos, the large grey-and-crimson member of the lourie family which spends most of its time scrambling about the treetops like a monkey. Red-fronted parrots, silver-cheeked hornbills and gem-like sunbirds attended our leisurely climb to the giddy clifftop of Tilia camp, where we were greeted by the soft burps of fan-tailed ravens. Like all members of the crow family, the ravens had quickly learned that people mean pickings.

The hills themselves are no great height, but our starting point was 1,800m, and in the thinner air I was happy to take two days to reach our highest point, about 2,400m. I was prepared, too, not to see much game, given the density of the forest. Our mammal checklist was confined to baboon and bushbuck, but there were signs and sounds of bigger game everywhere: tracks and droppings of elephant, buffalo and leopard; rumblings of elephant deep in the trees; elephant salt licks beside the streams. At night the visit to our bucket shower, always sited away from the camps in a screen of foliage, represented adventure; and at Upper Bawa camp the nightmare shrieks of tree hyrax woke me briefly before – with the greatest confidence in our security system – I turned over and went back to sleep.

Nightfall and dawn are always special times on safari, but in the Leroghi Mountains they were magical. Each day's end brought sunsets, campfires, paraffin lamps, beer, wine, Peter's anecdotes of hunting dramas, and one of Rosalie's gourmet dinners: maybe pumpkin soup, beef fillet grilled with rosemary and meringue with mango sauce. Each morning brought mugs of tea to our tents before we went outside to see the sunrise – at its most sensational at Naibolo Rock, where we sat suspended over a mighty landscape which (in exceptional clarity) reached all the way to the Aberdares and Mount Kenya.
Our final day began with a stiff climb from Naibolo camp – heart-attack hill, Peter called it – to the ridge which led us back down to our terminus at Bawa. For the last time, with some sadness, we watched the Samburu load up the donkeys – a sturdy, round-bellied troop – and whoop them on their way. It was sadder still to say goodbye to Lekermogo, Lentaiya and the camp staff, and Lekermogo's mischievous mood turned grave as he offered a final prayer: "May the metal of your cars and planes be strong and keep you from harm. And may it be God's will that we all meet again."

At El Bogoi, perhaps. I won't be able to get the Leroghi out of my system until I've camped with the ghosts of the elephant hunter and his fallen titans.