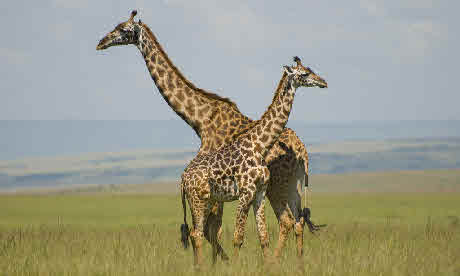 Five days in the life of a bush safari guide
Julie Davidson goes back to school with a five day Field Guiding Course in the Masai Mara.
School was in. It was raining in the Masai Mara and our field trip had been cancelled but we didn't care. We knew the restorative cloudbursts of Kenya's long rains wouldn't last longer than an afternoon, and even if we were confined to the classroom it certainly was an exceptional one: the airy bar-cum-lounge of Little Governor's Camp, with its view across lush wetlands to the Oloololo Escarpment. Every so often we lifted our gaze from our notebooks to watch the controlled landing of a Goliath heron, jumbo jet of the heron family, or to admire the neighbourhood giraffes.

Besides, our attention had been colonised by termites. Calm, patient Matt Gurney, who combined the skills of a natural teacher with the exotic lore of the safari guide, was talking termite technology: how the oldest organised society on the planet designs the complex architecture of its colonies. Did you know that termites rule the world? "They are at least 100 million years old," said Matt, "older than bees, ants and, of course, humans. But more to the point they represent 20% of the biomass. All the termite species add up to about a fifth of all living creatures." 

I shall remember that the next time conversation flags round the urban dinner table – even at the risk of committing social suicide. Back home, people seem to enjoy my stories of mating lions and edgy elephants; they have even listened politely to my imitation of the contact whoop of the hyena and the liquid call of the coucal, but their eyes tend to glaze over when I get down to the fine detail of my safaris. Dik-dik droppings, for example – "like chocolate raisins". Croton bushes – "if you rub your skin with the leaves, the smell will repel insects." Golden orb spiders – "the silk they spin is so strong that the military are investigating using it to pack bullet-proof vests." 

It is, however, the fine detail of the bush, as well as the big picture of its mighty spaces and headline mammals, that we were there to study over five days in the Mara, where we had our own zoological role. One man and four women made five guinea pigs; Kirstina, Jane, Elly, Mike and I were students of an inaugural course in practical bush craft at Little Governor's Camp, where we would be taught such exciting skills as rifle-handling and driving 4WD vehicles. It was designed by Matt to give us a taste of the kind of training he offers professional safari guides. Meaning that, although we had many laughs, it wasn't just larking about. 
Bush routine
Safari life is hard work at the best of times: up before sunrise, the day kick-started on tea and biscuits; eyes strained for hours at a time; muscles clenched against the convulsive lurch of a 4WD on rutted tracks. But if you love the bush – and every member of our little class was passionate about it – then the morning routine is no hardship. And no real routine. "Every day brings something new," said John Amagune, our driver-guide, who has worked at the Mara family of Governors' camps for eight years. "That is the nature of the natural world." 

Especially for us. Matt Gurney has put rigorous work into the preparation of the course. Having worked in conservation and guided walking safaris in Zimbabwe and Zambia. he has returned to Kenya, where he spent his childhood. There, through his one-man company called Bush Logic, he is committed to improving the quality of guiding in East Africa, where standards aren't as high as those in Southern Africa. His first briefing came with a solid dossier of text. "Try to read most of it this evening, but don't be intimidated by the amount of information. You won't need it all unless you're planning a career change."
 
Just as well. Zipped into my tent, I skimmed the contents table in the sleepy light of a paraffin lamp: "Approaching dangerous wildlife; Basic bush navigation; Radio procedures; Landrover mechanics; Dangerous game rifles; Savannah ecology;" Outside I heard hippos revving up for the night's grazing and the bark of a sentinel baboon; the sweet air of the Mara river, gorged with rain, drifted through the mesh windows and I heaved a sigh of contentment. We had a 5.30am wake-up call the next day and I couldn't wait. 

We spent the first morning in the big, ex-army Land Rover 101, John at the wheel with Matt at his side, adjusting our senses to take in the sights, sounds, smells and sensations of the Mara wilderness. "Some people find the scale and emptiness unnerving," said Matt. "I took a couple of New Yorkers out here not long ago and they were almost overwhelmed. One of them burst into tears." None of us were new to the bush, but it still took us a few hours to 'tune in' – extend our listening beyond the immediate bird calls, focus and refocus our eyes from foreground to far horizon – before Matt decided we were ready for a stroll.
Walking with lions
Koiyaki, a 40-minute drive from the camp, is Maasai ranch land with the same ecosystem and wildlife as the Mara reserve, where we were not allowed to walk. Here we spent much of our five days, learning the names and uses of plants and shrubs (there is little that grows in the bush that doesn't have some value for the locals), identifying spoor and scat, picking up some simple tricks of orientation and perfecting the knack of sidling up to zebra and antelope in the least alarming way: obliquely, in a spiral manoeuvre, without seeming to look at them. 

Once we spotted a big, black-maned lion and three females lounging in the grass about 180m away. Matt proposed a cautious approach, but before my heart reached full throttle there was a flurry of activity in the pride as the male mounted one of his females. "One of three occasions when you must never approach lion on foot," Matt reminded us. "What are the other two?" we piped up promptly: "If they're on a kill, or if there are females with cubs." 

Matt made us constantly aware of what was happening around us at all times. Our dossier of homework naturally included information on dangerous species, although all species of game "right down to the common duiker" can be dangerous, if only in exceptional circumstances. The dodgiest candidates, however, are lion, leopard, buffalo, elephant, rhino, hippo, Nile crocodile and spotted hyena. And the Mara has them all. 

We knew by their tracks that they were all out there, in the long grass of the long rains, in the thickets of croton bushes and groves of greenheart trees, in the greasy brown water of the Mara river. Yet Matt taught us to be not afraid but alert. When we stepped out on the high, rolling savannah he carried his rifle – the bolt-action, Czech-made Brno. 345 which we would soon learn to shoot – slung over his shoulder; when we moved into cover he held it at the ready. Like many safari guides, his bête noire is the buffalo. "No matter how often I do this," he revealed, as we filed down a woodland path pungent with fresh buffalo dung, "I can still feel the adrenalin. Just enough to keep me primed."
Sense of adventure
Tourist fatalities may make the headlines but they are very rare. In its 30 years Governor's Camp, which is Africa's oldest luxury safari camp, has had only one death from game – when a Belgian bird watcher wandered out of the grounds and blundered into two dozing buffalo (they found his body in a tree, where he had been tossed). "The statistics put the risks in perspective," Matt said. "Over the last ten years about 13 million tourists have visited the game parks of Africa and there have been fewer than 20 fatalities." 

None of this information diminished our sense of adventure, which began every morning in the half-light with the short walk from Little Governor's to the ox-bow loops of the Mara river. There we trusted ourselves to a rope slung from high bank to high bank, a fragile little craft which shared territorial rights with the hippos and crocs, and a sturdy boatman who hauled on the rope to ferry us over to our waiting vehicle. 

Soon Matt was setting us practical exercises. Under his reassuring tuition we learned to be less frightened of handling the Brno.345. We made a fair fist of target practice at an old quarry just outside Musiara Gate. The only casualty was Kristina's fair Swedish complexion, which overnight turned navy blue under her right eye. "I wasn't holding the stock tightly enough into my shoulder," she explained cheerfully. "It gave me a bit of a slap in the face when it recoiled." 

Our most uproarious class arrived when we each took turns driving the hefty Land Rover. Conditions could not have been more challenging. The rain had made swamps of every rivulet and our spinning wheels turned the black cotton mud of the Mara into glutinous fountains. That night the camp showers and laundry worked overtime. 

By the middle of the week we were putting our new knowledge into practice. Matt invited each of us to take turns briefing and leading the group, and our confidence grew. We had become more familiar with the intimidating space and sparse landmarks of the Koiyaki landscape, and on our last morning Matt set a final challenge: "I'm not doing any guiding today. I want you to find the spot where we had breakfast yesterday. It should take you three hours at the most." 


Our collective effort was bountifully rewarded. Three hours' bushwalking wasn't three hours' forced march – the pace was leisurely, with lots of pauses to identify yellow-mantled widow birds or black-chested snake eagles and admire a frieze of elephant on the skyline – but we all cheered when we reached the top of a ridge to see the verdant little valley which was the previous day's breakfast site. The cheers grew louder when we spotted the catering; not the usual picnic boxes of cold bacon and hard-boiled eggs, but the full makings of a celebratory bush breakfast – table, chairs, hot food, Buck's Fizz and camp staff grinning at our surprise. When I look at my snaps of that farewell breakfast I see mild triumph on every face.