Tsumeb to Etosha National Park, Namibia
Campers behaving badly and a run in with the food mafia.
October 2002
A pokey, dusty little town, Tsumeb simmers in the heat. For travellers it has no endearing features so a stay of one night is more than adequate. When travelling, there are days when nothing ever goes according to plan and our day trip to Groonfontein, a town that is a carbon copy of Tsumeb, turned into such a day.
Our carefully crafted itinerary involved visiting the Hoba Meteorite, an ostrich farm and the Tsumeb Cultural Centre. On our way down a dusty 25km gravel road, we saw no sign of the ostrich farm and later discovered that it no longer exists.
The Hoba Meteorite is the largest known meteorite in the world weighing fifty tonnes and measuring almost three metres long. According to scientific calculations, the meteor struck the earth over 80,000 years ago. Annoyed that we had driven 80km out of our way just to see a chunk of rock, we thought what the heck, we would visit the Grootfontein museum to fill the gap in our schedule. We would broaden our minds, escape the blistering sunshine, have a cool drink and fall asleep over one of the exhibits. It was not to be – we were foiled by the bizarre opening hours; the museum only opens on Wednesday and Friday. How convenient for tourists!
The redeeming feature of Grootfontein was the Herero women conducting their everyday lives in traditional dress. In my technologically advanced wick away shorts and top, I was continuously bathed in sweat so I cannot imagine how these ladies cope attired in full length, flounced Victorian dresses, draped in dainty lace shawls and a bizarre rectangular cloth hat. This form of dress was inflicted on Herero women during German colonisation by prudish missionaries in the late 19th century.
Fed up, we tried the Tsumeb Cultural Centre that offers tours of reconstructed villages from different tribes in Namibia. It had been open when we passed at 9:00am but at 11:30am the doors were firmly shut. Early lunch? We'll never know.
Dejected and suffering from traveller's apathy, we returned to Mousebird to prepare lunch. It wasn't long before the food mafia was taking an unhealthy interest in our meal. Why have fellow backpackers been so obsessed with our choice of food? I have no idea and blame it on the heat. While dishing up our innocuous vegetable curry and rice, we were accosted by a vertically challenged gentleman wearing a Hawaiian shirt, rounded wire spectacles, trimmed moustache and pronounced white sock lines halfway up his brown calves. Instantly I suspected he might be a touch eccentric. Without introducing himself, he stuck his nose into one of our saucepans and barked, "So you're having porridge, eh?" I gave him a rather puzzled look, wondering when vegetable curry had ever resembled porridge. Maybe he was just winding me up?
"No, it's vegetable curry and rice," I replied, hoping he would disappear as he edged closer to our steaming food. With a deadpan expression on his face, he gave us the benefit of his wisdom, "You should be cooking porridge. It's lovely if made with real oats, milk and honey. Highly nutritious. That's what you should be eating." If I meet one more person that is of the opinion that our food isn't wholesome enough, doesn't conform to Islam or isn't porridge, I'll scream the place down. The 40�C temperatures were making me irritable.
We took our places round the patio table. Sitting opposite was a starchy, uncommunicative Danish girl eating open sandwiches. I decided against informing her that she should be eating porridge and asked her how long she had been in Namibia. Establishing that she was working in the Tsumeb Kindergarten, we asked her again how long she had been here. With her mouth full, she replied, "Since August." Undeterred, I ploughed ahead with the next logical question, "Where have you visited in Namibia?"
"Nowhere," was the clipped reply. I should know when to quit. I asked politely, "Are you planning to go anywhere while you're here?"
"I go home next week, so no." Flogging a dead horse, I ventured, "Maybe Etosha?"
"No," was the sombre reply and she stuffed half a sandwich into her mouth, ending the conversation. Why would you come all the way to Namibia to work in a kindergarten and not even travel to Etosha that is 100km up the road? The hostel even offers a budget two day tour. The mind boggles.
The heat was already relentless on our arrival at Namutoni Gate of Etosha National Park. The park ranger asked us whether we were carrying any weapons and I nearly laughed before I realised he was deadly serious. If your boot was loaded with a stash of AK47s, would you admit to it?
Instructed to drive to Namutoni Camp to pay our admission, we located reception and handed in our papers. The Namibia Wildlife Resorts (NWR) operate a strange camping system. We had to book a site for 8 people with electricity and pay N$160, even though there were only two of us. A confused member of staff stared vaguely at our entrance document, then vaguely at his computer, clicking his mouse furiously for good measure. This didn't inspire confidence so Tom volunteered our campsite reservation that deepened the confusion. In the end he gave up and shoved the papers back at us, muttering, "Go and pay at Halali campsite." I sensed that customer care wasn't his forte.
The Etosha Pan is an impermeable, flat, clay expanse that shimmers in the heat haze giving the illusion of rippling water. There is only one road that crosses the pan at Fischer's Pan in the east. This deserted gravel trail wound through the pan for 29km. I thought there would be little chance of spotting any game in this inhospitable, barren environment. I was proved wrong.
We observed a family of banded mongoose, a scrub hare, secretary birds, black backed jackal, Burchell's zebra, giraffe, kudu, gemsbok, steenbok, springbok, ostrich, guinea fowl and blue wildebeest. Most of these encounters were at wonderfully close quarters. In my excitement, I initially mistook the mongoose for meerkats, but then half the fun is derived from trying to identify the wildlife correctly.
For lunch we stopped at a designated parking area. This picnic site was sadly neglected; overflowing rubbish bins and toilet bowls filled to the brim with excrement due to having no flush. Another case crying out for long drop dunnies that would be environmentally friendly and would not require water in this parched area. Surely Etosha National Park can pay someone to collect rubbish!
Etosha Lookout extends one kilometre onto the pan, giving ghostly sightings of the odd hazy silhouetted ostrich or antelope in the distance. The pan is such a unique natural wonder and the lack of vegetation is great for viewing game. Reaching Halali campsite, we felt physically drained from the constant 47�C temperature inside the car.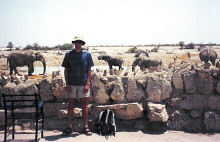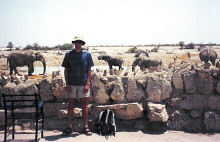 Elephants at the Moringa waterhole



The Moringa waterhole is the main draw card at this campsite. Man-made, it is banked by purpose built seating and flood lights. Silence reigns supreme. After stumbling over plastic bottles, I just wished they would empty the rubbish bins to keep the area tidy. It detracted from the experience of being in the wild. Three elephants were cooling down by casually spraying muddy water onto their backs while springbok pranced around in the background. It was a magical sight and I temporarily forgot about the searing heat.
The curse of the overland trucks was back with a vengeance. I counted four parked in the campsite, hogging all the communal facilities. We camped as far away as possible in a vain attempt to avoid them. Etosha is a very different experience to Kruger, it is much more rough and ready with fewer facilities but there are a wealth of waterholes to explore in the flat, barren terrain. Wildlife is far easier to spot and I had seen countless herds of zebra, blue wildebeest and springbok that I didn't see in Kruger.
Our dinner at Halali was accompanied by copious amounts of white wine that promptly transformed us into the campers from hell. Not the ideal combination when viewing wildlife at a waterhole. We were so sloshed that we had trouble negotiating our way up to the floodlit waterhole, weaving all over the path and tripping over rocks. I desperately tried and failed to suppress the urge to tell everyone to "ssshhh" as they were observing two elephants drinking. I collapsed onto a bench and my eyes kept closing. The world was spinning around in my head. That's the only problem with five litre wine boxes; they seem bottomless. You take your first sip and before you know it, one plastic camp mug becomes two and progresses to four. Eventually, we got bored of the elephants whirling in front of our eyes and retired to our sleeping bags. Still no one had emptied the rubbish bin but someone had swept the leaves in the campsite into meticulous piles for me to drunkenly lurch through.
Etosha was fast losing its appeal after Tom woke at 5:00am feeling queasy and nursing a splitting headache. Miraculously, I had escaped a terrible hangover, wolfing down a breakfast of scrambled eggs, onion and baked beans. The wine box was relegated to the bin.
A word of warning – the drinking water from the park taps is foul-tasting even if mixed with cordial. The sweltering heat demands drinking constantly – we ended up filtering water through our Aquapure bottles in a vain attempt to improve the taste. My advice would be to bring your own supplies of drinking water into the park. The mineral water sold in the camp shop is extortionate and warm.
Our second night was spent at Okaukeujo camp site. On the way, we visited the man-made water holes of Gemsbokvlakte and Olifantsbad where we were treated to a giraffe drinking awkwardly, its neck straining to reach the water, and a lion sleeping by a gnarled tree trunk. Back at camp, we arrived just in the nick of time to see white rhino, giraffe and a tiny baby elephant crowd round the water hole. I think we were incredibly lucky in Etosha as every time we strolled up to a waterhole, the game materialised.
Surrounded by a sea of overland truck tents, why didn't it surprise me when a G-string whizzed its way past my ear as I trudged to the ablution block. I just hoped the extrovert blonde tour leader had an endless supply of underwear as she catapulted a bra over the braai. It wasn't long before a truck mate tripped over one of our guide ropes, pulling the peg out. We couldn't be bothered to rectify this and settled back to sleep. At 11:00pm, a howling wind whipped up, buffeting the tent in all directions. The pegs easily worked free from the extremely hard ground. If we hadn't been inside the tent, it would have been swept across the camp site into oblivion.
Sand blasted by the grey gravel dust, I held onto the tent for dear life so Tom could conduct an emergency search for a sheltered spot. Our tent was never designed to stand up to gale force winds. Tom found a calm area against the laundry building so we picked up the tent and transported it through an obstacle course of guide ropes to escape the wind.
We celebrated saving the tent by visiting the waterhole at midnight. In that moment, Etosha redeemed itself, working its magic on our senses. Fourteen elephant were milling around the water and a white rhino with baby was an inspiring sight to be savoured. We observed this wildlife feast for half an hour as the elephants jostled for position, rubbed their feet on rocks, squirted water into the air and the baby rolled in the dust. It was an elephant rave in the flood light.