Dar Es Salaam, Tanzania to Stone Town, Zanzibar Island
Day 30: 27 August 2002 9:30 pm

Some of the group are elated to get their first taste of freedom away from the truck as they take the ferry to Zanzibar.
It was interesting to note that this morning, the only people in the group
that took their main rucksacks to Zanzibar were also potential truck
deserters.
Our tour leader instructed us to pack light for our five nights on Zanzibar but
we ignored her, much to her disgust. Considering one of the rucksacks was
brimming over with dirty laundry and we have hardly any clean clothes, we
need to do our washing when we are out there.
The ferry to Stone Town was comfortable and air-conditioned (US $60 return)
and we relaxed back in our plush seats to watch "Oceans 11". Tom would
have liked to check out the ferry prices, but we didn't have any time to do
this as he thought the price was a bit steep. Yet again, our tour leader
had tried to spook us by implying that it was not safe to stow our main
backpacks in the locker provided, as only hand luggage could be taken into
the seating area. I witnessed first class passengers parting with their
posh Samsonite suitcases and realised that our tour leader is paranoid.
Two and a half hours later, we docked at Stone Town and had to present our
passports to be stamped, even though we were still technically in Tanzania.
We were taken by minibus taxi a ridiculously short distance to Narrow Street
Hotel and lady luck decided to shine upon us. Instead of domineering, pushy
Rose bagging the best room, we did (US $20 per night).
After twenty minutes, it was back out into the hot sunshine to follow our
tour leader to Sweet Eazi, a restaurant we considered far too pricey for our
meagre budget, so we slipped away from the group.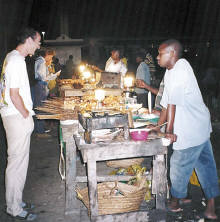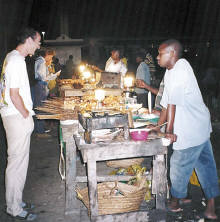 Forodhani Gardens night food market, Stone Town



Stone Town reminded me vaguely of a cross between Egypt and the Muslim
quarter of Jerusalem. There is the ear numbing call to prayer from mosques
down every alley, women covered from head to toe in black modest dress, the
smell of spices, the labyrinth of crumbling buildings, shops, bazaars and
courtyards and the excellent Forodhani Gardens where a hearty meal can be
bought for Tsh 1000.
For dinner, we gorged ourselves on one of the best meals we've had since
joining the truck. I'm hoping Tom will regain some weight here as he is
so thin. We started off with a Zanzibar pizza (a fried dough filled with
minced beef, salad and spices), then moved onto chicken chapatis that can be
filled with anything that takes your fancy – octopus, crayfish, prawns,
tuna, barracuda, beef and lobster.
We both agree with Tamsin's opinion that our tour leader has never travelled
anywhere but Africa before and is quite naive in some respects. Our tour
leader warned us that African cities are terribly polluted and suffer awful
traffic – there has been no comparison so far with the cities we have
visited in Africa and Asian cities. We were also told that Africans smoke
heavily. I have hardly seen any evidence of African men smoking in public,
unlike Cairo, where a cigarette is a permanent fixture in every man's mouth.
Our tour leader is always dishing out advice on slashed bags and the
possibility of being mugged at every street corner but I think there is more
chance of this happening in London than here. Africans don't tend to hassle
you and they are generally good-natured. We understand that she has a
responsibility to our group and that there are a few people that need her
heavy-handed warnings, i.e. Roberta thinking that a tiny vest top and hot
pants was appropriate attire for a Muslim country.
I think that you can assess for yourself the atmosphere of a place; an
instinct kicks in or is this the advantage of age? At last, I have
discovered the delights of growing older – you feel much more at ease in
different situations as you've probably had exposure to something similar
before.
Positives: Finally, we have found an oasis of cheap, healthy food.
Negatives: Our tour leader succeeded in unsettling us but there is nothing to fear here.