Serengeti National Park to Ngorongoro Conservation Area, Tanzania
Day 25: 22 August 2002 9:00 pm

The group set off on their early morning safari, enthralled by yesterday's animal viewing.
Up at 5:30am to pop to the long drop, even though Tom was concerned that
lions were ready to pounce from behind the long tufts of grass. I was
foolishly unconcerned about a trip to the long drop in the dark as I was
sure other people would be milling around.
Tom's stomach was still unsettled so I gave him more Imodium and dry
toast. It would appear that Tom is not the only one with a stomach
complaint; it is spreading like wild fire.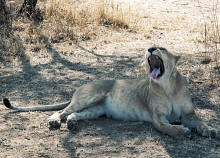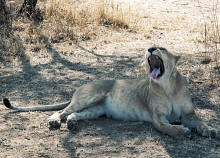 Lioness



We shaked, rattled and rolled our way through our early morning safari.
Again we saw lions, this time three males resting in the sun and then a lion and
lioness beside a watering hole. We finally saw two hippo not submerged but on
the bank, two crocodiles lurking in the shallows, patiently waiting for
gazelle to drink from the edge of the watering hole, skittish zebra spooked
by the slightest noise and a family of elephants destroying the trees while
feeding. The highlight was two cheetah lying under a tree, but our driver
broke the rules by driving off the track across a parched plain to the tree.
He did not ask us first, as the vehicle should never leave the tracks,
otherwise it causes environmental damage to the fragile landscape.
Back to the camp site for lunch and we noticed that Rose was terribly
sunburnt; red lobster sprang to mind. I commented on this and she snapped,
"If anyone else f**king tells me I'm sunburnt, I'll strangle them." I was
only making an observation.
On our drive to the Ngorongoro Crater rim, we had a chance to take a classic
photo of a pride of lions with cubs sunbathing on top of a rocky outcrop
called a kopje. It rounded off the day nicely.
If we thought it was cold at the Dik Dik camp site, that was nothing
compared to the bitter wind and mist swirling around on the crater rim at an
altitude of 3500m. We put on most of our items of clothing, including our
fleeces and waterproofs, and huddled round the fire. At least I could
snuggle down into my three season sleeping bag later – remember to bring warm
clothes if you are visiting Tanzania. I felt sorry for our new truck mate
Edina, as she had not brought any socks, only tevas, and no fleece or
waterproof – just a pullover.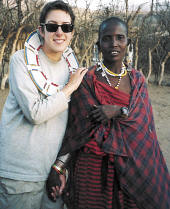 Meet the Maasai



Before we reached Simba camp site, we stopped at a Maasai village that
charged Tsh 5000 to tourists to enter, but permitted photography. Our guide
could speak no English and the Maasai women used hard sell tactics to hassle
you into buying their beaded jewellery, but I still found the village
interesting. It was a real Maasai village (not staged) and we explored a
hut with separate cooking and sleeping areas in which a woman was preparing
the evening meal. There was a fenced compound for goats and occasionally a
Maasai woman would capture a goat armed with a tin mug ready to bleed or
milk it. Some of our group complained that we had been exploited and that
the Maasai were having a laugh at our expense. Personally, although it was
a tourist trap, I preferred to pay a village for that experience than
intrude on Maasai leading their ordinary lives on the side of the road or in
other villages not exposed to tourism. At least I wasn't encouraging Maasai
children to beg for pens, sweets or to take photos.
Positives: Our Serengeti safari had all the game you could imagine – highly
recommended.
Negatives: I hope the weather is better tomorrow or we'll be viewing the
crater through fog.