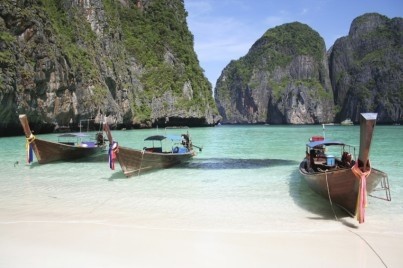 Phuket has been a heavyweight contender in Thailand's tourism industry for decades, and it continues to draw tourists with its blend of resort lifestyle, exotic Thai culture and hedonistic nightlife. Add this to its fascinating roots as a Portuguese port and you have a world-class tourist destination.
The posh resorts of the west coast get top billing in Phuket, and for good reason. These bastions of world-class service excel at looking after foreigners, and it's completely possible to spend an entire holiday here on the beach without ever knowing you were so far from home.

But there's a great deal more to this island, from its beer halls and ramshackle markets to its stunning coastline and national parkland. Some of the greatest cultural intrigue is in Phuket Town itself, with its quirky boutiques and restaurants guised in Sino-Portuguese architecture. This town blossomed in the early 1800s when the tin-mining industry boomed.

The largest island in Thailand, Phuket is connected by a bridge and can be reached by bus or car. Most people fly in from Bangkok, about an hour's flight away. Some stay for several days or more, while others bemoan overdevelopment and crowds before heading off to more remote places. Whatever your reaction, Phuket plays an integral role in Thailand's tourism industry, and its popularity is well-earned.


Patong Beach
This is the heart of the tourist district. Patong is included in the larger Kathu district and has the island's densest collection of guest houses, hotels, restaurants and bars. The beach stays busy during the day, but attention shifts to the bars and nightclubs after hours.


Kamala Beach
Also part of Kathu, Kamala is a quiet Muslim fishing village that boasts a few quiet hotels. The beach here is especially picturesque, and the onsite seafood restaurants are among the best on the island.


Karon Beach
This is the second-most developed area on Phuket. It lies between Patong and Kata (a surfers' beach). Karon is home to major resorts, many travel agencies and a range of facilities. The beach here is more pleasant than Patong Beach.


Thalang
One of three major districts, Thalang is best known for the Laguna Bay Resort and surrounding commercial area. There's much more to see and do here, from visiting museums and monuments to stop by animal sanctuaries and the gibbon rehabilitation center. Thalang district covers the island's north and is home to the airport.


Phuket Town
To the south, Phuket Town appeals to tourists for two reasons. First, it has several budget accommodation options but no direct access to the beach. But Phuket Town is also fascinating because of its colonial heritage and rich, Sino-Portuguese architecture.


Chalong Bay
On the east coast, Chalong has the island's largest bay and is important for anyone arriving by boat from the mainland. Yachts can be hired here, and there is also a temple that rates well with domestic tourists.