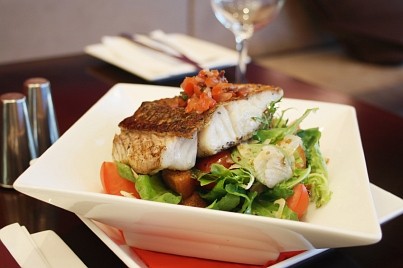 There is more eating choice in the Gold Coast than anywhere else in Australia. Unless you plan on heading to one of the top spots, where you will need to book, you can just head out in any of the beaches or towns and check out any number of quality places.
Seafood is of course the big eat and there are simply dozens of fantastic beachfront seafood cafés and restaurants. The fish comes in fresh and goes from snapper to barramundi, while steakhouses are also popular here.

In addition you will find a large number of Asian eateries, particularly Japanese, and all types of food courts in the main malls of Surfers Paradise and Southport. Surfers is the main place to eat, while the beaches either side, Broadbeach and Main Beach, are also overrun with eating options.


Downtown Surfers Paradise
Along with shopping, downtown Surfers Paradise is the best place to find a bite to eat, with innumerable places to find fast food (Hungry Jacks, KFC, McDonalds), and plenty of high-end eateries along the Esplanade. Japanese food is also popular and every mall has a food court with Asian tastes.


Cavill Mall
This is the main shopping area in Surfers — a large traffic-free thoroughfare near the beachfront that is also loaded up with cafés, restaurants and bars. Although gastronomes may find it somewhat plastic and forced, it is perfect for on-the-go eating.


Broadbeach
Broadbeach is at the southern end of Surfers Paradise and is much more laid-back on the tourist front. On the whole there is better eating here than in Surfers, with bags of pubs and cafés, as well as popular BYO eateries, and seafood restaurants on the beachfront.


Southport and Main Beach
These areas are north of Surfers and are on par with Broadbeach for the extent of the eating. Scarborough Street in Southport is particularly good for eating, while just to the north is Biggera Waters, known for the Harbour Town mall.
Gold Coast restaurants
Oskars on Burleigh
43 Goodwin Terrace, Burleigh Heads
Phone: +61 7 5576 3722
This seafood joint down in Burleigh Heads receives rave reviews for its modern Australian flair and inspirational menu. The views from Oskars on Burleigh are also sublime.

Absynthe
Hamilton Avenue, Surfers Paradise
Phone: +61 7 5504 6466
Absynthe won the Queensland's Best Regional Restaurant award in 2007 for its contemporary French-Australian by a renowned Michelin Star chef. A la carte eating is popular here and there is an extensive wine list of over 1,000 varieties.

Moo Moo The Wine Bar & Grill
Broadbeach on the Park (2685 Gold Coast Highway), Broadbeach
Phone: +61 7 5539 9952
This modern Aussie steakhouse has some of the best beef on the Gold Coast and has won many awards. Moo Moo overlooks the park in Broadbeach and is also not far from Jupiter's Casino and downtown Surfers. It is always busy.

Palazzo Versace - Vanitas Restaurant
94 Seaworld Drive, Main Beach
Phone: +61 7 5509 8000
Located just north of Surfers Paradise, Palazzo Versace - Vanitas Restaurant does the best pizza and pasta in town. The décor and furnishings are on the Roman theme and no expense has been spared on it or the food.

Find more information about Gold Coast hotels and hotels in the area:
Gold Coast hotels | Australia hotels | Gold Coast Hotel Special Deals