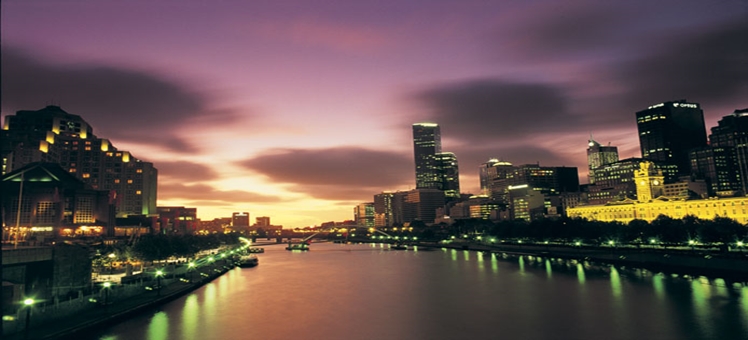 Dishes in Melbourne are as varied as the city's culture. A blend of old and new, East and West, every palate is catered for in the city. Restaurants of historical importance go hand in hand with contemporary fixtures that are constantly spreading across the city. There are, of course, options for each budget, with high end eateries found along with Southbank Promenade, while fast food and local cuisine is in abundance in Chinatown and St Kilda.
Chinatown
Dating back to the gold rush days of the 1850s, Chinatown is one of the oldest Chinese settlements in the Western world. As such, the area boasts traditional and authentic fare, from supple dumplings to spicy noodle dishes you can slurp up in delight, crispy prawn crackers and steaming seafood. Shanghai Village is a hotspot for younger crowds while New Kum Den is a noodle paradise, where groups come to share a bowl and a natter. Find Chinatown's throbbing heart along Little Bourke Street, a bustling centre Eastern influences tucked away in a Western urban setting.
•
Shanghai Village
, 112 Little Bourke St, Melbourne VIC 3000•
New Kum Den
, 3-5 Waratah Pl, Melbourne VIC 3000
Southbank Promenade
Stretching along the Yarra River from the Crown Casino to the Southgate complex, the Southbank Promenade is a prestigious dining area where trendy, fine dining restaurants line the waterfront. Melbourne offers a veritable smorgasbord of restaurants to pick from, including bars and cafés, all of which can be found here. At the Crown Hotel's No. 8 restaurant, dine on top-notch bistro favorites, or sample some Japanese fare at Koko. Creative and perfectly executed menus accompany the sweeping views of Melbourne's cityscape, where the dancing ripples of the Yarra River reflect off the glass skyscrapers opposite.
•
No.8
, 8 Whiteman Street, Southbank, VIC 3006•
Koko
, Level 3, Crown Towers 8 Whiteman Street, Southbank, VIC 3006
Lygon Street
Running through the suburbs of Carlton in northern Melbourne, Lygon Street is a hub of Italian restaurants and cafés. Occupying the blocks between Victoria Street and Elgin Street, the area is also home to one of Australia's largest street festivals, the Lygon Street Festa. Toto's Pizza House, the first pizzeria to be established in Australia, can be found there, having opened in 1961. For something a little more contemporary, try Café Romantica for Italian classics with a gluten-free and vegan twist.
•
Toto's Pizza House
, 101 Lygon Street, Carlton, VIC 3053•
Café Romantica
, 52-54 Lygon Street, Brunswick East, VIC 3057
St Kilda
St Kilda is a youthful area known for its trendy venues and hip clientele. Catering for various price ranges, tastes and cultures, St Kilda is a fusion of international cuisines. At Cicciolina, sample velvety wines with fresh Italian favorites, or tangy Latin American dishes at the Bluecorn restaurant. Kosher cafes neighbor coffee houses, while ice cream parlors are nestled between burger joints and Mediterranean restaurants. With expansive views of Port Phillip, St Kilda is a seaside playground with lots to offer both locals and tourists alike.
•
Cicciolina
, 130 Acland St, St Kilda VIC 3182•
Bluecorn
, 205 Barkly St, St Kilda VIC 3182
Docklands and Harbour Town
The Docklands are a somewhat urbanized suburb of Melbourne, as it is a local government area. In stark contrast, the area's dining culture is a spectacle to be enjoyed. A reconstruction of the Melbourne Star observation wheel is still visible from many of the restaurants that fall within its shadow. The area hosts many Indian and Asian restaurants, and on New Quay Promenade, diners can choose from cafés and restaurants along the waterfront, like the Chinese restaurant Man Mo, or the Bhoj Indian Restaurant.
•
Man Mo
, 42 Newquay Promenade, Docklands, VIC 3008•
Bhoj Indian
, 54 New Quay Promenade, Docklands, VIC 3008
Local dish
Given that Melbourne is a hotpot of European cultures, to find a truly local dish you must look to the local produce. Flat-head tails and red snappers are caught in the Port Phillip Bay and served everywhere, from pubs to top end eateries.