When people think of alternative neighborhoods in Brisbane they tend to resort to the notorious Fortitude Valley. But although the Valley is certainly off-beat, eclectic and lively, it doesn't even come close to West End in its community. The locals in West End have created a kind of hipster mecca without the intrusions of normies and metrosexuals. Somehow, either by their past reputation for drug abuse or their lack of footwear on the busy streets, West Enders have managed to advertise an alternative cultural cluster obvious to the outsider that many Brisbaners and more importantly tourists, have tended to avoid. But West End is probably one of the most fabulous suburbs of Brisbane with its art, music, bars and most importantly eateries taking the absolute cake in my books.
Cheap Eats:
The Cupcake Parlour: $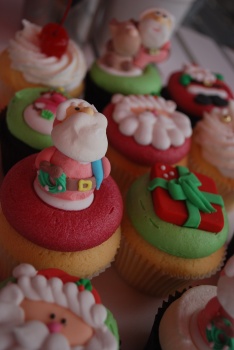 Yes, yes, cupcakes are disgustingly popular and starting to be everywhere but damn, this place just MUST get my mention in any Brisbane write up. Delicious, gorgeous, cheap and varied, these succulent morsels will only set you back $3au which is surprisingly good for cupcakes nowadays and if you get lucky you might even get them on a bite-size day when they're going for $1.25! Toblerone, Passionfruit, Strawberry, Gooey Fudge, the list goes on and on and on. The service is super friendly, the coffee is delicious and the shop is just god damn adorable. They also cater and sell at markets on the weekends for even more access to the little devils. Mmm…
Location:
60 Vulture St, West End
#1-300-CUPCAKE (287 225)
Hours:
Tue-Sat 8:00am-5:30pm
www.thecupcakeparlour.com.au
Indian Kitchen: $
Family owned and cheap as hell, this tiny restaurant is perfect for eat-in or cheaper for take-away. Although the service isn't always the friendliest, you'll make up for the lack of smiles when you've finished devouring the butter chicken or the exquisite samosas for ludicrously cheap prices. And make sure you pick up a lassi (either mango or even better, rose), which although a bit pricey, is the perfect counterbalance to any Indian spice or meal.
Location:
91 Vulture St, West End
#07 3844 3234
Hours:
Mon-Sat 11:00am-10:30pm
Sun: 12:00pm-10:30pm
Jackpot Noodles: $
Although shamefully, this place is a chain, it only has 3 other branches and the prices and food quality definitely make it worthwhile. The décor is modern and clean and makes you feel swanky even when only spending $4.50-$11.00 on massive portions of food. They also have their liquor license so you can buy a beer or wine while you eat, although the selections are limited. The dim sum, honey chicken and satay beef all go highly recommended and vegetarian options are also available.
Location:
132 Boundary St, West End
#07 3255 0688
Hours:
Mon-Sun 11:00am-Late
The Forest: $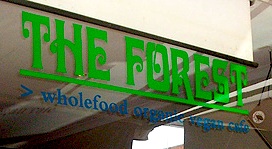 For all those health conscious, vegetarian, vegan, sciliacs or just those looking for something a bit different, the Forest offers the best meat alternative eats in Brisbane. You can get either a Forest Plate to eat in and enjoy the booths, décor and laid back atmosphere, or take a container to go that the uber-friendly staff will literally pack to maximum capacity. The food is absolutely amazing, especially the bakes and the salads and if you're feeling unsure just ask the staff for their recommendations as, in my experiences, they've never been off.
Location:
124 Boundary St, West End
#07 3846 6181
Hours:
Sun, Tue, Wed: 11:00am-11:00pm
Thu-Sat: 11:00am-11:30pm
Breakfasts/Lunch:
Atomica: $
Unlike most café's that say they're cheap and delicious, this one actually is. It's got prime location for people watching and an adorable little set-up. The Gun Shop is delicious but will cost you your week's pay while waiting in line for about twenty minutes for a seat on a hungover Sunday morning. The Pavilion, if it's even still there, is straight-up awful with both food and service. Atomica is a fantastic sure-thing with great food, even better specials and super-friendly staff and prices.
Location:
173 Boundary St, West End
#07 3844 0333
Hours:
Mon, Wed-Sat: 7:00am-4:00pm
Sun: 7:00am-5:00pm
Lock n' Load Bistro: $$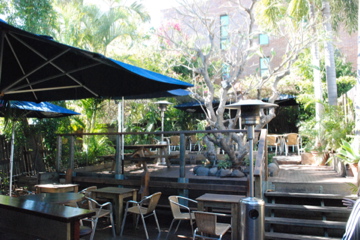 Not only does this place have super tasty snacks and beautiful dinners but they are also a bar with outstanding live music in the evenings. They have an upper balcony, which is excellent to look out onto Boundary from while enjoying a cold beer, as well as a back garden perfect for an outdoor meal amongst the plants on a beautiful Brisbane afternoon. The service is quick and friendly and the food is really scrumptious, although a bit pricey. The best part of this venue though would have to be the crowd that rocks through, with a generous age span and an alternative style and they are excellent patrons of the arts both with musically as well as visually.
Location:
142 Boundary St, West End
#07 3844 0142
www.locknloadbistro.com.au
Hours:
Tue-Sun: 7:30am-late
Espressohead: $
If the portions at the above mentioned Atomica seem too small (which is unlikely) or you're looking for a more creative venue, you could always venture right next door to Espressohead, another fantastic café with sumptuous food and loads more options. This venue is a bit bigger and far more alternative with eccentric tattooed waiters and bills and posters plastered on the walls. They also do juices that claim to improve your health in some way or another. In my opinion they're overpriced but if you're feeling up to it, they are quite tasty and always nice to cure a hangover.
Location:
169 Boundary St, West End
#07 3844 8324
Hours:
Sat-Tues: 7:00am-5:00pm
Wed-Fri: 7:00am-10:00pm
Dinner:
Three Monkeys: $$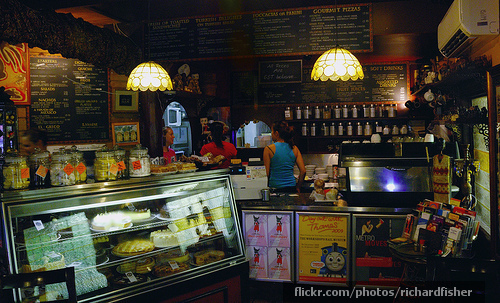 If you're looking for a laid back and cozy meal but still want something hearty and delectable then the now famous Three Monkey's Coffee and Tea House is for you. Although they serve excellent cakes and coffee here, the prices are a bit steep so you're better off just going here for an all out meal. My recommendation would be to head to the back where there's an open air garden but if you're looking for a cozier feel then stay inside and grab a couch or nook to snuggle in while you indulge in savory servings. And best of all, this place is BYO and open til midnight every night.
Location:
58 Mollison St, West End
#07 3844 6045
Hours:
Mon-Sat 9:30am-midnight
Sun 10am-midnight
Tukka: $$$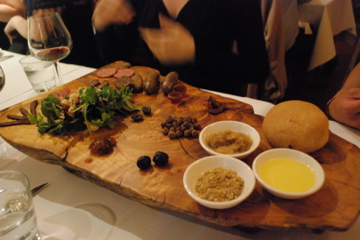 Granted this place is pretty expensive and certainly not recommended for those on a budget but they do offer some of the best food in native Australian meats, berries, greens and spices. Here you can get crocodile, kangaroo, emu, even possum, and regular foods as well. If you are on a budget, a good option is the native platter, which has samples of kangaroo and emu prepared different ways as well as some exquisite berries and spices that you just couldn't find in other restaurants, but be advised there is an ordering minimum on this meal. But don't be afraid to head in and ask the staff about their menu or prices as the waiters are super friendly and will even remember you if you come in more than once. They also offer a myriad of wines to match your meal and have a pantry of jarred and boxed delicacies that make excellent gifts. This place is highly recommended for anyone looking for a taste of Australia and a delicious evening out.
Location:
145 Boundary St, West End
www.tukkarestaurant.com.au
#07 3846 6333
Hours:
Mon-Sun 6:00pm-9:30pm (last orders)
Drinks:
Nectar: $
Nectar is a quaint imported beer and wine store with every type of off-beat drink your heart could desire. They have honey flavored, banana-bread, sweet, savory, Belgian, German, Tasmanian, and of course Australian favorites in the back, as well as local wines. Upon entering you feel like you're in a library devoted to drinks and the guy working is probably either the owner or his friend. They are super knowledgeable and adorably psyched about beer so don't be afraid to talk them up on the subject. You're sure to learn a thing or two.
Location:
114 Boundary St, West End
#07 3846 4855
Hours:
Mon-Wed: 11:00am-9:00pm
Thurs-Sun: 11:00am-11:00pm