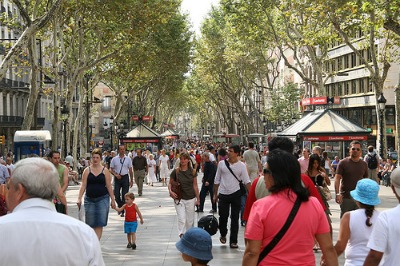 Most of the time when people ask how to get from one major city in Europe to another, my default replies are either to fly or take the train (I defer to trains, unless it's a huge distance, because I'm an old-fashioned romantic or something). But sometimes, there's another option that is head-slappingly obvious but still doesn't instantly come to mind.
Such is the case with the journey between Barcelona and Rome.
Just by looking at a map of Europe, you can probably guess that my normal affinity for train travel isn't going to show itself in this article… But in addition to checking out flights from Barcelona to Rome or vice versa, I'd also suggest taking a ferry or cruise between the two cities. When you read the descriptions of each option below, my ferry recommendation may surprise you – it's a longer trip overall and isn't always the cheapest. But you can't beat it for comfort, especially if you spring for a cabin on the overnight trip.
But of course you'll need to decide which is the best option for you – so here's what you need to know about each choice.
Flying from Rome to Barcelona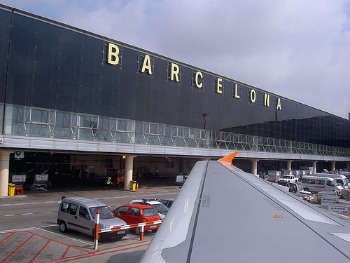 The distance between some European cities is such that flying from one to the other is the most efficient transportation method, no matter how much we may have learned to hate airports. When considering the trip from Rome to Barcelona, it's not just distance but geography that makes flying the best option for most travelers.
There isn't a direct land route between Rome and Barcelona, the two cities lying at roughly the same parallel but on two separate peninsulas. Flying, on the other hand, is about the most direct route possible – direct flights from both Fiumicino (FCO) and Ciampino (CIA) are less than two hours.
On budget airlines like Ryanair and Vueling Airlines, you can find one-way flights from Rome to Barcelona for less than €40 (sometimes less than €20), and even on bigger airlines like Iberia one-way tickets can be had for less than €75. Round-trip tickets range from €40-120 (and up) depending on the season.
When hunting for airfare from Rome to Barcelona (or vice versa), keep in mind that budget airline giant Ryanair flies to both Barcelona's main airport (called El Prat, airport code BCN) and the airport in Girona (GRO). Girona's not terribly far from Barcelona (especially when you look at how far Rome is), but it's not like it's a Barcelona suburb, either. If you find lots of cheap flights to Barcelona, make sure you won't be spending what you saved in transportation from Girona's airport into Barcelona proper.
Besides Ryanair and Vueling Airlines, other budget airlines to look at for flights between Barcelona and Rome are: Germanwings and Air Berlin. Big airlines like Spanair, Iberia, and Alitalia also make the trip regularly.
Search for flights from Rome to Barcelona:

Taking a Boat from Rome to Barcelona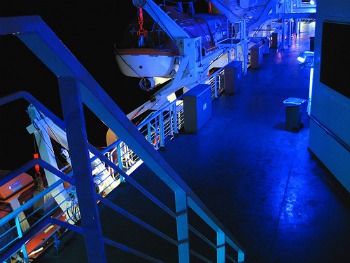 Despite Rome being cut in two by a major river, the astute observer will no doubt notice that Rome is not, in fact, on the coast of Italy. Why, said observer may ask, should one think getting from Rome to Barcelona by boat is at all reasonable, then? It's a fair question. But if you've ever looked at the itineraries for pretty much any Mediterranean cruise, you'll have noticed that Rome is a popular cruise port. Is the eyebrow raised even further now?
Rome isn't on the coast, it's true – but the port city of Civitavecchia is considered Rome's cruise terminal, and because it's a well-traveled route between the two cities it's fairly easy to get from Rome out to Civitavecchia and then onto a boat bound for Barcelona.
>> Here's what you need to know about getting to the Civitavecchia cruise terminal from Rome, and vice versa.
Now, flying from Rome to Barcelona (or vice versa) is certainly the faster option, and in many cases a flight will be cheaper than a ferry ticket, too. But sometimes you can get such a great deal on a ferry ticket that it's worth considering – especially if you've got time to play with on your holiday and you like the idea of a forced period of agenda-free relaxation on board a ship.
Grimaldi Ferries is the company that operates between Barcelona and Rome, although the ferries don't run every day of the week. The prices on tickets vary depending on your circumstances – with or without a car, whether you want a bed in a cabin (inside or out) or just a seat on the deck – but here are some sample prices I found when researching this article:
One foot passenger, no vehicle, pullman seat on deck, one-way – €55
One foot passenger, no vehicle, one bed in shared inside cabin, one-way – €70
One foot passenger, no vehicle, one bed in shared inside cabin, round-trip – €140
Two foot passengers, no vehicle, private outside cabin, one-way – €230
Two passengers, small vehicle, private junior suite, one-way – €370
Look up fares on Grimaldi Ferries here:


There are a couple of ways you can save money on your ferry ticket:
Always opt for the "pullman seat" over a cabin or bed. You'll see the cheapest price above is for a "pullman seat on deck." That's essentially like an airplane seat (they're a bit larger than economy but not exactly business class seats, and they usually recline further). This means you won't have privacy, the ability to lie flat, or avoid passengers who don't want to sleep through the night, but it's definitely cheaper than a cabin bed (even a shared one in a dorm cabin).
Use the discounts associated with your Eurail Pass. If you have a Eurail Pass for your trip, one of the additional discounts that comes with it is a 20% break on the ticket price for passage from Civitavecchia and Barcelona. It's available year-round, and it's a discount off both the regular fares for a pullman seat and for a cabin.
Also note that while there's plenty of food on board these ferries, it's not cheap. You'll save money by making sure you've got some food of your own and don't have to rely entirely on the food available on the boat.
The trip between Civitavecchia and Barcelona is roughly 20 hours. It's an overnight journey, leaving Rome's cruise port around 22:00 and arriving in Barcelona the following evening around 18:00, so it means you've got one less night of accommodation to worry about on your trip, too.
Taking the Train from Rome to Barcelona

While the land route between Barcelona and Rome isn't as direct as the flight path or the water route, it's still possible to take the train from Rome to Barcelona. You can't do it directly, but you can take a train from Rome to Milan and from there get on an overnight train bound for Barcelona.
Rome-Milan by train is roughly 3.5 hours on the high-speed Frecciarossa (learn more about how to get from Rome to Milan), and then you'll get on the Elipsos Salvador Dali overnight train – called a "Trenhotel" – from Milan to Barcelona.
Milan-Barcelona takes about 14 hours. There are several stops along the way, but no train changes are required, so assuming you can sleep on trains you shouldn't have any trouble sleeping for quite a bit of the trip. Trains leave Milan's Centrale Station at 19:40 and arrive at Barcelona-França at 09:43 the following morning.
Prices vary quite a bit on the Elipsos Trenhotel – here are some sample fares I found when researching this article:
One bed in a 4-berth cabin, with Eurail Pass – $129
One bed in a 4-berth cabin, without Eurail Pass – $305
One bed in a 4-berth cabin, without Eurail Pass, advance purchase (14 days or more) – $152
1st class double cabin, with Eurail Pass – $194/person
1st class double cabin, without Eurail Pass – $502/person
1st class double cabin, without Eurail Pass, advance purchase (14 days or more) – $235/person
Taking the Bus from Rome to Barcelona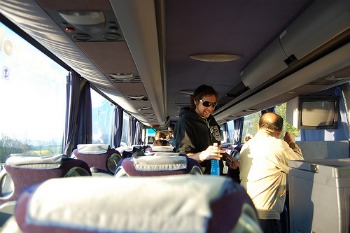 Hearing how long it takes to get from Rome to Barcelona by boat and train, you may think the bus is going to be significantly longer. In fact, it's only an hour longer than the ferry trip.
The big bus company that provides cross-border transportation in Europe is Eurolines – a conglomerate of bus companies in all the countries it serves. If you want to get to Barcelona from Rome by bus, those buses leave Rome's Tiburtina station at 17:30 and arrive in Barcelona around 13:30-14:00 the following day. The journey does require a bus change in Marseille at around 06:00 (could be a rude awakening at that hour if you've finally gotten to sleep), and the arrival time in Barcelona depends on which station you're headed for – the bus arrives at Barcelona Norte at 13:30 and Barcelona Sants at 14:00.
For a one-way trip, the fare is €106 if you're between the ages of 26-59, and €95.40 if you're age 13-25 or 60 and above. A round-trip fare is €180 for those 26-59 and €162 for those 13-25 or 60+. You'll see that in some cases, taking the bus is going to be the cheapest land option – which is music to the ears of any serious budget traveler. A flight between Barcelona and Rome is cheaper often enough, however, that you shouldn't rule out flying before you check the fares.
Driving from Rome to Barcelona
For those of you who have opted to rent a car during your European trip, you may be wondering about driving from Rome to Barcelona rather than turning in your rental and getting a new one on the other peninsula. Obviously, if you can cover this ground by train or bus you can do it by car, too. Here are the basics of what you need to know about this journey.
According to my favorite site for planning out driving trips in Europe, Via Michelin, the recommended route from Rome to Barcelona – a distance of about 1370km – would take you roughly 13 hours of driving time (this doesn't count any time you might spend in traffic or stopped for gas or snacks), and will cost you approximately €240 in tolls and fuel.
As you can see, barring any major hold-ups due to traffic or construction, driving between Barcelona and Rome will take less time overall than the bus or train or ferry. I still wouldn't recommend this as the top choice for most people, since it seems a shame to simply drive by so much that's worth seeing. And since the ferries that depart from Civitavecchia (see ferry information listed above) have the option of driving a car on board, that seems a far more comfortable way to get from Rome to Barcelona while keeping yourself in one rental car.
Now that you're in Barcelona…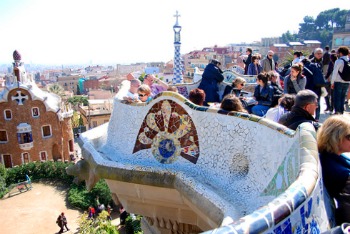 Here's a Barcelona travel guide to get you started on what you need to plan your visit to the city.
Wondering where to stay in Barcelona? Here are some cheap hotels in Barcelona and – for those on even more of a budget – some cheap hostels in Barcelona.
Looking for ways to fill your time? Here's an itinerary for 3 days in Barcelona, a bigger list of what to do in Barcelona, and a great selection of free things to do in Barcelona to keep your wallet from emptying too quickly.
It's a big enough city that it pays to familiarize yourself with your transportation options, so here's how to get around Barcelona.
photos, top to bottom, by: puuikibeach, manuelfloresv, Shoes on Wires, Cha gia Jose, auxesis, Jorge-11