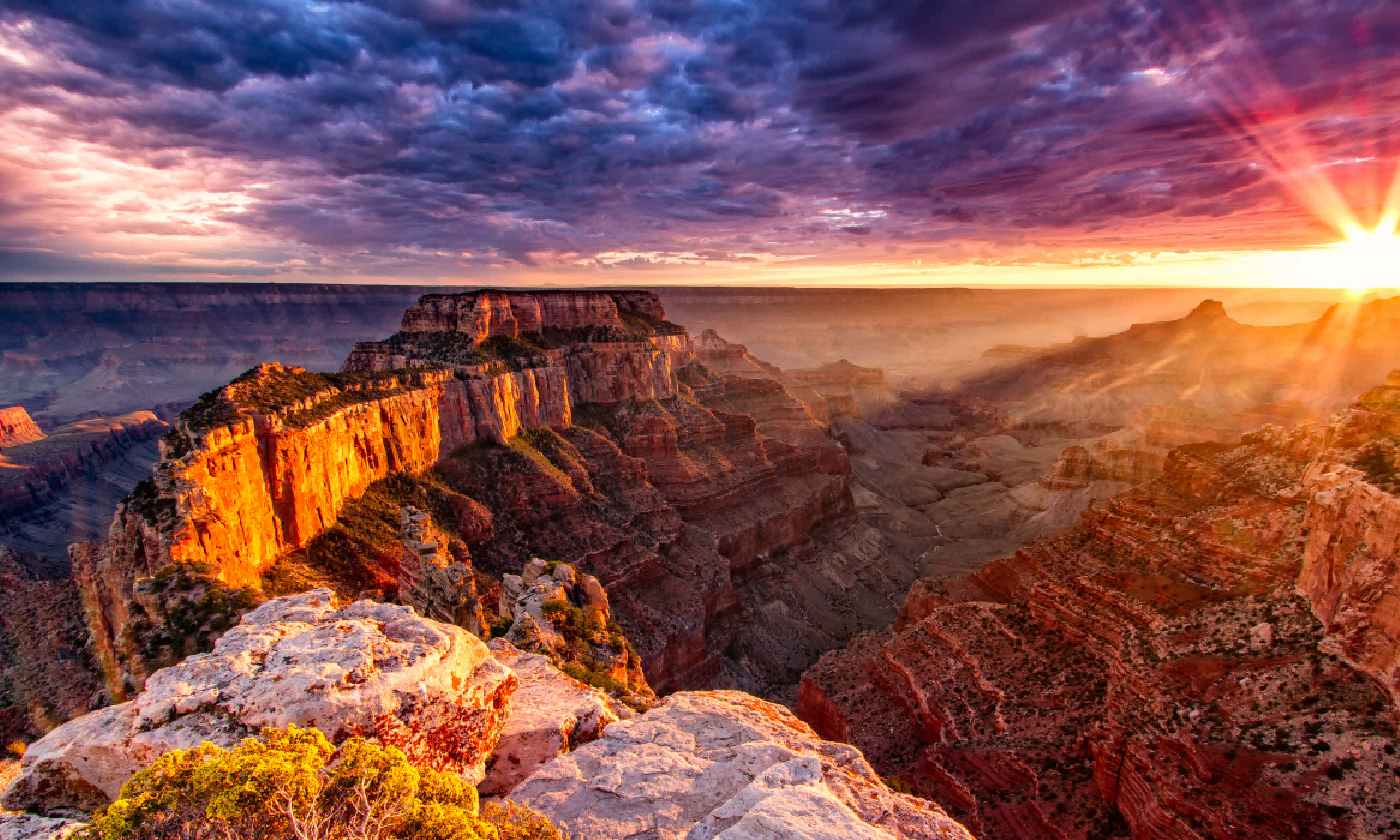 Hiking in the Grand Canyon: A cut above the rest
The Grand Canyon is the most impressive gash in the surface of the planet – and five million visitors flock to it every year. But you can escape the crowds…
You should, they say, look before you leap. The difficulty comes when looking puts you off doing the leaping. I was standing on top of Beaver Falls. Nine metres below, water that had also been on top of the falls a couple of seconds earlier crashed down into a white, frothy cauldron.
"Just jump," called Gary, already splashing around in the pool below and, as far as I could see, still fully intact. "Just jump," I muttered: a command to my legs. But whatever the logic, whatever the sense, looking was stopping me leaping.
"Tom Cruise has done it," Gary shouted, as if that were the ultimate in safety certification. "Tom Cruise has done it," I added to my legs, as if they'd care. A full minute passed – just looking. And then I was suddenly airborne, the blur of canyon walls flashing past on three sides, tumultuous oblivion rushing up to meet me.
The Grand Canyon is orange – very orange. An orange constant from the valley bottom to the canyon rim, changing only with the sun: terracotta in the shade of the early morning; dazzlingly bright in the midday glare; rich and warm in dusk's glow.

Five million people turn up at the South Rim every year, pile out of their RVs, unpack electric cool-boxes, camcorders and digi-zooms and get their snaps of one of the seven wonders of the natural world.
But few people realise that there's a stunning alternative nearby. Havasu Canyon, a side-canyon to the Grand, is a more intimate alternative: a narrower chasm, far fewer people, a more tumultuous river and waterfalls. Lots of them.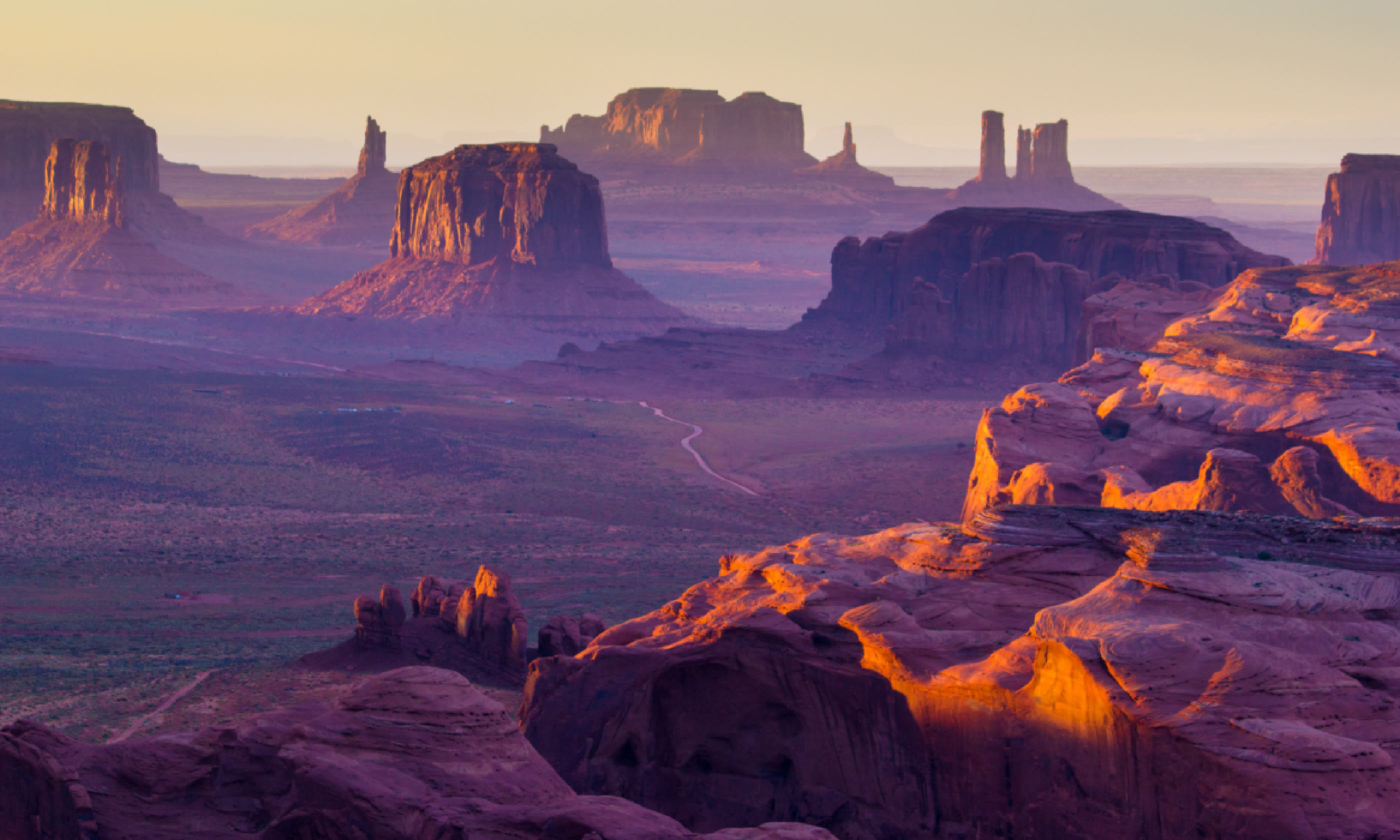 Sunset over the Hunt's Mesa (Shutterstock)
After a four-hour drive north of hot, uninspiring Phoenix – hawks circling the freeway in search of road-kill, RVs towing 4WDs, gas-station shops where beef jerky has its own aisle – we spent canyon eve at an all-American motel: waffles for breakfast and a well-thumbed bible in the top drawer.
Something worth travelling for
The next morning, after another hour's drive, we started out at 8am from Hualapai Hilltop, a shabby car park at 1,600m. Spectacular views and the variety of state license-plates – Oregon, Illinois, Alaska – gave some indication that what we were about to embark upon was worth travelling for.
A hundred kilometres north of Route 66, the Hilltop is where roads end. To continue from here you go by foot, mule or chopper. We chose foot; our bags took mules. Target for the day was the village of Supai in the heart of the Havasupai Indian Reservation. Thirteen kilometres due north and 670m due down, Supai is one of America's most isolated communities – the only place in the US where the mail arrives by mule.
The heat in Arizona is legendary. Though the state's name actually stems from the Indian word arizonac ('little spring'), it might as well come from the English 'arid zone'. In this searing, still heat – it was the sort of day when tumbleweed is too lethargic to roll – our group of eight set off down the rocky path.
The land was so parched that each step threw up clouds of orange dust. When a chain of tethered pack-horses passed us coming the other way, we were temporarily lost in an orange fog. As we descended, the canyon walls grew ever more imposing and I felt that we were in the middle of a battleground fought over by two armies of cacti: the triple-pronged saguaro and the proud erect Sonora, sheriffs of their valley.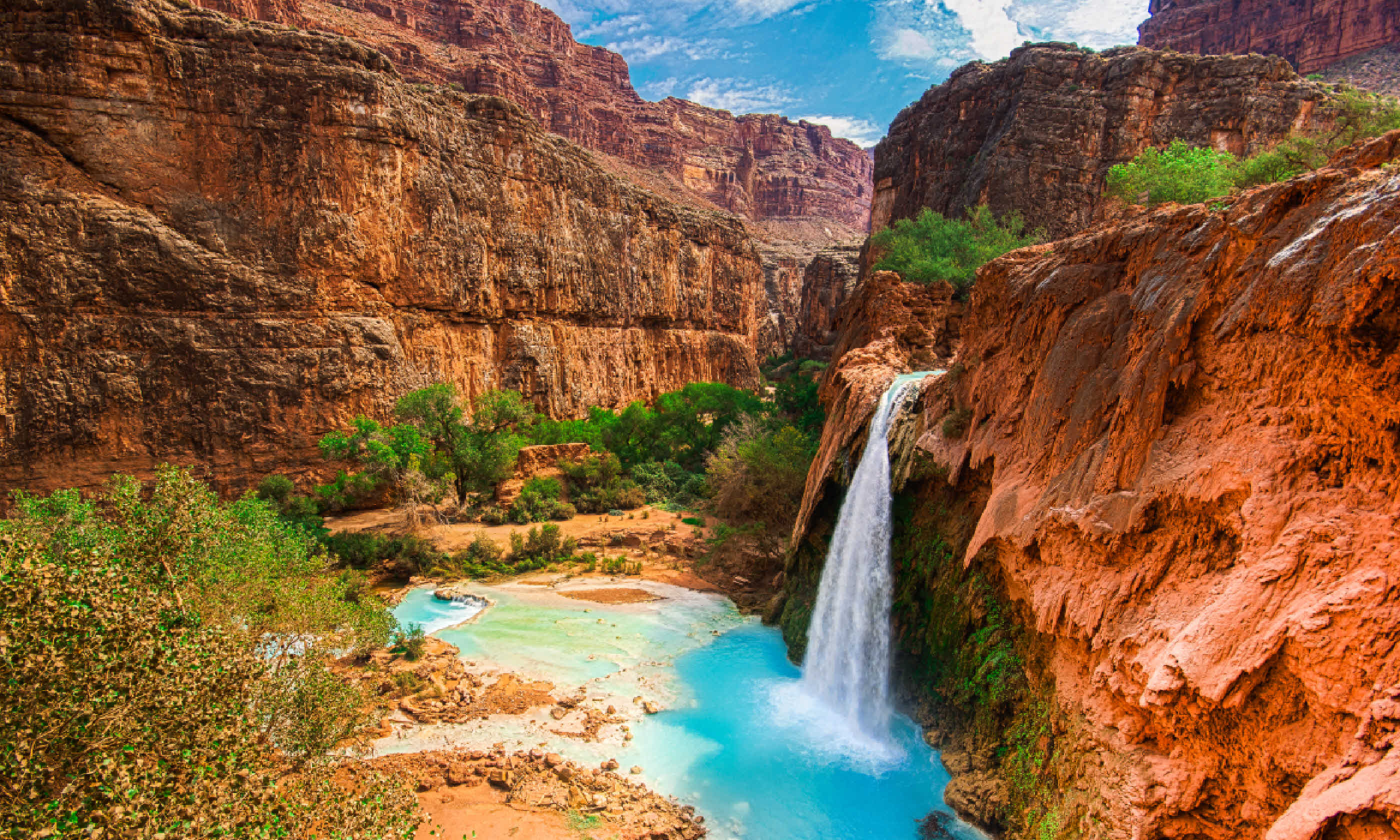 Havasu Falls
Rocks and boulders hemmed us in like giant Jenga towers, ready to collapse if only a thumb and forefinger existed strong enough to pull a piece out. Sun and shade gave them definition and shape; heat-induced hallucination gave them character and form. Here a grizzly bear of granite, there a troupe of acrobatic sandstone dolphins.
By mid-afternoon we'd reached the village, a dusty place with a few timber-frame houses scattered around an open plaza. Supai is the home of the Havasu tribe, the Havasupai. Their lot has been a hard one. Deprived of their hunting land by the white settlers, the tribe only regained territory – now an 800 sq km reservation – in the mid-1970s.

Living at the bottom of a giant crevasse has taken its toll on the villagers. Being relatively difficult to get fresh food down into the canyon, deep-fried fare has become the Supai staple; most villagers are overweight even by North American standards. Alcoholism is also a problem: though Supai is dry in both senses of the word, spirits still seem to find a route down in impressive quantities.
'Water appears to stop...'
Just beyond the village, we reached the first of the falls. Havasu is a classic, symmetrical, 35m plume: poised, refined and self-consciously beautiful. I walked down the path beside her and looked back up. If you blink quickly enough the water appears to stop: giant drops suspended, like a theatre-curtain of water, reluctant to fall until the thunderous applause dies down. It never does, of course. Havasu Falls is sourced by an underground spring, its volume and temperature consistent year round. The waterfall is its own everlasting and thunderous ovation.
Our camp was a kilometre downstream of Havasu Falls, in a spot where the adjacent water babbled rather than roared but remained deep enough to dive into. It was an idyllic place, with dappled shade and hammocks strung between trees wherever two were close enough. We took a late afternoon swim and ate sizzling prawns while children from Supai performed an impromptu diving display.
This spur to the Grand Canyon is like a miniature version of it: more pronounced rapids along a narrower river than the Colorado, canyon walls closer together and more imposing, echoes of waterfalls ricocheting up the rocks. At the bottom of Havasu Canyon, sunset is vertical rather than horizontal: the sunlight snuck up the canyon walls and away over the highest ridge. It all reinforced the feelings of a secret private world, a world whose privacy even the sun knew to respect.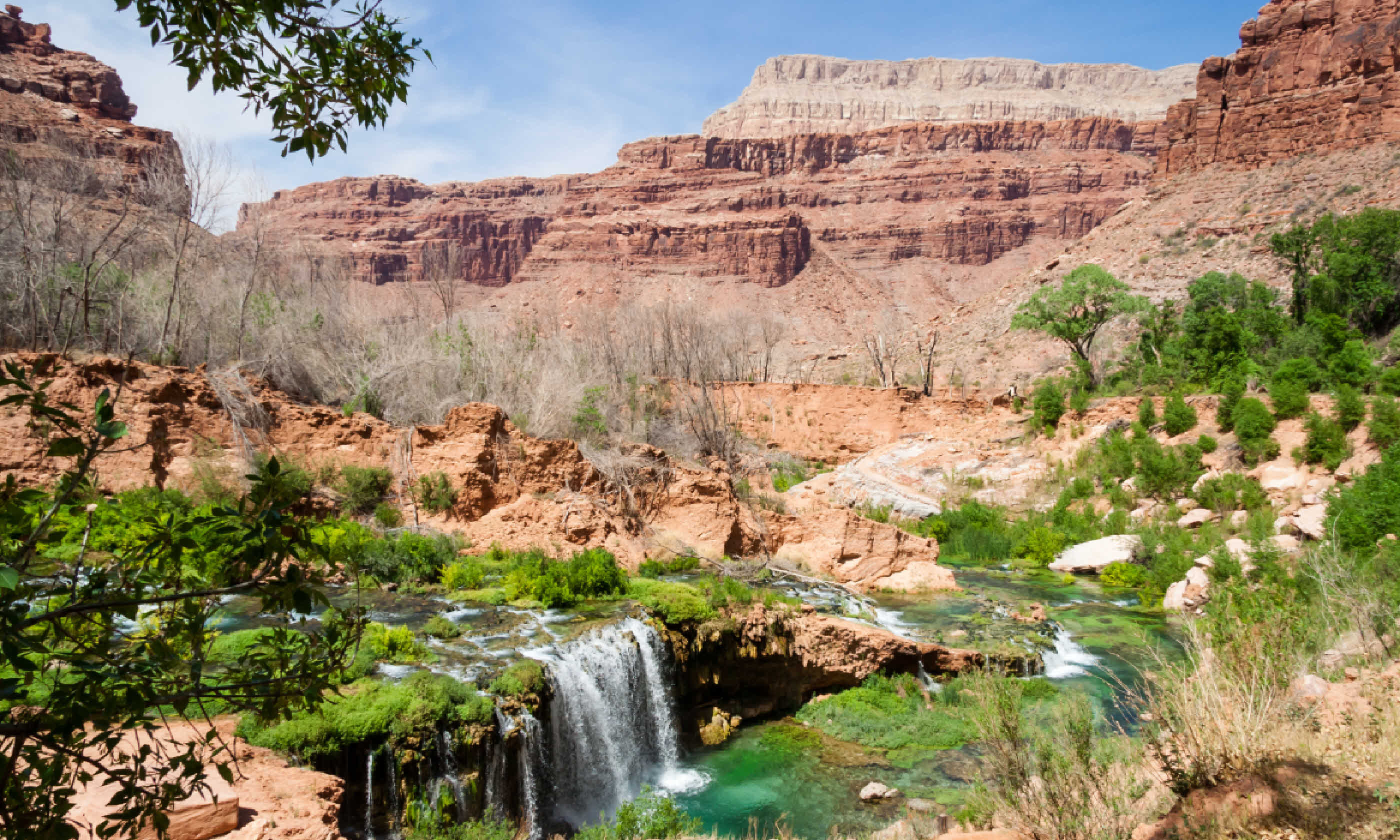 Near village of Supai, Grand Canyon (Shutterstock)
The next morning the process was reversed: a vertical sunrise where the first rays appeared not over the edge of the horizon but rather on the highest ledge of the canyon wall far above. Gradually, over the course of the morning, the sunlight crept down, turning rocks that were almost maroon-brown in shadow into ones that were bright pink and orange in the sun. As we continued our hike down-canyon, our whole world became bathed in bright light.
Not far from camp was the second and most dramatic of the waterfalls: Mooney Falls. A single, sheer plume of 60m, it's higher than Niagara. The falls are named after gold-prospector Daniel Mooney who, tied to a rope, was lowered part-way down the cliffs by two companions in 1880. When the rope snagged, Mooney was left dangling for several hours until the line finally frayed and snapped, sending Mooney to his death. Ten months passed before his companions were able to cut a path down to collect his calcite-encrusted remains.
A treacherous descent
The path we took followed the same steep route hacked through the travertine rock by those prospectors a century and a quarter ago. With the constant faint mist from the adjoining falls making an already tricky descent perilously slippery, our route felt only a little less treacherous than Mooney's ill-fated attempt. Metal stumps implanted into the rocks provided foot-rests and heavy brown chains acted as handrails, but the path was steep and – as it passed through two narrow tunnels – dark too.
Most concerning was glancing up and seeing a fellow hiker's rear end mere centimetres from my head: one slip by them could be more serious than one slip by me. It was with considerable relief that we all reached the bottom able to look back up at what we'd just achieved.
"Great job! Good work guys!" enthused our guide Gary, spouting the sort of Americanisms that would ordinarily make me recoil. In the light of our slippery descent, though, it was strangely encouraging to know I was one of the 'guys', and reassuring to be told what a 'great job' I'd done.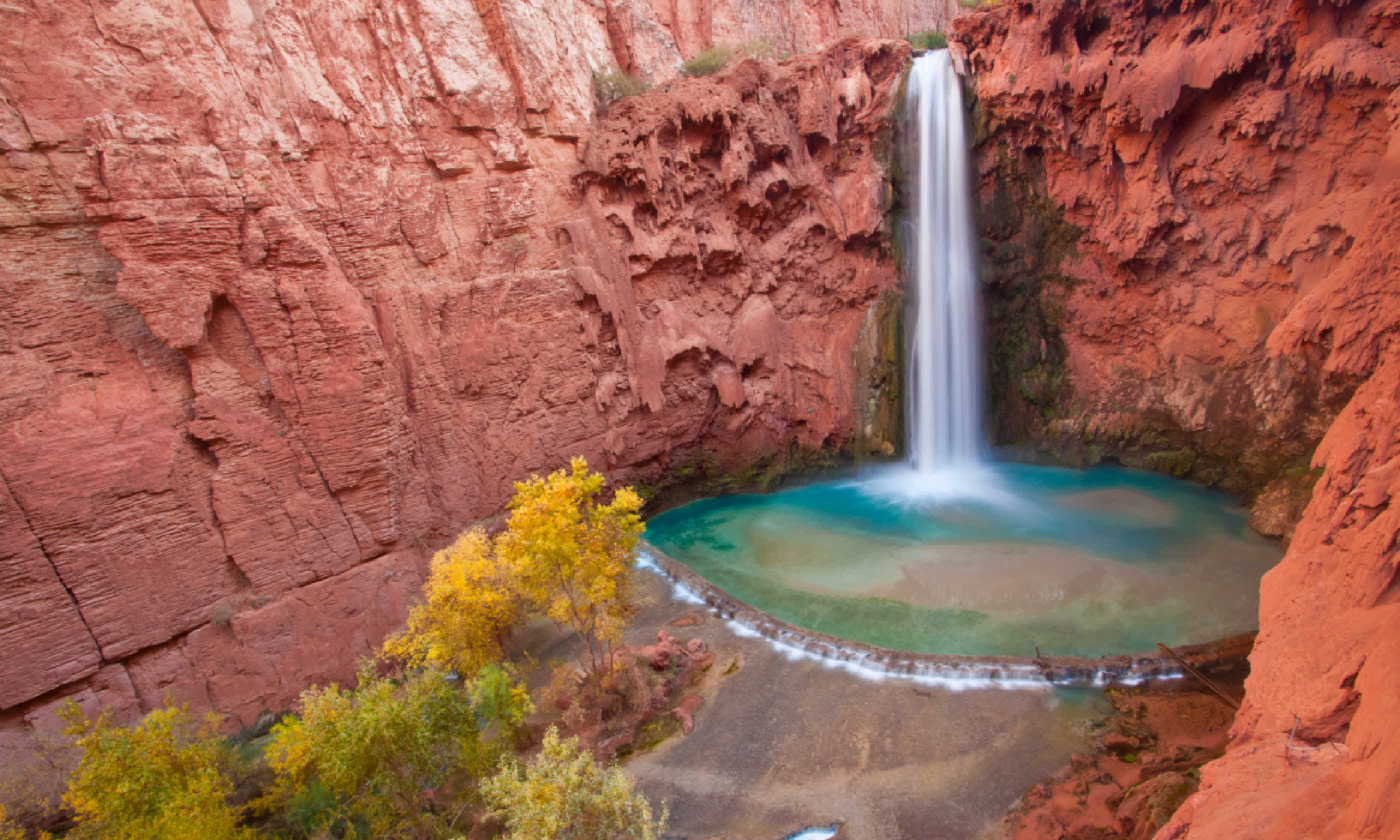 Mooney Falls
The trek from there was the most gorgeous of all. The canyon is at its narrowest between Mooney and Beaver, five kilometres downstream. As a result, the water is concentrated and the valley bottom is lush with vegetation. When we weren't waist-deep in water crossing the stream, we were shoulder-deep in plants: a troupe visible from the top of Mooney only as a series of bobbing heads.
This was a landscape over which I half-expected pterodactyls to swoop, picking off our party one by one until only the shortest remained. As it was there were enough indigenous and contemporary hazards to deal with.
I was bitten by a fire ant, one companion tripped straight into a prickly pear and another discovered a blister the size of a dime but four times as thick. A canyon paradise has its own guardians.
A wade, duck, jump and a swim...
Our final descent to Beaver was via what Gary described as the 'wet route': a wade, a duck, a jump and a swim to – and ultimately over – the furthest downstream of Havasu Canyon's falls. Cameras tightly wrapped in dry-packs and tossed ahead of us like a bobbing scout party, we splashed into the water and let the current sweep us towards the first lip of Beaver Falls. It was from here that I made my leap and, seconds later, burst up through the surface of the pool below among a Jacuzzi of bubbles.
"Dive under here," Gary encouraged, pointing ominously below a rock behind the falls. Three underwater strokes took me into a shimmering blue cave behind and beneath the waterfall. It was strangely silent within – the eye of this waterfall's storm.
We had a third, final day at the bottom of the canyon, and used part of it to clamber up to the most accessible part of the rim – a hands-on,  dirt-under-the-fingernails-for-the-next-two-weeks kind of climb. Up there the sheer brutality of the Canyon was clear: a deep cut in an otherwise flat land. The Grand Canyon itself stretches 443km, roughly the distance between London and Newcastle. Gazing along the rim, even this – a relative baby of a gorge – seemed to run forever.
On our final morning, as our helicopter took off and swept along just above the ground, I looked back, trying to pick out the waterfalls below. I couldn't see them; they were hidden by the Canyon's false bottoms, obscured even from the air by the valley's twists and turns. That seemed appropriate: Havasu Canyon reserves its treasure only for the deserving, hiding them in a place where RVs fear to tread and, however 'digi' their zooms, long-range cameras cannot see.