Flamingo Las Vegas
TIME : 2016/2/25 16:06:23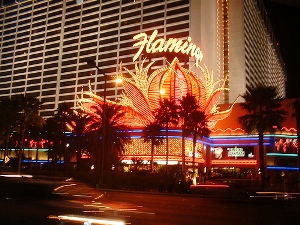 Flamingo Las Vegas is a hotel casino located on the Strip and owned by Harrah's Entertainment. It was the third resort to open on the Strip. Also, it is the oldest resort still in operation. The architectural theme is Miami/Art Deco. The central outdoor area is housing an exhibit of flamingos.
Year opened
The resort opened on December 26, 1946. It is the third resort to have opened on the Strip and the oldest still in operation today.
Location
Nightclubs
There are two bars within the property, each offering the perfect occasion to relax and enjoy some cocktails.
Bugsy's Bar, located in the center of the casino, is open 24 hours and is an excellent choice for refreshments no matter when the thirst strikes.
During afternoon and evening, The Garden Bar is the best place to enjoy some cocktails with excellent views of the Flamingo lagoon.
Entertainment
Flamingo Las Vegas has always been known as a place to host show business legends. From super stars who reside here to guests, all will make your stay at the Flamingo Las Vegas an excellent one.
>>read more about the entertainment at Flamingo Las Vegas
Things to do
The flamingo wild life habitat is the main attraction here, but there are also other interesting things to explore: the pool, the spa, the fitness center, the pool , the GO pool (adult only), the tennis courts and the golf court.
>>read more about the things to do at Flamingo Las Vegas