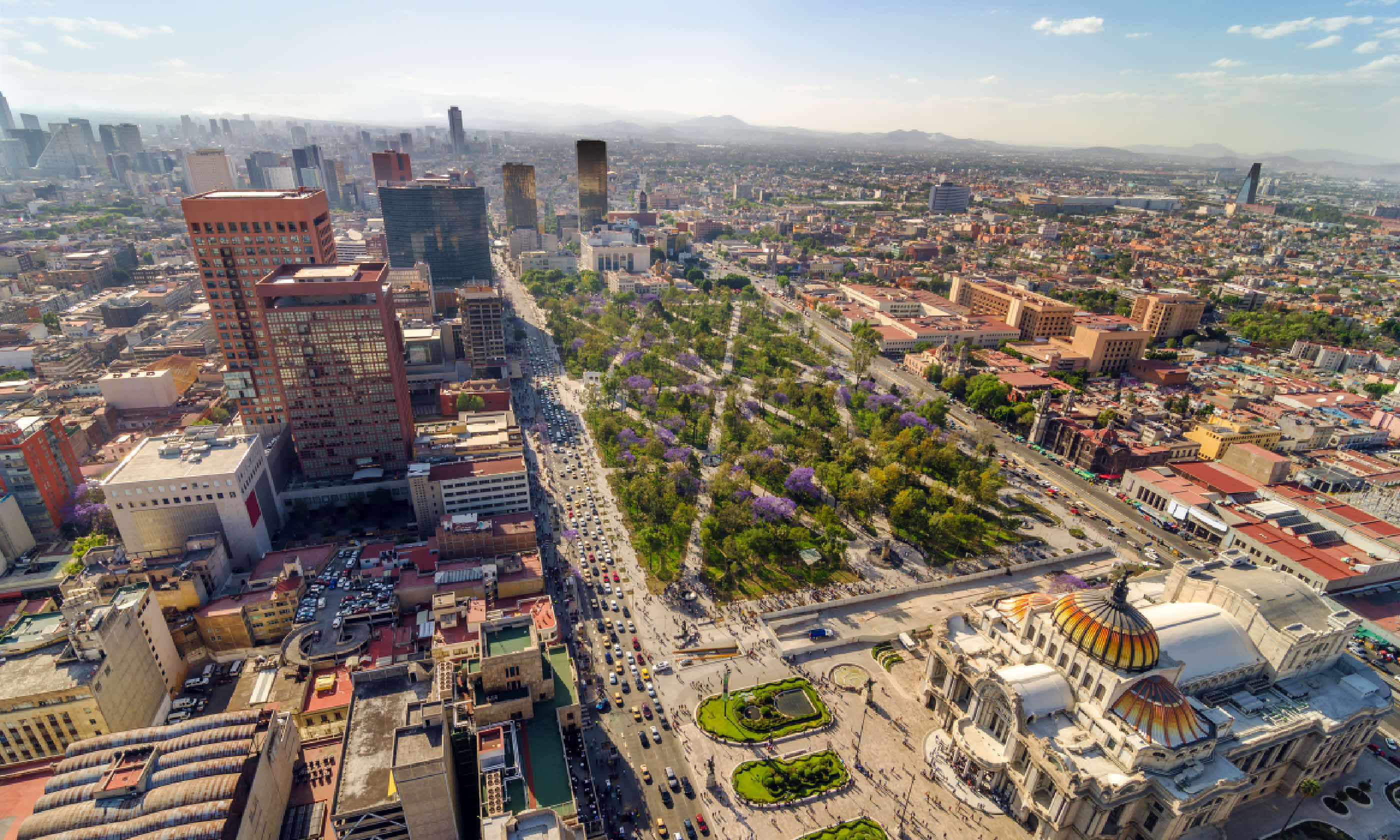 First 24 hours in Mexico City, Mexico
With its rich culture and thriving culinary scene, Mexico City is more than a stopover: it's a hot destination in its own right
With a cultural heritage spanning from the Aztecs to
lucha libre
wrestling, abundant museums and some of the world's best restaurants, Mexico City is shaking off its crime-and-grime image and moving on from its stopover status.
This sprawling megalopolis sits in a highland basin encircled by mountains, 2,250m above sea level. Its regenerated Centro Histórico, a rich mix of architectural styles, stands on top of the former Aztec capital of Tenochtitlán. The city has since survived colonisation, revolution, earthquakes and more, and Chilangos are fiercely proud of their home.
It's now a blend of old and new, from ancient ruins to striking modern architecture, ramshackle markets to chic boutiques and street food to fusion restaurants. Indeed, banish thoughts of tasteless Tex Mex: Mexican cuisine has been granted Unesco 'Intangible Cultural Heritage' status.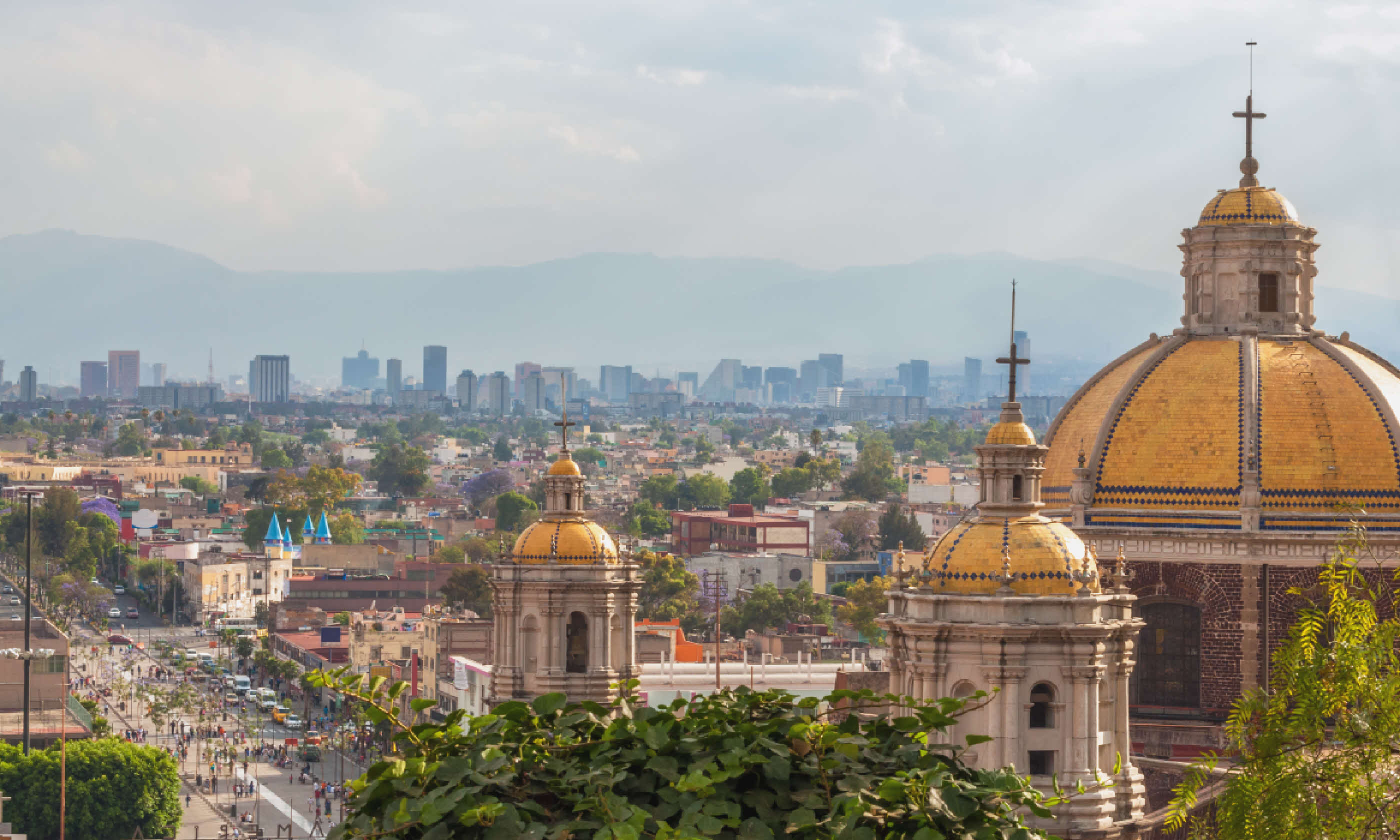 Old Basilica of Guadalupe, Mexico City (Shutterstock)
At the airport
Benito Juárez International Airport is 5km east of the city. It's big, modern and efficient, with two terminals linked by a monorail. On arrival, you may need to apply for a tourist card: to get this, complete an immigration form (usually given out on the flight). Don't lose the card, you need it to leave the country. In Arrivals there are information booths, currency exchanges and ATMs.
Getting into town
Authorised taxis are readily available; ignore the non-official taxi touts hanging around the terminal. Buy your pre-paid fare from a booth of the Transporte Terrestre and then join the line. Rates are set by zone and are per vehicle not per person, so don't be pressured into taking a larger vehicle than you need.
Alternatively book a private transfer in advance with a company such as
Mexico Airport Transfers
(around £15pp) or through your hotel (usually more expensive).
Terminal Aérea Metro station is near Terminal 1. It's on Line 5; you will probably need to change. Other ways to arrive
Greyhound
offers bus services across the US. In Mexico, first-class bus operators are
UNO
, running services to the south-east, and ETN (www.etn.com.mx), running services to north-central Mexico.
The city has four main bus terminals: Terminal Central de Autobuses del Norte connects to the north; Terminal de Autobuses de Pasajeros de Oriente connects to the east; Terminal Central de Autobuses Sur, connects to the south; Terminal de Autobuses del Poniente connects to the west. No passenger trains link to Mexico City currently.


Essential info
Population:
8.8 million
Languages:
Spanish
Timezone:
GMT-5 (Mar-Oct GMT-6)
International dialling code:
+52
Visas:
Not required by UK nationals
Currency:
Mexican peso (MXN), currently around 22MXN to the UK£.
Highest viewpoint:
Take the lift to the 44th floor of the
Torre Latino Americano
for views over the city and the mountains beyond. Entry costs 60MXN (£2.70) per adult.
Health issues: Be vaccinated against hepatitis A and typhoid. Drink purified or bottled water. Be prepared to feel the high altitude on the first day.
Recommended guidebooks:
Top 10 Mexico City
(DK Eyewitness, 2012);
Snapshot Mexico City
(Rough Guides, 2013).
Climate:
The city has a year-round temperate climate. Summer highs are 32°C, with an average yearly temperature of 18°C. The warmest months are April and May. Rains hit June-September, usually in the late afternoon and evening. The coolest time is November-February, when air pollution is often at its worst.
First day's tour
Explore the Centro Histórico on foot. At its heart is the vast, busy Zócalo (Plaza de la Constitución). Start at the Palacio Nacional (take photo ID) on the square's east, where Diego Rivera's vibrant murals are a visual history of Mexico, from Spanish conquest to revolution.
On the north side is the Metropolitan Cathedral, one of the oldest and largest in the Americas. To the north-east are the remains of the Aztec Templo Mayor and a small archaeological museum.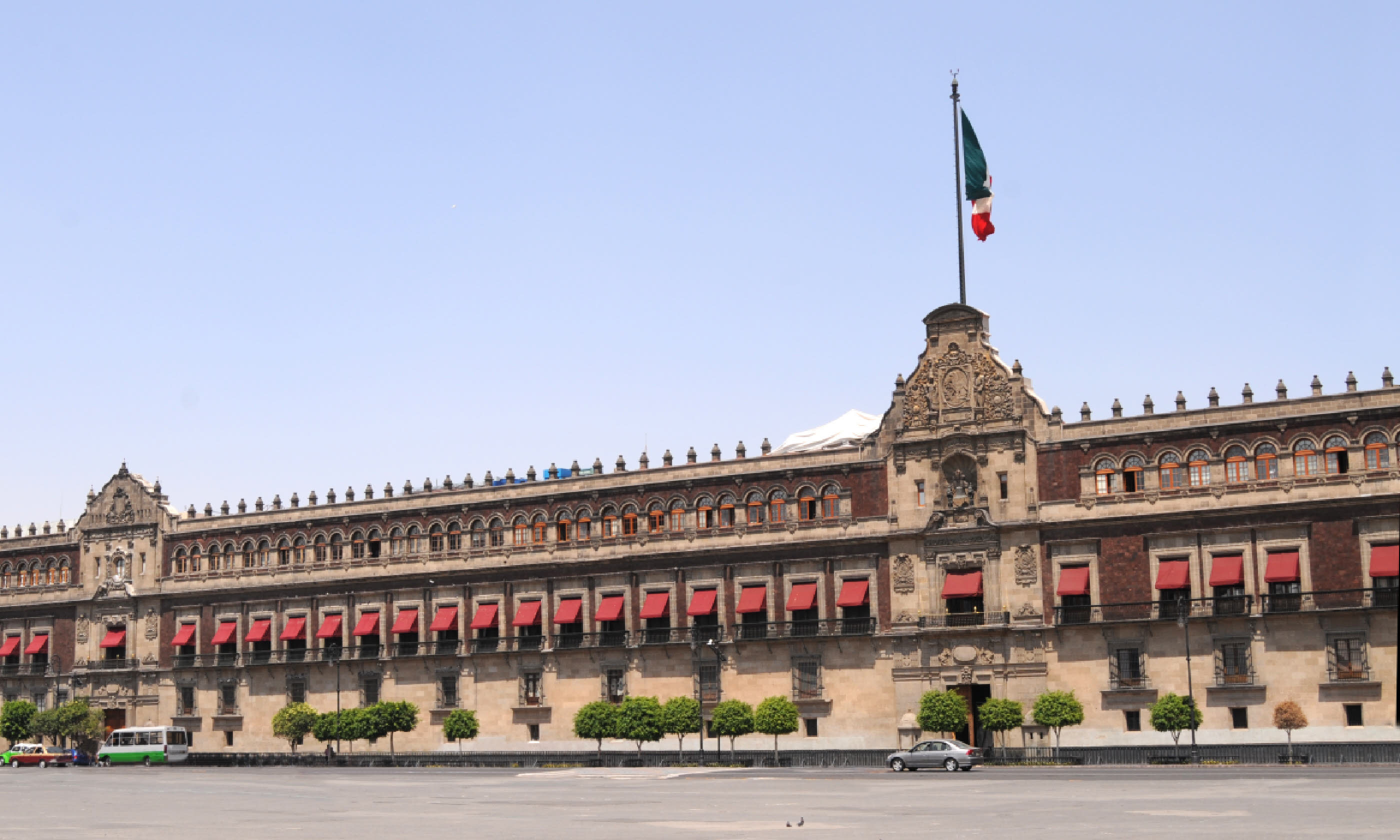 Palacio Nacional (Shutterstock)
For more Rivera murals, walk north to the Antiguo Colegio de San Ildefonso and the Secretaría de Educación Pública. Or stroll west along shop-lined Avenida Francisco Madero to leafy Parque Alameda and the white marble Palacio Bellas Artes. Its sumptuous Art Deco interior is home to Mexico's opera, the Ballet Folklórico and more legendary muralists.
Lunch at city institution Sanborns at Casa de los Azulejos, then take the Metro to spend the afternoon exploring Chapultepec Park, the city's green lung. It's home to the unmissable Museo Nacional de Antropología (closed Mondays). Back in the Centro Histórico, Azul Histórico – set in the patio of a 17th-century mansion – serves regional favourites from around Mexico, such as chicken in black mole, a rich chili-chocolate sauce.


Where to stay
Top end:
The luxurious 189-room
St Regis Mexico City
(Paseo de la Reforma 439) is perfectly placed for the city's sights and nightlife. Its '48 Hours in Mexico City' package (available Thursday-Sunday) includes a personalised programme from its cultural curator, airport transfers, a city bus tour, two nights in a deluxe room, breakfast and a meal at one of its restaurants; it costs from US$435pn (£256).
Mid-range: Downtown
(Isabel la Católica 30) is an artful blend of 17th-century colonial grandeur, industrial chic and indigenous culture. It has a prime location in the Centro Histórico, close to the Zócalo. Doubles from US$156 (£92).
Budget:
The Red Tree House
(Culiacan 6) is set around a lovely patio, with each of the 17 rooms and suites being eclectically furnished. Doubles from US$125 (£74).
Stay or go?
Stay. You could easily spend a week exploring all the city's offerings. Travel 50km north-east to Teotihuacan and Aztec temples. Or spend time in a brightly coloured
trajinera
(punt) at the Floating Gardens of Xochimilco. Art is everywhere, from Polanco's Museo Soumaya to Caza Azul (Frida Kahlo's home-turned-museum) and the Diego Rivera Studio Museum in San Angel.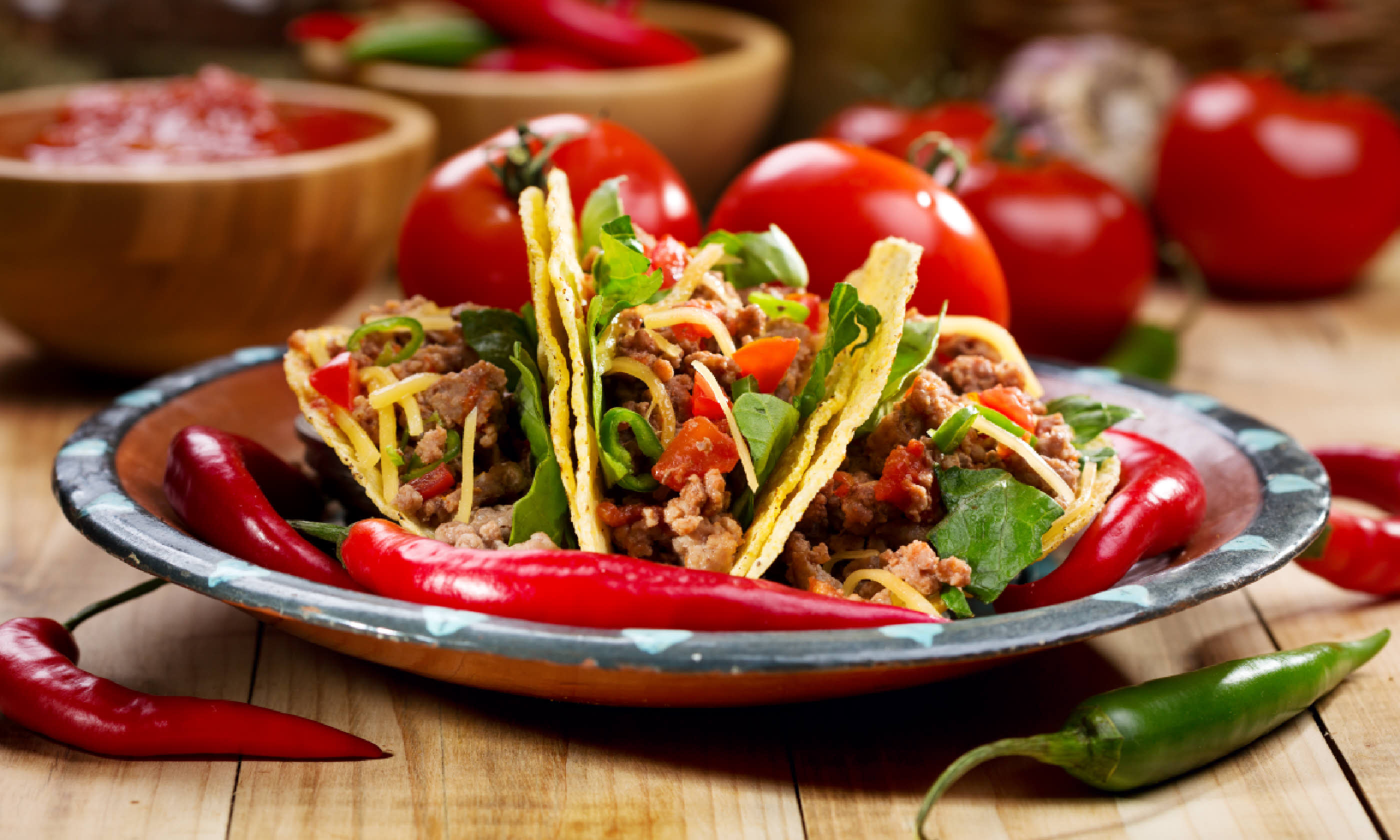 Mexico food: tacos
The city is home to museums on every theme, from Trotsky to tolerance. Mexico has a rich tradition of folk art and crafts. Shop at the Bazaar Sábado (Saturday market) in San Angel, where stalls sell everything from textiles to kitsch art. For high-end Mexican design, try the Downtown complex in Centro Histórico.
It's worth learning about street food on a small-group tour. Try one with
Eat Mexico
– you'll visit a neighbourhood market, see how tortillas are made and discover the tastiest taco and tamales stands.