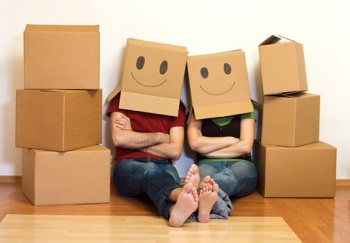 Moving home can be one of the most traumatic experiences in our lives and it can be made even worse by the packing experience! Packing up all your treasured belongings is time consuming and, if you do it wrong, it can become expensive, if things get broken. But if you plan your packing properly and you don't leave it to the last minute, you can get through the move breakage free and your patience still intact too. Follow these tips and save some time with your packing:
1. Prepare a moving schedule and moving house checklist
One of the greatest packing tips for moving is this – the sooner you start thinking about the move, the easier it will go, so start your preparations 30-60 days before the date.  That sounds like a long time, but if you make a list of all the things that you have to do now, it will help you avoid any last minute headaches.
2.  Dispose of what you don't need
You're just wasting time if you are moving all the junk that you've accumulated over the years along with the things that you want to keep, so now's the time to have a good clear out. Start by going through your home room by room and deciding what you really need, and have a garage sale or donate to charity the things that you no longer want.
3. Buy all your packing materials for moving in advance
Buy or obtain all the packing boxes and materials that you are going to need well in advance of the move; you don't want to be running around stores trying to find boxes on the day. Remember, you will need sturdy cardboard boxes for moving house, bubble wrap, or similar packaging padding, and plenty of packing paper for moving and tape to seal boxes. And don't forget a marker pen, so you can label the boxes with their destination room at your new home.
4. Pack one room at a time
Another one of good packing tips for moving is to start in one room and pack everything in that room, before you move onto the next. If you are packing in advance, then you can pack items that won't be needed early and leave one of the boxes open for the final items on the day itself.
5. Do your reminiscing early!
Another one of good packing tips for moving that shouldn't be ignored is to do your  reminiscing early. If there is one thing that is guaranteed to slow up your packing, it will be trips down memory lane. Avoid the temptation to reminisce or you will find yourselves still sat on the floor, remembering the good old days, when the truck turns up to pick up your still unpacked possessions!
6. Pack carefully
The secret to packing is leaving no room in the boxes for things to rattle or move around in transit. Wrap breakables in bubble wrap, or similar packaging materials, and remember to pad the bottoms and sides of boxes with bath towels or bed linen to provide a cushion against damage from the outside.
7. Remember someone has to lift the boxes!
For heavy items such as books, spread the load and pack heavy items at the bottom of a number of different boxes, not all the same ones. If the boxes are too heavy, then either the contents will drop out of the bottom or someone will be taking a trip to A&E with a back injury.
8. Pack a 'last to go box' and an emergency kit
Remember to keep back things that you will need on the day, both for while you are still in your old home and when you get to the new. Cold drinks, a towel, toiletries, band aids, scissors, some makeup, creams, aspirin and important documents are just some of the examples of things you might want to keep with you. Oh, and the car keys!
9. Make a floor plan of your new home
Next good and useful packing tip for moving is to decide in advance into which rooms, each item of furniture is going to go. You can draw a plan and make some cardboard cutouts of your furniture and then decide where each item will be located. That's far easier, than physically moving the furniture itself from room to room later on.
10. Unpack a room at a time
When you arrive at your new home, then unpacking one room at a time is easier. Rearrange furniture, put your belongings away and finish each room, one at a time, that way you'll avoid having those boxes that you never seem to get round to be left in each room. And now, you can relax and enjoy your new home.
Do you have some other packing tips for moving to share? Feel free to share your favorite packing and moving tips in the comment section below.
Stay happy and have a great packing!