Champagnerie Mercier
TIME : 2016/2/22 10:57:16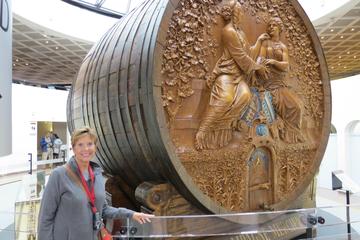 Champagnerie Mercier
Home to the best-selling champagne in France, the Champagnerie Mercier ranks as one of Champagne's most popular champagne houses and the iconic family brand has been producing quality bubbly since 1858. The historic cellars in Epernay opened their doors in 1869 and tours now offer visitors the chance to not only sample the legendary champagne but to learn about the years of tradition and innovation that have shaped the champagne making process.
Descending via a panoramic lift and stepping on board a mini train, visitors explore the labyrinth of 47 tunnels that house the champagne cellars, an impressive 18-kilometers of chalk caves burrowing 30-meters beneath the ground and embellished with artwork by sculptor Gustave Navlet. Additional highlights of a visit include viewing the Mercier Cask, the world's largest wine cask, and of course, visiting the tasting room, where guests can sample various champagne blends and vintages, available to purchase at the on-site shop.
Practical Info
The Champagnerie Mercier is located in Epernay, Champagne, and is open daily from March to mid-December. Tours are available from 9.30-11am and 2-4pm and must be booked in advance.
You Might Also Like