SeaWorld Orlando
TIME : 2016/2/22 16:45:55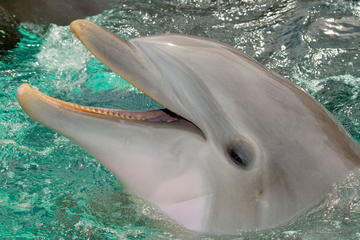 SeaWorld Orlando
A fantastic blend of marine animals and thrill rides, SeaWorld is home to both Shamu the killer whale and Kraken, the floorless coaster. Journey to Atlantis brings both concepts together: it's an oceanic water-coaster with a 60 foot (18 meter) vertical drop. Little ones can ride a dolphin on the Sea Carousel, twist around on Jazzy Jellies, or ride the Shamu Express.
Away from the rides, its beautifully landscaped grounds include a 17 acre (6.9 hectare) lagoon, flamingo and pelican ponds, and a lush tropical rainforest. SeaWorld also offers interactive programs, including the Sharks Deep Dive, which gives guests a chance to have limited, hands-off contact with more than 50 sharks. SeaWorld also provides opportunities to feed stingrays, sea lions, and other critters.
Shows are equally spectacular. Blue Horizons presents an extravaganza of light, music, dolphins, and acrobats in colorful costumes, while Odyssea unveils a circus-like performance, complete with special effects to recreate undersea life. At night, SeaWorld presents the Makahiki Luau, full-scale dinner show featuring South Seas-style food and the music and dance of the Pacific Islands.
Practical Info
SeaWorld sits south of Orlando and Universal, and north of Disney, at the southern end of International Drive. The park is centered around the lagoon, and a map is provided upon entry. A shuttle runs daily and has 5 pickup locations in Orlando, including one at Universal Studios. Feedings and shows take place at scheduled times, so plan out your day to make sure you don't miss out.