End of the World Train (Tren del Fin del Mundo)
TIME : 2-22 9:14:26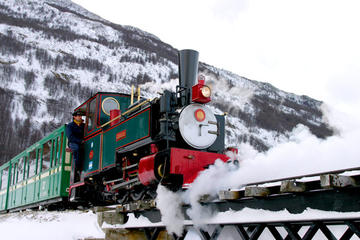 End of the World Train (Tren del Fin del Mundo)
For the ultimate end of the world adventure, ride the world's southernmost train to the Tierra del Fuego National Park. The one-hour narrow-gauge journey leaves from outside Ushuaia, following the 100-year route of the historic Convict Train.
The route crosses the Pip River across a wooden bridge, past the Macarena Waterfall and a reconstruction of a Yamanas Indian campsite. Once inside the national park, the train passes beech forests, peat bogs and reminders of the timber-felling worksites worked by Ushuaia prisoners from 1901 to 1941.
The route then returns to the End of the World Station outside Ushuaia or travels to the National Park Station. Along the way, an informative bilingual guide (English and Spanish) provides a history of the Convict Train and this remote part of the world.
Practical Info
The Tren del Fin del Mundo's station is located 5 miles (8 km) outside Ushuaia. There are five daily services in summer and one in winter. Choose from tourist-class carriages, the first-class coach service with coffee and pastries, the Presidential coach with snacks and drinks or the VIP service with dining room and panoramic windows.
You Might Also Like